Nevada's 'Shining Star' schools struggle to keep luster amid funding cuts
September 30, 2018 - 10:04 am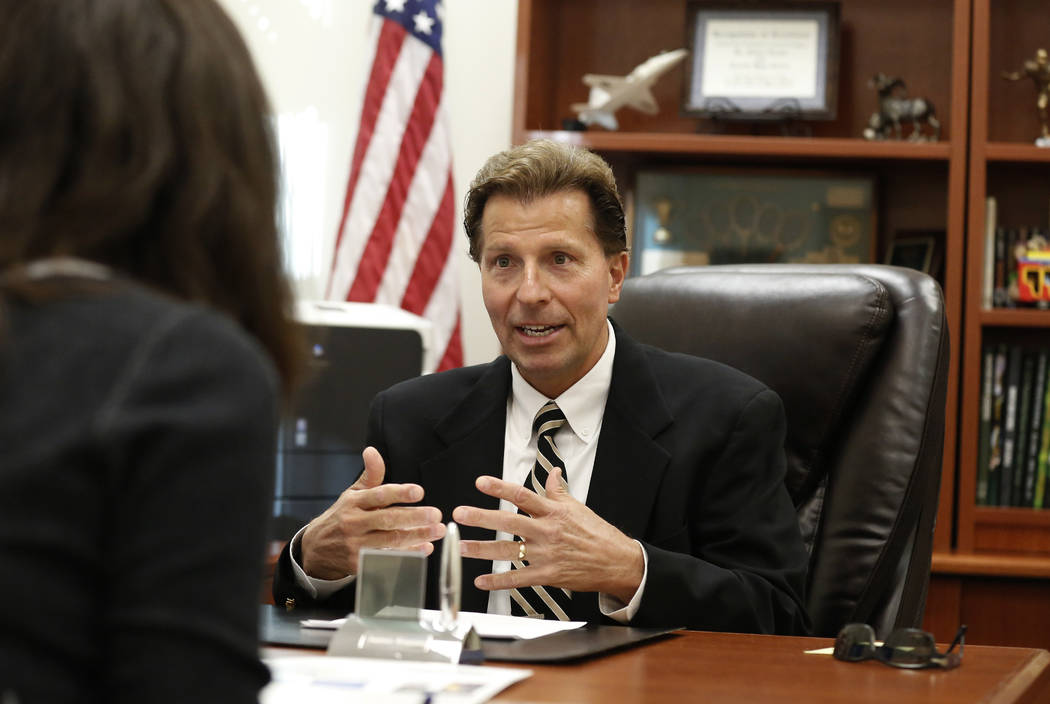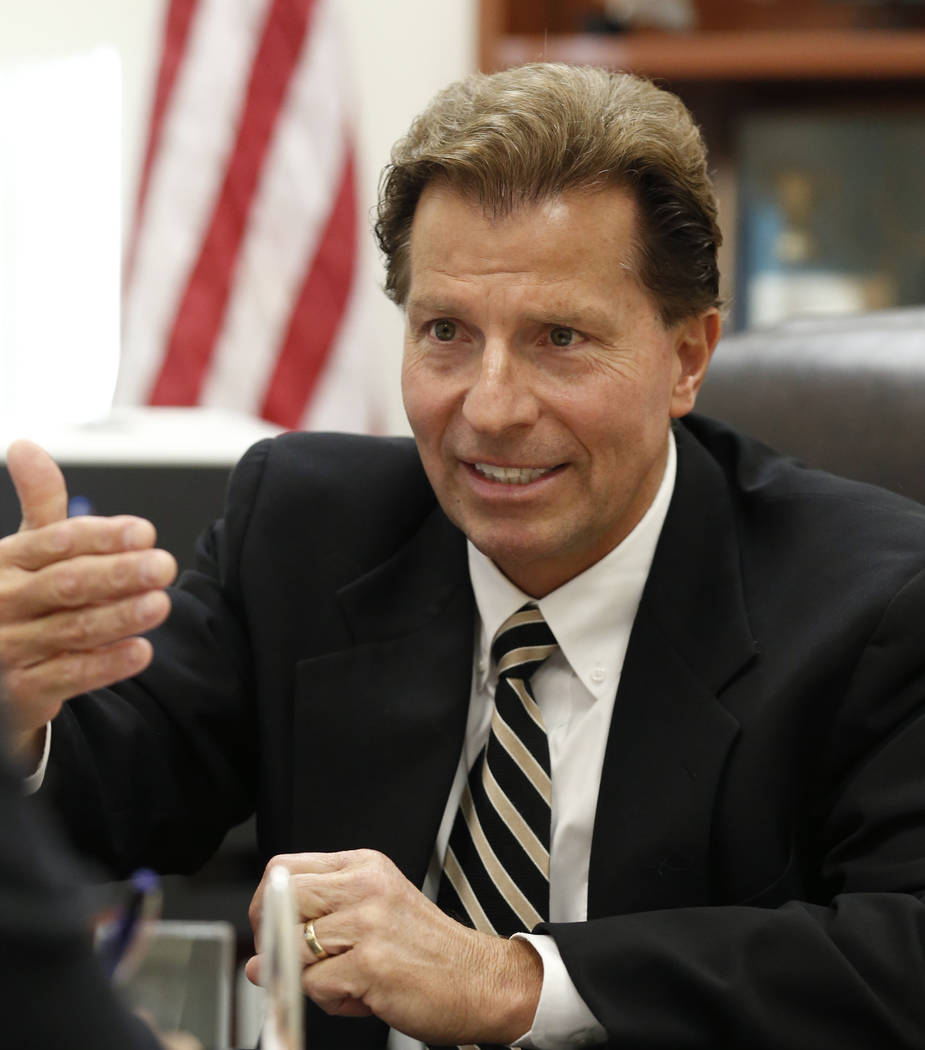 At the height of Rancho High School's academic success, Principal James Kuzma had to cut over $1 million from the school's budget. Nearly half of that was deleted because the school performed too well.
It was an ironic turn of events for the "Shining Star" school, one of 31 high-poverty schools recognized by the state of Nevada for high academic performance.
Kuzma said the loss of funding for the North Las Vegas school came in three waves:
First, academic improvement disqualified Rancho from receiving weighted state funding, money routed to schools with the lowest-performing students statewide. The loss was $578,000.
Then, districtwide budget cuts took an additional $582,000.
As a final kick, the school lost $79,833 in funding for an English language learner teacher.
The total damage: $1.2 million.
"That was a tough pill to swallow," Kuzma said. "We still kept a seven-hour day for every student, and we're trying to keep our class sizes within a reasonable number."
Rancho's paradoxical story is mirrored at French Elementary School, which also performed too well to receive weighted funding this school year and landed on the state's Shining Star list based on last school year's achievement.
Meanwhile, other Shining Star schools like Helen Smith Elementary boast strong academic achievement without receiving extra weighted funding or money from other state programs that help low-income students or English language learners.
But there, too, recent district budget cuts have some educators feeling like they're being punished for their successes.
"As a teacher, it's like we are being penalized for doing so good," said Lilly Kulaszewski, a first-grade teacher at Helen Smith Elementary. "We are being penalized for caring so much and almost making the impossible possible."
Shining stars, tight purse strings
Shining Star schools earn the designation by achieving four or five stars on the state's five-tier rating system while serving a high proportion of students in poverty.
Shining Stars at the elementary and middle school level must have at least 75 percent of students qualifying for free or reduced-price lunch. For high schools, that number is at least 50 percent.
Rancho High's record of improvement dates to 2010, when it was designated as one of the state's "turnaround" schools, which qualified it for additional federal funding. Since then, the graduation rate has jumped from 60 to over 90 percent. Its star rating increased in 2013-14 from three stars to four.
Now the school will need to maintain that progress despite eliminating two deans, two campus monitors, one library aide and the Communities in Schools program, which helps students address issues outside the classroom, from its budget. Kuzma was able to avoid cutting teachers, although he said some classes are now bursting at the seams.
Rancho's saving grace was $609,000 in federal Title I funds, reserved for high-poverty schools.
"Without that, we'd be …," Kuzma said with an exasperated shrug, "I can't even imagine what it would be like."
Weighted funding, referred to as SB 178 money after the 2017 bill that created it, applies to students who are either English language learners or low-income and score in the bottom 25 percent on state tests.
But the money comes with caveats.
Schools receive an extra $1,200 for each student if they're not also receiving funding from the state's Zoom or Victory programs — which also serve underperforming populations. Zoom schools have high populations of English language learners, while Victory schools serve a high number of students in poverty.
Also, the $31 million in weighted funding that Clark County received for this school year is disbursed to the lowest-performing schools first, based on 2016-17 results. That meant Rancho didn't get any of the funds.
"The part that disturbed me about the SB 178 money — it was an arbitrary line that was drawn," Kuzma said. "We were below it, now we're above it, so we just lost it."
All schools have children in the bottom 25 percent, Kuzma said, and should receive the same level of funding to help them succeed.
At French Elementary, Principal Tammy Villarreal-Crabb is facing a similarly difficult situation. Once a struggling two-star school, French has been able to pull itself to the upper-tiers of academic performance without Victory or Zoom funds.
But the school lost $28,800 in weighted funding that it received last school year. French also lost money due to spring budget cuts, ultimately meaning the loss of two teachers.
To Villarreal-Crabb, it feels like French is being punished for doing great — and the star rating is already starting to slip, from five stars last year to four this year.
"I know some of my parents on the (school organizational team) were like, why do we keep trying hard?" she said. "Why don't we just let it slide a year and get funding back?"
Doing a lot with a little
Meanwhile, Helen Smith Elementary is trying to maintain momentum with less money.
The school celebrated receiving five stars last week — around the same time it lost $222,000 due to the recent budget cuts and lower-than-projected student enrollment, said Principal Robert Hinchliffe.
That affects morale of school staff.
"You can see they're proud of the success, but at the same time feel like there's no incentive to succeed," he said.
Helen Smith does not receive any Zoom or Victory funding, nor any weighted student funding. As a result, Hinchliffe said, the school is operating on bare bones.
"Small successful schools in neighborhoods that are lower-middle class, or upper-lower class, are really the ones that get hit the most because you don't have Victory or Zoom or 178 money, and you also don't have the community that can raise a bunch of money in a short period of time," Hinchliffe said.
While staff are proud of their accomplishments, they struggle to find motivation when they have funding cut.
"You're always working hard and you're always pushing yourself and you're always running instead of walking," said Kulaszewski, the Helen Smith teacher. "It's like, maybe I should slow down so the district can see that we do need those (funds) and we do need the support."
Fifth-grade teacher Catalina Allen acknowledged that money alone won't keep Helen Smith on its upward trajectory, but noted the challenge of maintaining its current standing without adequate funding.
"We know that ultimately it's the teachers in the classroom that makes an impact, not the money," she said. "But we're working with scraps basically, and there has to be a minimum level of funds that need to be allocated for our students, simply because it's the right thing to do."
Contact Amelia Pak-Harvey at apak-harvey@reviewjournal.com or 702-383-4630. Follow @AmeliaPakHarvey on Twitter.
Nevada 'Shining Stars'
Elementary schools
— Beatty, Las Vegas
— Bilbray, Las Vegas
— Blue Diamond, Blue Diamond
— Cahlan, North Las Vegas
— Crestwood, Las Vegas
— Diaz, Las Vegas
— Diskin, Las Vegas
— French, Las Vegas
— Gibson, Henderson
— Guy, North Las Vegas
— Hafen, Pahrump
— Herron, North Las Vegas
— Hoggard, Las Vegas
— Manse, Pahrump
— Martha King, Boulder City
— McDoniel, Henderson
— Rowe, Las Vegas
— Helen Smith, Las Vegas
— Thiriot, Las Vegas
— Wiener, Las Vegas
Middle schools
— Indian Springs, Indian Springs
— Odyssey, Las Vegas
High schools
— Beatty, Beatty
— East Career and Technical Academy, Las Vegas
— Pahrump Valley, Pahrump
— Rancho, North Las Vegas
— Sandy Valley, Sandy Valley
— Southeast Career and Technical Academy, Las Vegas
— Veterans Career and Technical Academy, Las Vegas
— West Prepatory Academy, Las Vegas
— Yerington, Yerington
Source: Nevada Department of Education