Parents of CCSD special ed students request classroom cameras
September 14, 2015 - 6:17 pm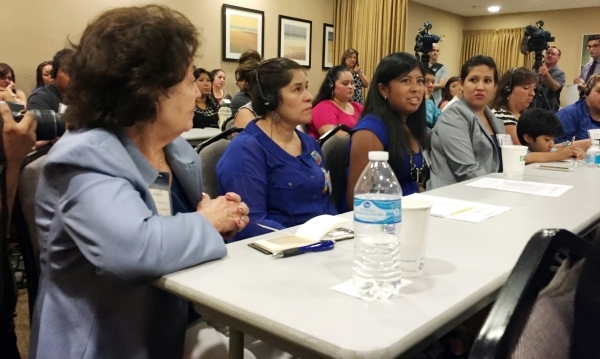 For some families with nonverbal autistic children, the best way to ensure their protection in the classroom is to install video cameras that monitor their interaction with adults.
That's the request of two parents whose children attend Forbuss Elementary School, where Clark County School District police last month arrested special education teacher James Doran on charges that he physically abused one student several times since joining the campus in August 2014.
After first receiving a complaint about suspected abuse in April, an internal investigation revealed three teacher's aides saw Doran, 27, slapping the hands of a nonverbal, low-functioning autistic boy who tried to reach for him. One of the aides reported Doran grabbed the fourth-grader by the shirt and threw him into a bean bag chair.
The student's mother, 40-year-old Olivia Espinoza, urged the district to install video cameras in every special education classroom — as it has done on some special needs buses — in order to protect students who cannot speak for themselves.
"I didn't know anything about the bean bag or anything," Espinoza said Monday after a news conference at the Holiday Inn Express, 6200 S. Rainbow Ave.
"It's really sad because he can say nothing when he gets home from school," she added. "He's just helpless."
Since 2012, the district has only purchased school buses with surveillance cameras.
Approximately 750 of the district's 1,600 buses currently have cameras, said spokeswoman Melinda Malone.
"Any plan for installing cameras in special education classrooms would have to respect the privacy of students and teachers and demonstrate it would be improving student safety," Malone added. "The cost of installing and monitoring the surveillance system would also have to be considered."
At the news conference, Forbuss parent Brook Hurd shared a copy of an additional report Principal Shawn Paquette filed in May.
That report, which school police did not include in an affidavit dated July 14, states another teacher's aide saw Doran grab Hurd's autistic daughter by the hair as she rested her head on a desk.
Hurd said he asked the principal for details after Doran's arrest on Aug. 25.
"The only response was, 'It's a personnel matter," Hurd recalled. "My daughter's safety is not a personnel matter."
Both Hurd and Espinoza questioned the timeline of Doran's arrest, since school police obtained a warrant for his arrest in July.
Forbuss Elementary, near Pebble and Fort Apache roads, operates on a year-round calendar, but Malone said Doran spent some of the summer not working at the campus.
"During this time, school police attempted locate Mr. Doran three times and were unsuccessful," she said. "The arrest was made when he (returned) back to the campus at the end of August."
School police have since turned Doran's case over to the district attorney's office.
His next scheduled court appearance is Nov. 3.
An attorney retained by the parents, Marianne Lanuti, said a decision on filing a lawsuit against the school district has not been made. They will wait and see what the ongoing investigation reveals.
Doran faces three counts of misdemeanor battery. He posted a $1,000 bail in August.
He was suspended with pay. Contract stipulations prevent the district from immediately firing Doran without a criminal conviction.
Contact Neal Morton at nmorton@reviewjournal.com or 702-383-0279. Find him on Twitter: @nealtmorton