Private donors will fund new home for UNLV medical school
Updated November 27, 2019 - 12:36 am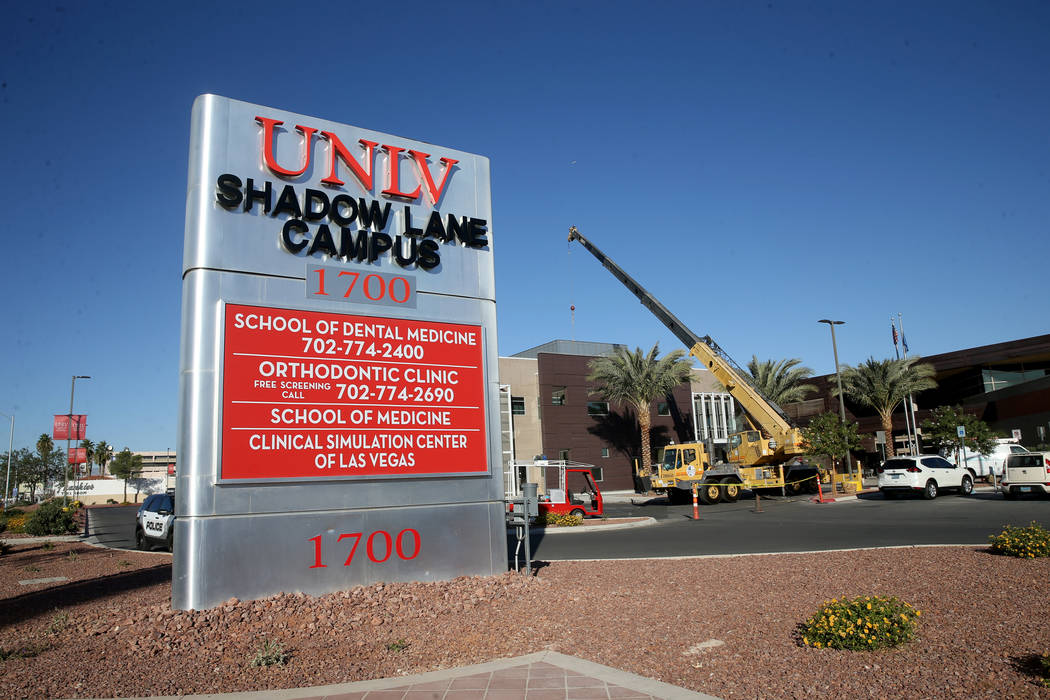 Gov. Steve Sisolak announced Tuesday a new plan for a permanent home for the UNLV School of Medicine that relies on $155 million in donor funds, rather than a $125 million bond measure approved in July.
"This agreement is a monumental step forward in ensuring that UNLV will have a state-of-the-art medical school that will save taxpayer money, raise the quality of health care, and help us combat Nevada's critical doctor shortage in the face of rapid population growth," Sisolak said in a statement after a news briefing in Las Vegas. "This announcement marks a turning point for Nevada in creating a culture of philanthropy that will encourage other individuals and families to contribute to projects and causes that will have positive outcomes for our state."
Donors include Kris McGarry from the Engelstad Foundation and Lindy Schumacher from the Lincy Foundation, according to the statement from Sisolak's office.
In a statement Tuesday night, McGarry said, "At our core, all we've wanted all along is to ensure that Southern Nevada gets the medical school it deserves. With today's announcement, we are back on the right track in bringing that vision to life."
This marks the fourth draft of a plan to build a permanent campus for the medical school, which currently operates out of the Shadow Lane Biotech Research Center, with administrative spaces in a leased building on Charleston Boulevard.
In July, the Nevada System of Higher Education regents authorized acting university President Marta Meana to move forward with a plan to fund the building via $125 million in bonds.
The amount was to be paid back at about $7 million per year for a 30-year term, with the money for the debt repayment raised via donations or taken out of the university operating budget.
However, a funding resolution was never brought before the Board of Regents. NSHE spokesman Francis McCabe said UNLV will be able to use the bonding capacity for another purpose, possibly an engineering building.
UNLV spokesman Tony Allen said the university had not spent any money to date on bringing forward a funding resolution.
Allen said the proposed location of the school — a 9-acre parcel at 625 Shadow Lane purchased from the county in 2017 — would remain the same, but the design for the new project would be up to the donor group.
Before the bond resolution, the school planned to construct a building through a combination of donations and a state grant.
That project went through a number of revisions, including a proposal to begin with a $57 million medical school library that was opposed by donors.
The school also lost a $14 million donation earmarked for the medical school building from the Engelstad Foundation after the departure of former UNLV President Len Jessup.
Meanwhile, the university faced a time crunch to spend the state contribution by Sept. 17, 2021 — a deadline that the university said it could not meet when the bond proposal was approved in July.
Board of Regents Vice Chairman Mark Doubrava said the new donor-driven funding plan was a positive development, especially when coupled with the news of the school's provisional accreditation in October.
"It's really picking up steam," he said.
Doubrava said donors had formed a donor development limited liability corporation, the Nevada Health and Bioscience Asset Corp., to manage how the money is spent. He said he did not believe regents had been bypassed in the planning for the building.
The Lincy Foundation was established by Kirk Kerkorian in 1989 but was reported dissolved as of 2011.
Contact Aleksandra Appleton at aappleton@reviewjournal.com or 702-383-0218. Follow @aleksappleton on Twitter.