'Purveyor of hope': Nonprofit working to prevent dropouts gets $2M in state funding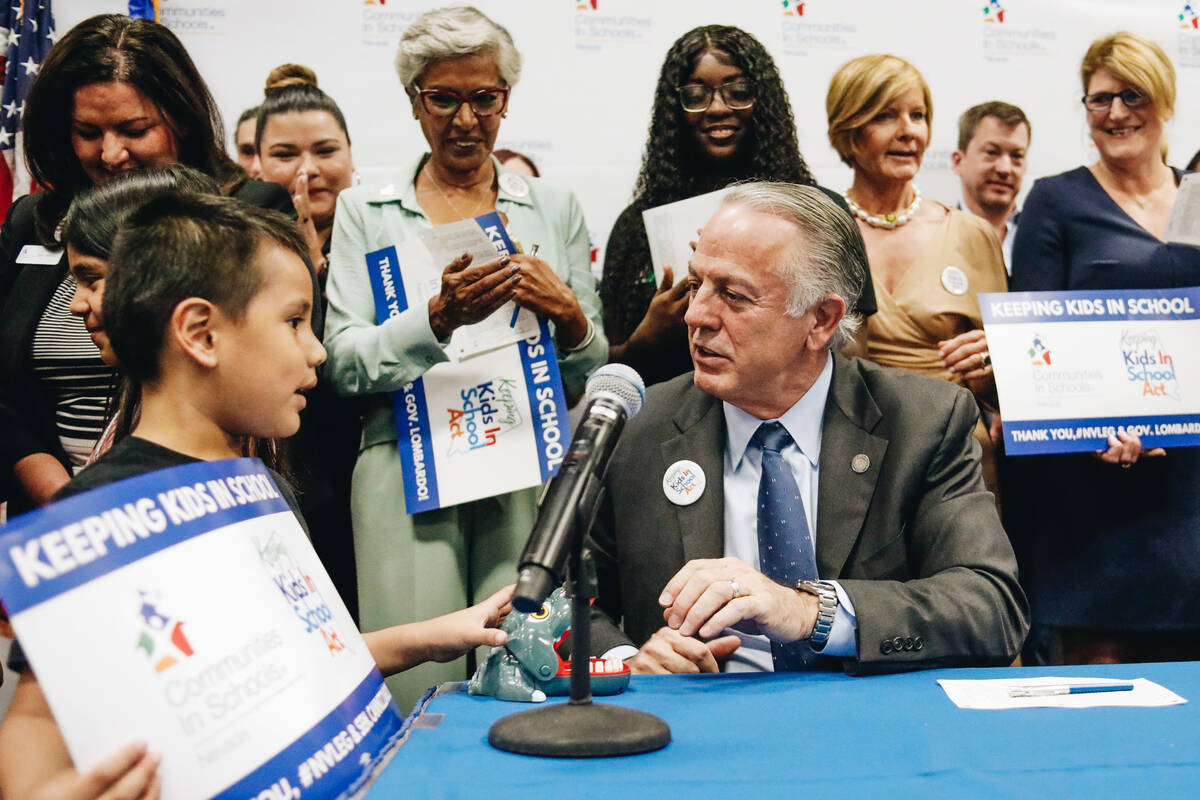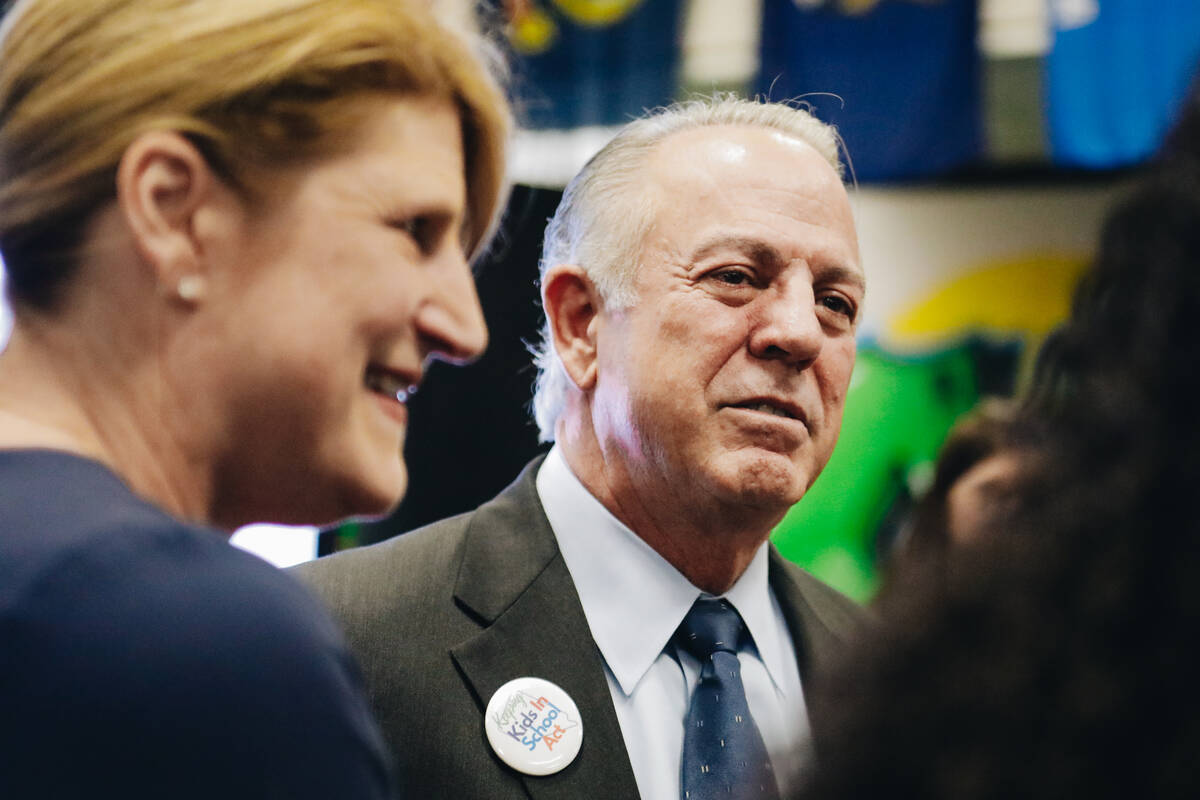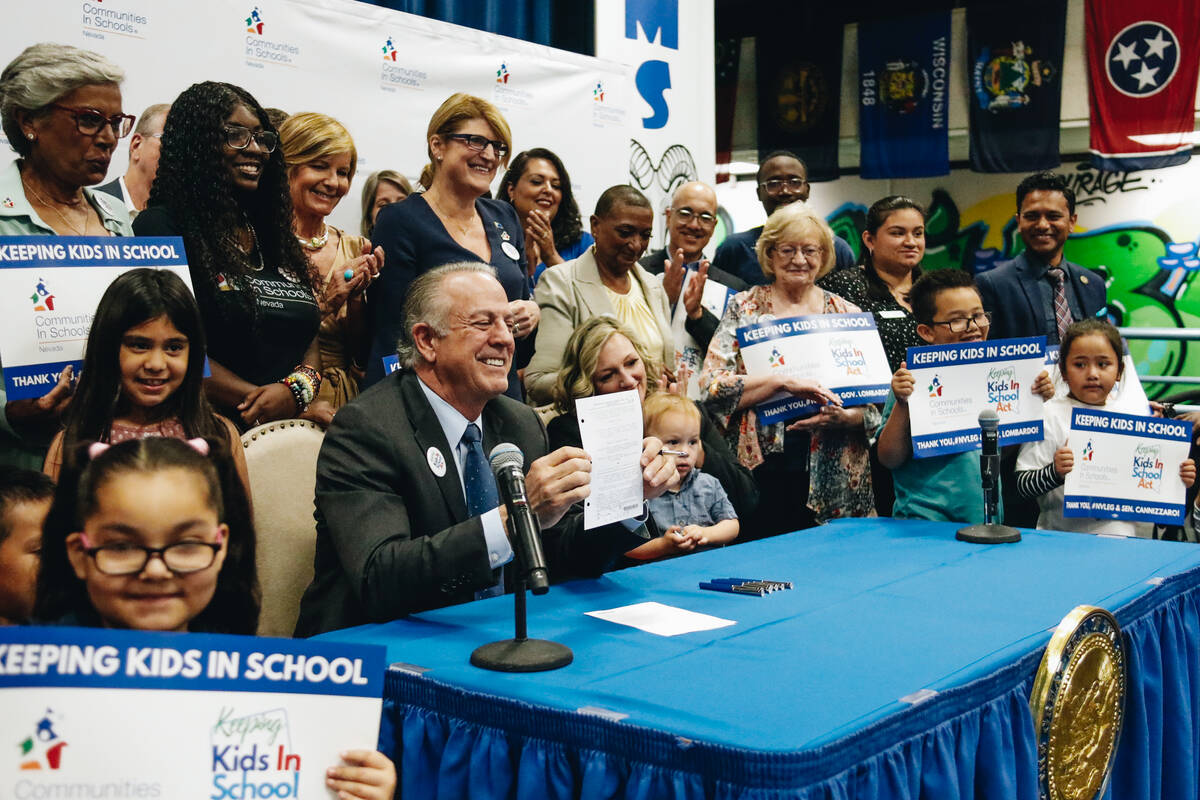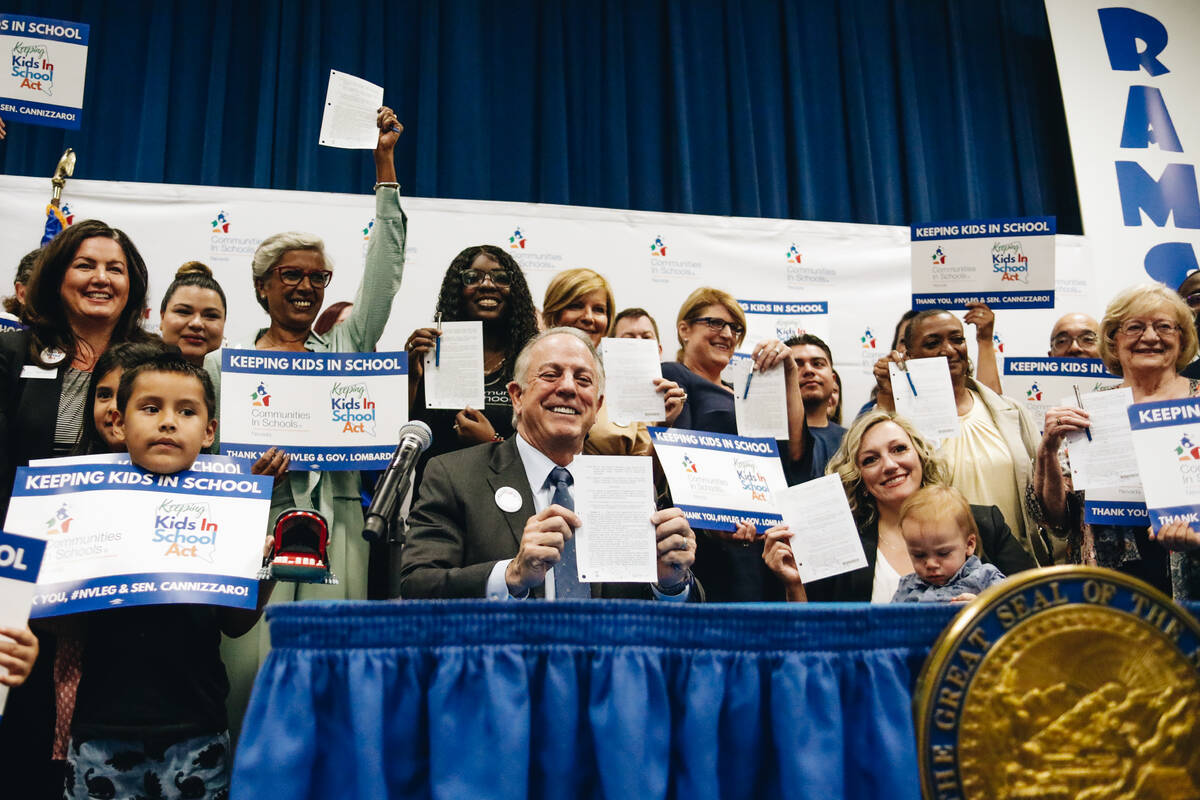 The nonprofit Communities In Schools of Nevada will get $2 million in state money to expand to more campuses.
A bill signing ceremony for Senate Bill 189, known as the "Keeping Kids in School Act," was held Thursday at Ronnow Elementary School in Las Vegas.
Communities In Schools of Nevada, a nonprofit dropout prevention organization, serves more than 100,000 students in Clark, Washoe, Elko and Humboldt counties.
It plans to expand to 108 schools for the upcoming school year — up from 92. About 80 schools are in Clark County.
Tami Hance-Lehr, CEO and state director of Communities In Schools, told an audience Thursday she was grateful, proud and that the occasion was a long time coming.
"Everyone will work so hard for what you've invested in us this year," she said.
The organization will provide services at about one in four Title I schools — those with a high percentage of students living in poverty — in the state.
Hance-Lehr said her organization has a bold vision, with a goal of being in every Title I or high-needs school across Nevada.
"This team will get it done," she said.
The bill was sponsored by Senate Majority Leader Nicole Cannizzaro, D-Las Vegas, and 28 legislative co-sponsors. It passed unanimously out of both the Senate and Assembly.
Money will be used over the next two years for efforts to help students in areas such as attendance, academics and behavior. Participating schools have a CIS site coordinator on campus.
The organization is entering its 19th school year in Nevada. This is the organization's first-ever state appropriation, Chief Strategy Officer Alex Bybee said.
CIS works with more than 100 community partners, Hance-Lehr said, and doesn't duplicate services.
The high school graduation rate was 94 percent for the 2021-22 school year among CIS case-managed students. That compares with 81.7 percent statewide for the class of 2022.
'Someone there who cared'
Treasure Monroe, a CIS alumna and 2022 graduate of Desert Pines High School, said she wouldn't have graduated from high school without the organization's help.
As she spoke, three CIS site coordinators who worked with her stood behind her.
Monroe, who's now 19, said she had behavior problems in elementary school because she didn't understand how to do her schoolwork and needed more help.
She started getting help from a CIS site coordinator, and Monroe said she loved "having someone there who cared."
She said she got an Individualized Education Program (IEP) and extra help in reading.
While at Monaco Middle School, Monroe said she used to sit in the hallways with friends and a CIS site coordinator made sure she got to class on time and that she got good grades.
She said she was depressed and sometimes wasn't eating after her grandmother died, and a CIS coordinator also helped her during that time.
By her senior year of high school, she was vice president of student council and homecoming queen. Monroe said she was proud of herself.
She said the site coordinators are amazing, kind people and she thanked them.
'The first line of defense'
Michelee Cruz-Crawford, principal at Ronnow Elementary, said she gets to see "exactly how the money and policy affects our community and our students."
Cruz-Crawford — who was joined on stage by 5-year-old student Brissa — introduced Ronnow's CIS coordinator, Yajaida Lujan Arroyo, calling her "so special."
"Schools are working in the first line of defense," she said, with meeting student and family needs such as when they need food or can't pay their rent.
Ronnow had a 40 percent chronic absenteeism rate last school year, Cruz-Crawford said, noting the school's team will work hard to shift that and couldn't do it without CIS.
'The right thing to do'
Gov. Joe Lombardo said that he received a call out-of-the-blue about a year ago from Hance-Lehr while he was Clark County sheriff. He said he was overwhelmed by the facts, and goal and mission of the organization.
He said he promised to do everything in his power to help, whether or not he was elected governor.
Lombardo said it's important to spread the knowledge of successful programs.
Cannizzaro said the bill shows what can come from bipartisan support of legislation. She called it "the right thing to do."
She attended the ceremony with her two young children and her toddler Case sat on her lap on stage for parts of the event.
Cannizzaro told the audience about her own story of growing up in Las Vegas. Her parents moved from Buffalo, New York because they heard there were job opportunities in the city.
She said her parents worked as a bartender and waitress, working opposite shifts so one of them could be home watching their children.
Cannizzaro said she believes that when children are given the opportunity to succeed, they can and will. And every child, she said, needs a cheerleader.
'Purveyor of hope'
Punam Mathur, director of the Elaine P. Wynn & Family Foundation, said that Wynn was the founding board chair for the organization in Nevada.
"Poverty is a beast," Mathur said, but called CIS site coordinators a "purveyor of hope."
U.S. Rep. Susie Lee, D-Nev., who was previously the organization's longtime board president, said the bill demonstrates that children "require us to work together in a bipartisan manner."
About 79 percent of students in Nevada are dealing with some form of poverty, Lee said, and CIS is able to address and eliminate barriers.
The model is simple, she said. "Programs don't change people. People change people."
Contact Julie Wootton-Greener at jgreener@reviewjournal.com or 702-387-2921. Follow @julieswootton on Twitter.