Scholarships create diploma pipeline from Las Vegas to Kentucky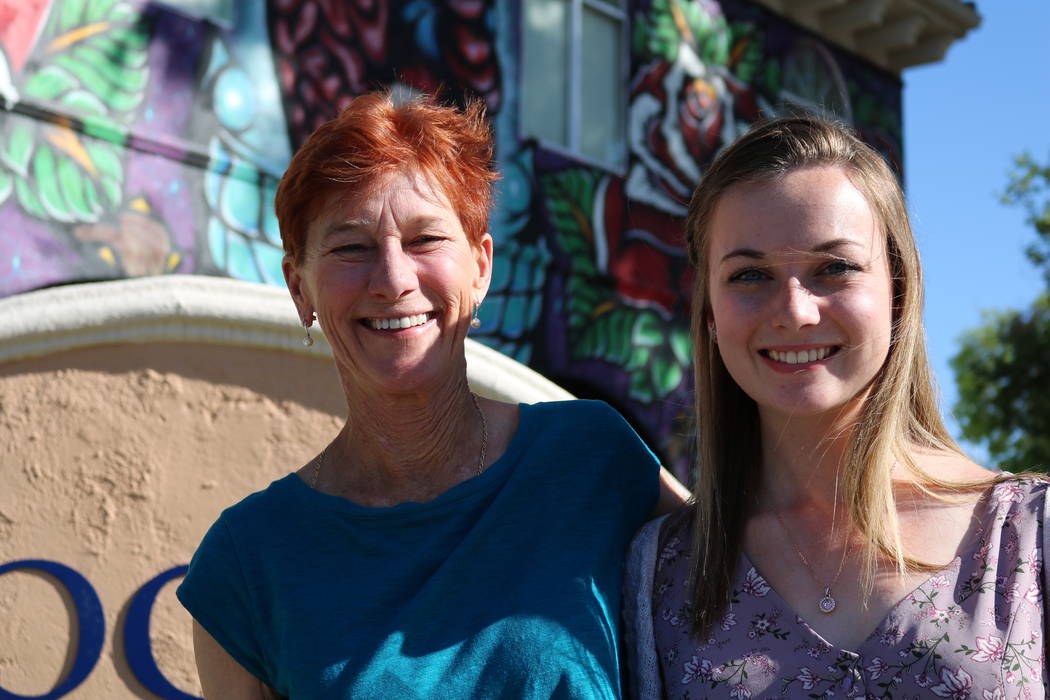 Somewhere near the banks of the Ohio River in Owensboro, Kentucky, students from Sin City are pursuing higher educations.
The draw: full-ride scholarships to Kentucky Wesleyan College, a small, faith-based liberal arts college of fewer than 1,000 students.
It's the third year in a row that the Las Vegas-based Rogers Foundation has offered all-expenses-paid college experiences to Clark County students who exhibit a strong drive and passion.
The Kentucky connection stems from the family of the late Jim Rogers, former owner of Channel 3, who invested his estate in the foundation to bolster arts and education opportunities.
Many of his family members, originally from Louisville, Kentucky, attended the school.
"We had determined when we started the foundation that we wanted and needed to focus the monies we had very specifically, rather than spread the money too thin," said his widow, Beverly Rogers, who heads the foundation.
That means students like Doreen Chloe Lubag, a Las Vegas Academy graduate and junior at the college, have their eyes opened to life beyond Nevada.
It took a while for Lubag to get used to the culture shock. Instead of falling asleep in a bustling city, she said, she heard crickets and frogs at bedtime. Stores closed early. She talked faster than her classmates.
But while she was initially homesick freshman year, she has grown to love life there.
"It's kind of like a blast to the past when you get here," said Lubag, who's majoring in legal studies. "I like it. Everything is a lot slower. It doesn't need to be 'go, go, go' all of the time."
So far, 38 students have attended the school as Kentucky Wesleyan Rogers' Fellows, funded by roughly $4.6 million from the foundation. Students must meet minimum GPA and college entrance exam requirements while showing leadership and interest in public service. First-generation college students are preferred.
The Las Vegas Valley students also have added diversity to Kentucky Wesleyan, where the majority of students are from Kentucky.
"They have just been a very talented group and a breath of fresh air and have brought some diverse backgrounds to the institution," said Jeremy Pittman, vice president of admissions and financial aid. "It's just been a real wonderful partnership, and it has given some students the ability to probably be able to do some things and see some things that they haven't done before."
The scholarships are not the only financial aid the foundation offers. Rogers Foundation Achievers scholarships, given to district students who meet minimum GPA and college entrance exam requirements, provide varying amounts for attendance at colleges or universities nationwide.
That brings the foundation's total scholarship awards to just over $6 million.
For Taylor Kloos, a senior at Northwest Career and Technical Academy, becoming a Rogers' Fellow seemed a pipe dream.
Kloos wants to be a special education teacher, a field that has difficulty attracting candidates. She was interested in Kentucky Wesleyan because it has a dual certification program in special and elementary education.
If she attended UNLV on her own, she said, she'd be about $15,000 in debt, even with financial aid and scholarships, by the time she graduated.
"That's pretty scary," she said. "Especially on a teacher's salary."
In keeping with the Rogers Foundation's mission, Kloos ultimately wants to enter special education wherever she's most needed.
"Wherever I get a job, wherever I feel like the kids really, really need me, that's where I'm going to stay," she said.
Contact Amelia Pak-Harvey at apak-harvey@reviewjournal.com or 702-383-4630. Follow @AmeliaPakHarvey on Twitter.