School Board to hire firm to help find next superintendent
October 5, 2017 - 10:17 pm
Updated October 5, 2017 - 10:21 pm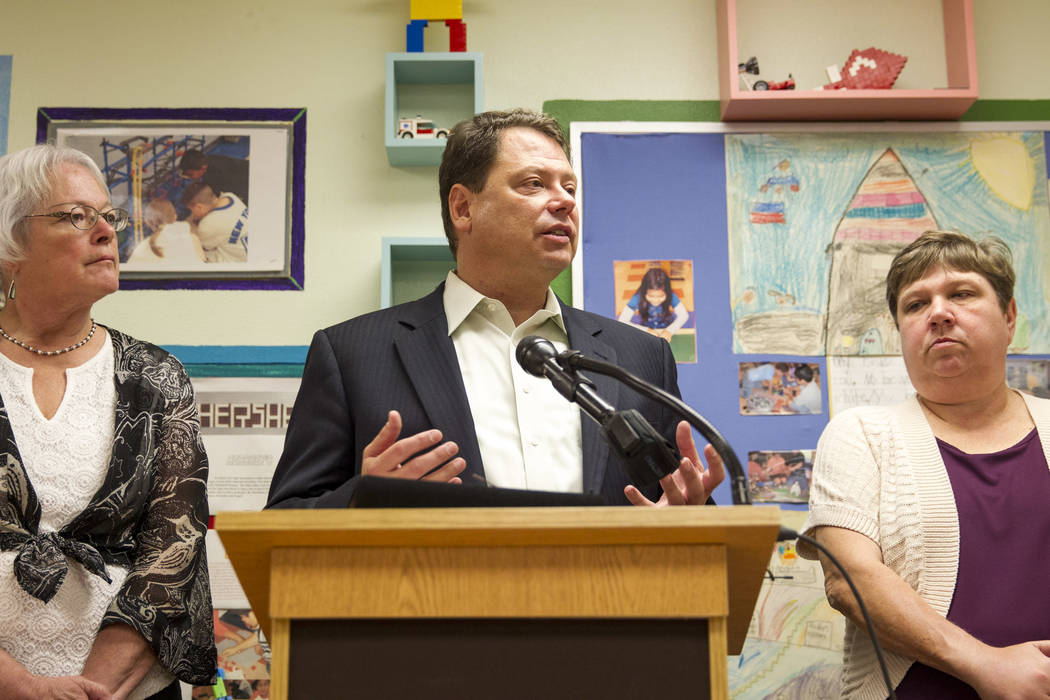 The School Board will hire a search firm to assist in the selection of the next superintendent of the Clark County School District.
Trustees unanimously supported the motion Thursday night, but much discussion remains on exactly how to find the next leader of the massive district.
While most trustees supported conducting a national search, some hope to learn from the issues of previous searches.
Two community groups have stepped up to offer money for a search firm as the district faces a crippling budget deficit — but trustees are also insisting that those donations must not carry political weight in the selection process.
Trustee Chris Garvey argued for more applicants to be made public than in a previous search in which only three were presented to the board.
"As a trustee I don't want to be put in a position again where I don't even know, I can't even tell my constituents who all applied," she said.
Board President Deanna Wright expressed concerns with previous searches. In the search that ended with Superintendent Dwight Jones, she said she felt there wasn't enough focus on hiring the right search firm.
People also were always questioning Superintendent Pat Skorkowsky, Wright said, because he was chosen through a local search and not a national one.
"I felt like it put him in jeopardy from day one, because he didn't go through the rigorous process of all of these things," she said.
The district has already received financial support for a search firm from the Las Vegas Metro Chamber of Commerce and the Rogers Foundation, Wright said — and other groups may donate as well.
Paul Moradkhan, vice president of government affairs for the chamber, said the group offered money because it does not want a price tag to inhibit the selection of the next superintendent.
"The only thing we'd like to influence, of course, is good education," he said.
The board will likely discuss more details — including what kind of search firm to hire — at its meeting next week.
Contact Amelia Pak-Harvey at apak-harvey@reviewjournal.com or 702-383-4630. Follow @AmeliaPakHarvey on Twitter.
Trustees limit gas mileage reimbursement
The School Board also will move toward capping trustees' monthly gas mileage reimbursement to $350 to help with the budget cuts taking place across the district.
Trustees are reimbursed for travel to and from schools, district events, and other professional development training.
In the past two years, their individual yearly reimbursements have ranged from $123.60 for Trustee Erin Cranor to over $5,000 for Trustee Kevin Child.
"I think that there are circumstances and things where trustees are going to places just to go," said Board President Deanna Wright. "I think that we need to be professional … and be responsible."
Trustees Chris Garvey and Kevin Child voted against the notice of intent to change the policy. Child argued that trustees are supposed to be out in public meeting their constituents, and he offered to give up other out-of-state travel expenses instead.
Garvey called for reevaluating money in the board's office, questioning whether trustees each truly need a district cellphone.
But teacher Karlana Kulseth called the whole conversation a slap in the face, arguing that teachers travel everywhere to obtain professional development in pursuit of a higher salary.
"They're running here and there and everywhere to get whatever they can that fits within the parameters of their professional growth plan, and you're sitting here arguing about caps on mileage," Kulseth said.