State Supreme Court hearings on school choice likely to resonate nationwide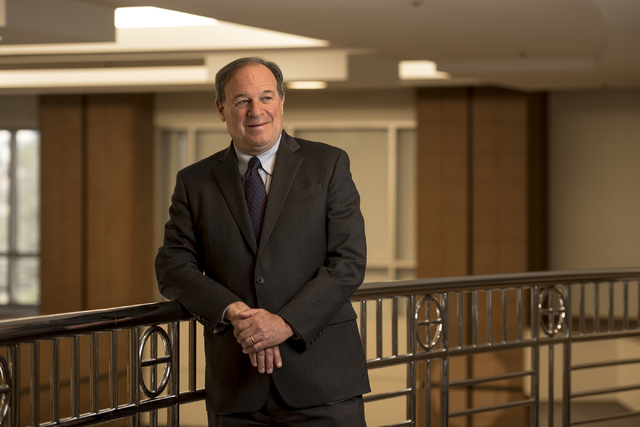 If there's anything supporters and critics of school choice can agree on, it's the likelihood that a pair of state Supreme Court hearings Friday will have an impact on public education beyond Nevada's borders.
That's where the agreement seems to end, with parents, politicians and education policy experts widely divided on the constitutionality of Senate Bill 302.
The legislation, which Gov. Brian Sandoval signed into law last year, created what many consider the most expansive school choice program in the U.S. It allows parents who pull their children out of public school to sign up for an education savings account and tap about $5,100 in state per-pupil funding to help pay for private school tuition or home-school, tutoring and other educational services.
Proponents argue the voucher-style program grants families more options to meet the unique needs of their students; opponents claim SB302 will drain resources from an underfunded public education system and funnel taxpayer money into religious schools.
A ruling isn't expected in either case. Both sides, however, acknowledge that when the Supreme Court holds oral arguments in two lawsuits Friday it's likely to have a ripple effect throughout the country.
"It's impossible to overstate the importance of Nevada and this litigation. It's enormous," said Leslie Hiner, vice president of programs for the Friedman Foundation for Educational Choice.
That Indianapolis-based nonprofit organization, named after school choice advocate Milton Friedman, filed a "friend of the court" brief in support of the state's efforts to protect SB302.
According to Hiner, at least 18 states this year may advance legislation similar to what she called the "Nevada model."
"The rest of the country is watching and understands Nevada's education predicament," Hiner said. "Clearly, Nevada has triggered something across the country."
Only four other states have programs similar to Nevada's, although they limit enrollment based on a family's income level or for children with disabilities. SB302, in contrast, includes no such restrictions and grants eligibility to virtually all K-12 students.
The state treasurer's office, which SB302 charges with implementing the program, already has received nearly 8,000 applications for early enrollment.
"I fear that, because this is the most aggressive model for this program, the privatization of education … will spread like wildfire," said Electra McGrath-Skrzydlewski, whose 12-year-old daughter is a student in the Clark County School District.
McGrath-Skrzydlewski joined several parents last October to sue the state in a Carson City court, challenging SB302 on the grounds that it diverts money meant "exclusively" for public schools to private schools and other private expenses. Their complaint also claims the bill violates a constitutional requirement that lawmakers create a "uniform" system of public schools.
"The argument that extracting upward of $30 million from the public education system in hopes that you return choice to parents is not the solution," McGrath-Skrzydlewski said. "This experiment will directly injure the strength of the school system."
A month before she joined the Carson City case, the American Civil Liberties Union filed its own lawsuit against SB302 in Las Vegas and primarily argued the bill violates a constitutional prohibition against the use of taxpayer funds for religious purposes.
The judge in that case eventually dismissed the lawsuit, while a Carson City judge granted a preliminary injunction to halt implementation of SB302. Now, the Supreme Court must decide whether the law passes constitutional muster and can be implemented.
"It's going to be a very important decision," said Amy Rose, the ACLU of Nevada's legal director. "It's important to the taxpayers of Nevada to make sure their money isn't being used for unconstitutional purposes."
Aside from the Friedman Foundation, the appeals in each case have drawn "friend of the court" briefs from other national organizations including the Baptist Joint Committee for Religious Liberty, Hispanics for School Choice, National Education Association and National School Board Association.
And, thanks to a nearly half-million-dollar retainer, former U.S. Solicitor General Paul Clement has joined Attorney General Adam Laxalt's office in crafting the state's defense of SB302.
In a statement released Wednesday, Laxalt noted the two lawsuits have moved swiftly through Nevada courts, "making these the fastest major school choice cases litigated in American history.
"The suits ask the (Supreme Court) to twist Nevada's Constitution in ways never imagined or intended by our framers," the statement adds. On Friday, "the Supreme Court will address challenges to the constitutionality of the program and allow the voices of the more than 7,000 families eager to participate in this program to be heard."
Oral arguments in Schwartz v. Lopez, the Carson City case, begin at 10 a.m. at the Regional Justice Center, 200 Lewis Ave., in downtown Las Vegas. The justices will hear arguments in the ACLU case, Duncan v. State of Nevada, at 11:30 a.m.
Contact Neal Morton at nmorton@reviewjournal.com or 702-383-0279. Find him on Twitter: @nealtmorton.