Teacher salary programs help some Clark County schools, not others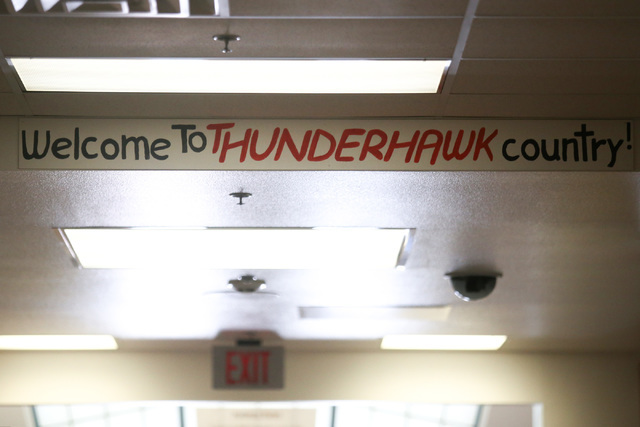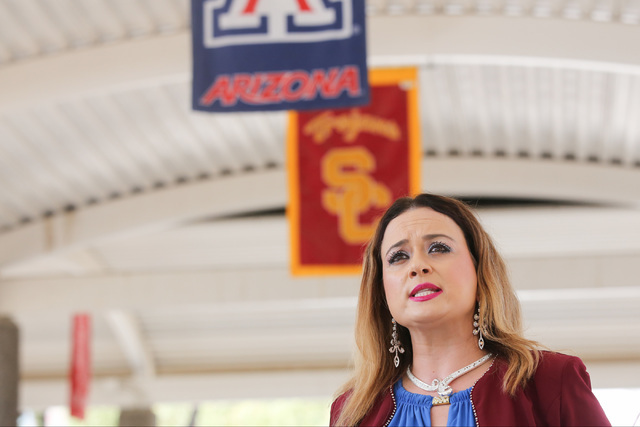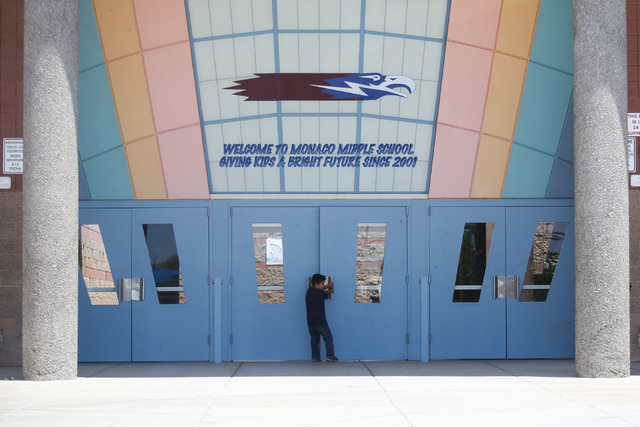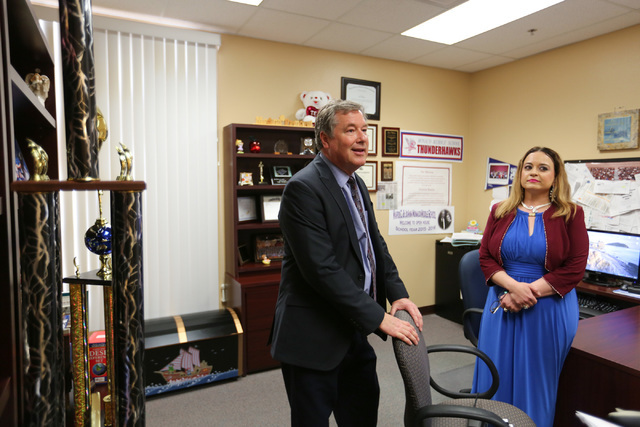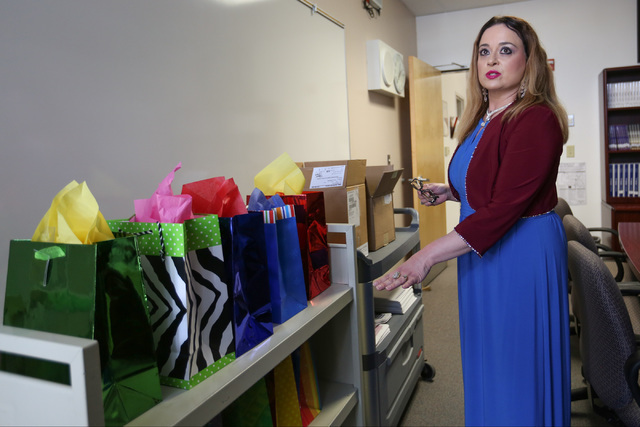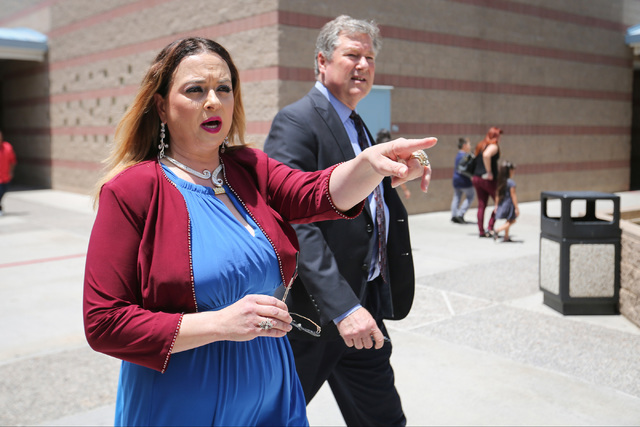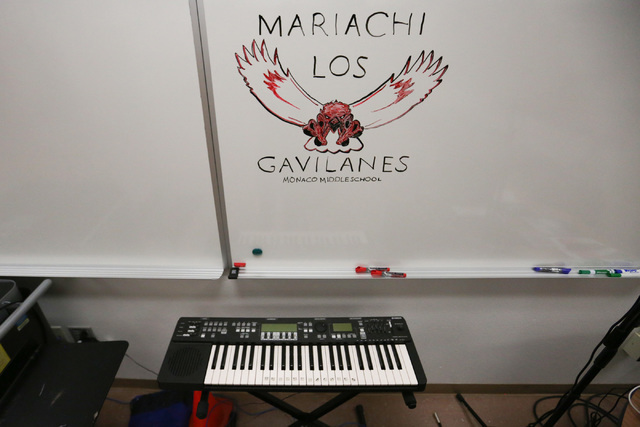 Hector Arenas didn't become a teacher for the money, but it's certainly giving him reason to stay put.
A social studies teacher at Monaco Middle School, Arenas just completed his third year in the classroom, has no plans to quit and refers to the profession as a "calling."
Still, he admitted a recent boost in pay helped persuade him to stay at Monaco for a fourth year.
"I mean, obviously it's important to sustain myself and take care of my family," said Arenas, who has two daughters.
According to a Review-Journal analysis of internal hiring records from the Clark County School District, a new salary incentive program has successfully persuaded teachers to stay at or transfer to schools, like Monaco, with large populations of students who live in high-poverty areas. A similar incentive program, however, has not yielded the same results for schools with the highest share of English language learners.
Monaco, near the intersection of Lake Mead and Nellis boulevards, is one of two dozen Victory Schools that serve students in Clark County's poorest neighborhoods.
Under a new program passed in the 2015 Nevada Legislature, Victory Schools have offered incentives from $250 to $3,000 to recruit and retain more teachers like Arenas to high-needs classrooms. And the incentives appear to be working.
"We're able to make ends meet," Arenas said. "I'm not going to lie, and say, 'Oh, I do this for the love (of students).' That's part of it, but the money doesn't hurt."
Between April and May, more than half of Victory Schools in the district already filled every open teaching position listed for the 2016-17 school year.
State lawmakers approved a similar but less flexible incentive program for schools with the highest share of English language learners, but it hasn't had the same success: Among the 38 so-called Zoom Schools, less than one in five filled all vacancies by early May.
Advocates for English language learners blame the mixed results on the flat $350 incentive that district officials set for Zoom Schools. Their argument: How can principals attract qualified teachers with a bonus that amounts to less than $1 a day?
It's a problem district officials recognize and will try to fix before school starts again in less than three months.
"As we head into the June (hiring) season and see that the Zoom incentive is not helping, or not helping particular schools, we're definitely flexible in adjusting that number," said Mike Barton, the district's chief student achievement officer.
A DUAL APPROACH
As of Friday, the district reported 700 total vacancies for 2016-17. That number rose from about 550 last month, as more teachers submitted resignation notices.
The district also added 100 positions as part of a new early literacy program.
For its analysis, the Review-Journal obtained internal lists of classroom vacancies that the district sends to all teachers in case they want to transfer jobs for the next school year.
In April, Victory Schools started the transfer period with just 83 openings, suggesting the incentives, which kick in next year, encouraged more teachers to remain at those campuses.
In fact, at Monaco, 36 of 65 teachers left the school at the close of 2014-15. This year, only eight teachers plan to leave Monaco, according to Principal Lisa Medina.
"It's a dual approach," Medina said. "It's one thing to attract someone to your school. You also have to keep them interested and engaged in that school, so for us it's a matter of keeping the great people I already have here."
As for recruiting new teachers to Monaco, the school closed each of its vacancies within the first month of the transfer period. A dozen other Victory Schools did the same, though new positions have opened as the transfer season continues through June 30.
Total openings for Victory Schools fell to 27 as of May 9 but increased to 51 over the next two weeks.
"It's very fluid," said Andre Long, the district's co-interim chief human resources officer. "Positions open and close all the time, changing week to week."
GET MORE CREATIVE
At Zoom Schools, the flat-rate incentive of $350 doesn't seem to have helped principals fill vacancies as quickly as their Victory School counterparts.
Only seven Zoom Schools listed zero open positions as of May 9, with 80 vacancies still available at the remaining 31 campuses. That number rose to 106 as of May 23.
During recent legislative hearings, and in meetings with the State Board of Education, district officials have acknowledged the $350 incentive may strike teachers as low, especially in comparison to what teachers can make at a Victory School.
State law, however, sets very different rules for how schools spend the additional money in each program.
At Victory Schools, which received between $17,000 and $3.2 million, principals can use up to 51 percent of the extra state aid for recruitment and retention incentives, among other uses.
"There's flexibility there, and that's the spirit of Victory legislation: It's more site autonomy to make decisions," Barton said. "It creates some competitiveness among principals to get more teachers to their schools."
Zoom School legislation is much more rigid.
The district as a whole received $39.4 million for Zoom Schools, but Senate Bill 405 caps at 2 percent the amount that principals can use for incentives, parent engagement and teacher training.
Split among those three uses and 1,400 teachers, Zoom School incentives can only go so far.
"We're still contending with that 2 percent cap," Barton said. "It would be great if that got opened up, as far as not being so restrictive.
"We still have to do parent engagement with that pot of money, as well as professional development," he added. "With $39 million and change to do more incentives, we could get more creative."
CCSD schools with teacher vacancies
Victory Schools
Zoom Schools
All other schools
Contact Neal Morton at nmorton@reviewjournal.com or 702-383-0279. Find him on Twitter: @nealtmorton