Teacher vacancies drop as Clark County School District ramps up hiring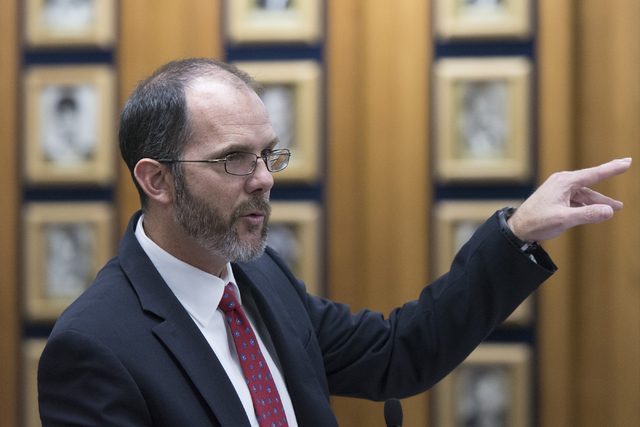 With about a month until school starts, Clark County School District has ramped up its search to fill classroom vacancies and met with some success, cutting teacher openings nearly in half since early June, based on data presented to the State Board of Education on Thursday.
The school district had 700 vacancies on June 3, but that number has dropped to 370, according to district officials, who acknowledged that most of the remaining openings were special education positions.
"We are not surprised by our numbers here," said Andre Long, the school district's chief human resources officer.
Board President Elaine Wynn said that it is too early to congratulate the district on a job well done, but the improvement of teacher hiring practices from the school district is a step in the right direction.
"It's consoling to see that we are finally starting to address this," Wynn said.
Board member Felicia Ortiz told district officials to be prepared to present data at future meetings about how many new hires leave within the first year.
The current vacancy situation is an improvement from last July, when the school district had to fill over 1,000 positions. The district has salary incentive programs designed to keep teachers at low-income schools, which are partially to thank for the recent progress.
District officials also have reached out to potential hires directly on social media, contacting about 2.5 million teachers on Facebook alone, according to chief recruitment officer Mike Gentry.
Long and Gentry told the Board of Education that they had filled 12 more positions in the hours following the meeting.
Still, transiency of teachers throughout the district remains an issue. Long said that teachers leave the lowest-performing schools at the highest rates, although those teachers do not always go to higher performing schools. He added that many of them move to other struggling, low-income schools.
The board also unanimously approved the allocation of nearly $4.9 million in grant funds for fiscal year 2017. The grant came from the Great Teaching and Leading Fund.
A state team spent weeks reviewing dozens of applications requesting a total of over $10 million.
About a quarter of the funds were approved to go to recruitment and retention. Just over $2 million was approved to supplement science education. About $1.7 million was approved for leadership development. The funds will be dispersed to school districts across the state.
The board also unanimously approved the revocation of teaching licenses for two educators, Shannon Giardino and Timothy Lawson, who were arrested in the last year.
Giardino was sentenced last October for abusing her daughter; Lawson pleaded guilty to indecency.
Contact Blake Apgar at bapgar@reviewjournal.com or 702-383-0342. Follow @BlakeApgarLV on Twitter.
RELATED
Teacher salary programs help some Clark County schools, not others
Clark County, Nevada pursue more teachers as new school year looms