Teachers union lays out priorities as legislative session begins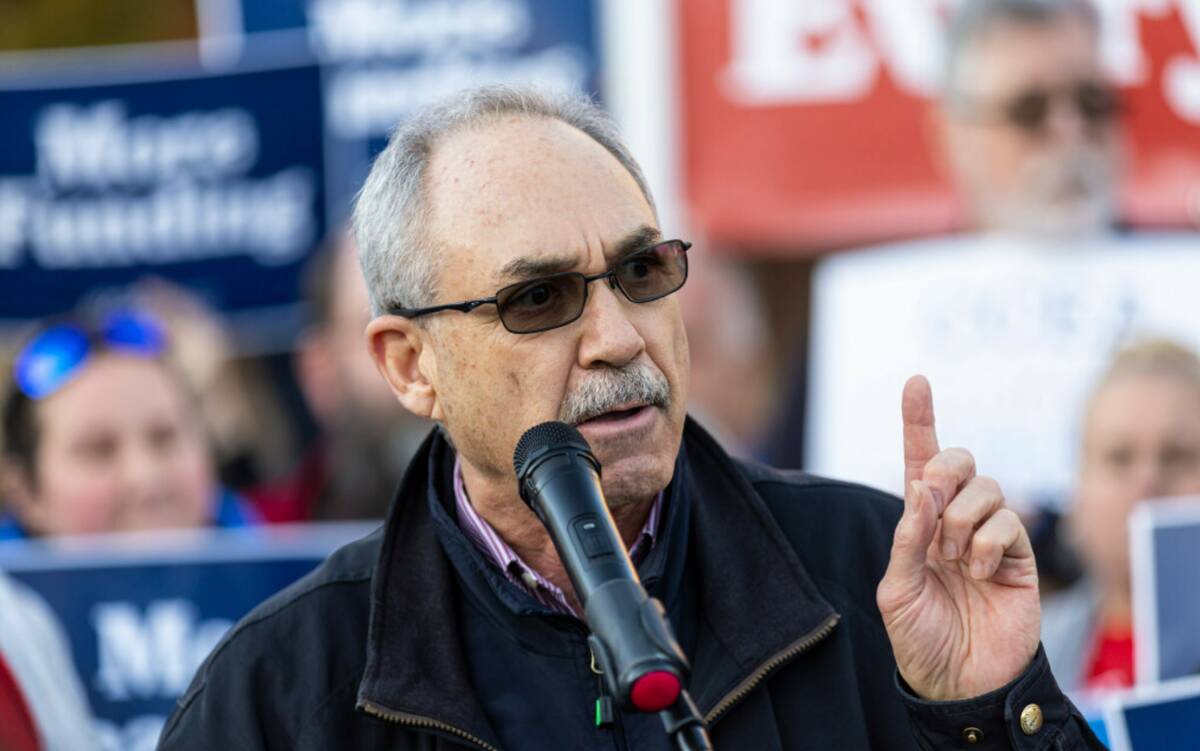 The Clark County Education Association laid out its plan to create a homegrown teacher pipeline and improve school safety as Nevada's 82nd regular legislative session kicked off on Monday.
The session, which convenes every two years, will run for 120 days through early June.
The teachers union, the largest in the state, represents more than 18,000 educators.
Executive Director John Vellardita, speaking in front of a crowd of Clark County educators gathered outside the Sawyer Building in Las Vegas, said the union had a history of making a difference when it chose to get involved in Carson City politics, including in 2021 when it backed a mining industry tax that generated hundreds of millions of dollars for education.
"We live with those outcomes," he said of each biennial legislative session. "That's why it's important to make a difference."
State lawmakers already have made several moves to address public school funding ahead of the start of the session.
In his State of the State address last month, Gov. Joe Lombardo announced he would invest $2 billion for the state's public schools, including a $2,000 increase in the state's per pupil funding, while Nevada Democratic lawmakers announced a proposal last week that would put an additional $250 million toward raises for Nevada educators and support staff professionals.
But Vellardita said Monday that the funding, while significant, was not enough to solve many of the district's issues, pointing to the several hundreds of teacher vacancies in the district and the thousands of students without an effective educator in their classroom.
"This has to end," he said. "If there are no educators, what good is the money?"
Teacher vacancies, school safety top of mind for educators
Vellardita said one of the most important priorities for the union this session was legislation that would create a homegrown teacher pipeline in the state.
Vellardita said the plan was to create teacher academies at each district high school where students would be introduced to teaching as a career path early on. Students pursuing a teaching degree would also have their tuition paid for if they came back to the community to teach.
Nevada will need 19,000 educators over the next decade, with 14,000 of those in Clark County alone, according to Vellardita.
Vellardita also said the union would push for more wraparound services including mental and behavioral health supports for students in an effort to make schools safer.
The district experienced a spike in violent incidents last school year that culminated in the violent assault of an Eldorado High School teacher by a student last spring.
Vellardita said that a restorative justice law handcuffed educators from taking immediate action to remove disruptive students from their classrooms, and that the union supported legislation that fixes some of the current protocols related to discipline and restorative justice.
'Why wait two years? Why wait three years'
The union is not advocating for more taxes this session, but rather accountability and outcomes, according to Vellardita. The union said in a statement last week that it would support legislative oversight over the education funding being proposed by Nevada lawmakers, including legislation that puts CCSD in receivership if student outcomes don't see improvement within the next year.
The Nevada State Board of Education has recently debated whether to put the district into receivership over the district's compliance with a reorganization law, but opted last summer not to pursue partial or full receivership of the district as a possible consequence.
Vellardita said Monday that with the significant financial commitment from lawmakers, the union wanted to be proactive about asking for results and accountability, particularly on the heels of a failed signature gathering effort from some community leaders to break up the district.
"Why wait two years? Why wait three years?" he questioned. "There's ways you can measure progress now."
Contact Lorraine Longhi at 702-387-5298 or llonghi@reviewjournal.com. Follow her at @lolonghi on Twitter.