UNLV aims high in solar house competition
September 30, 2017 - 11:16 pm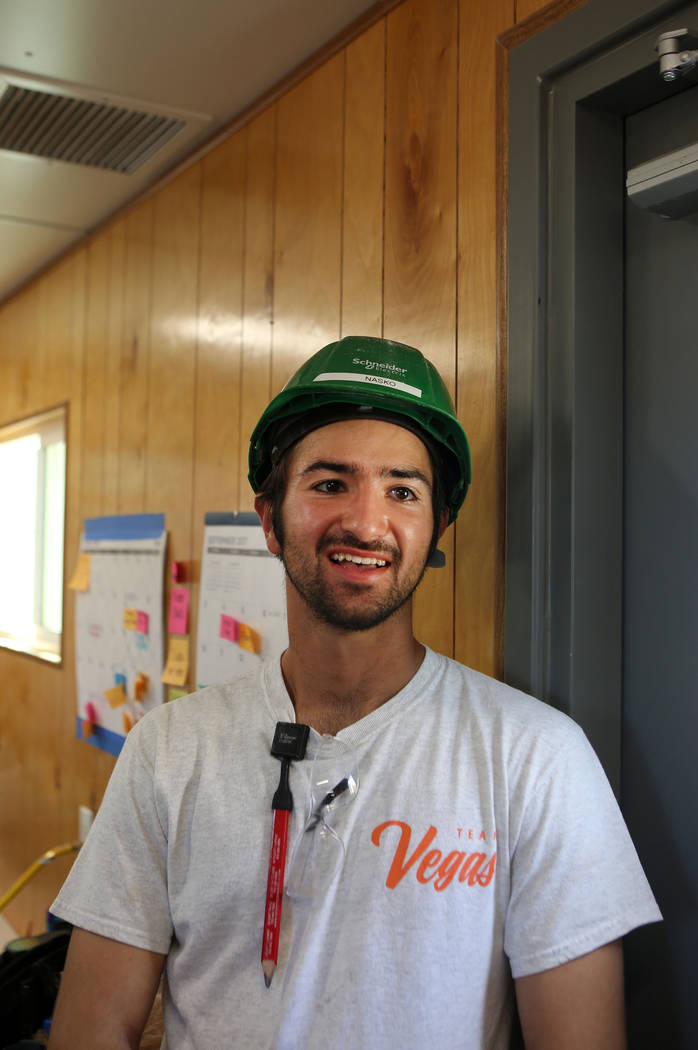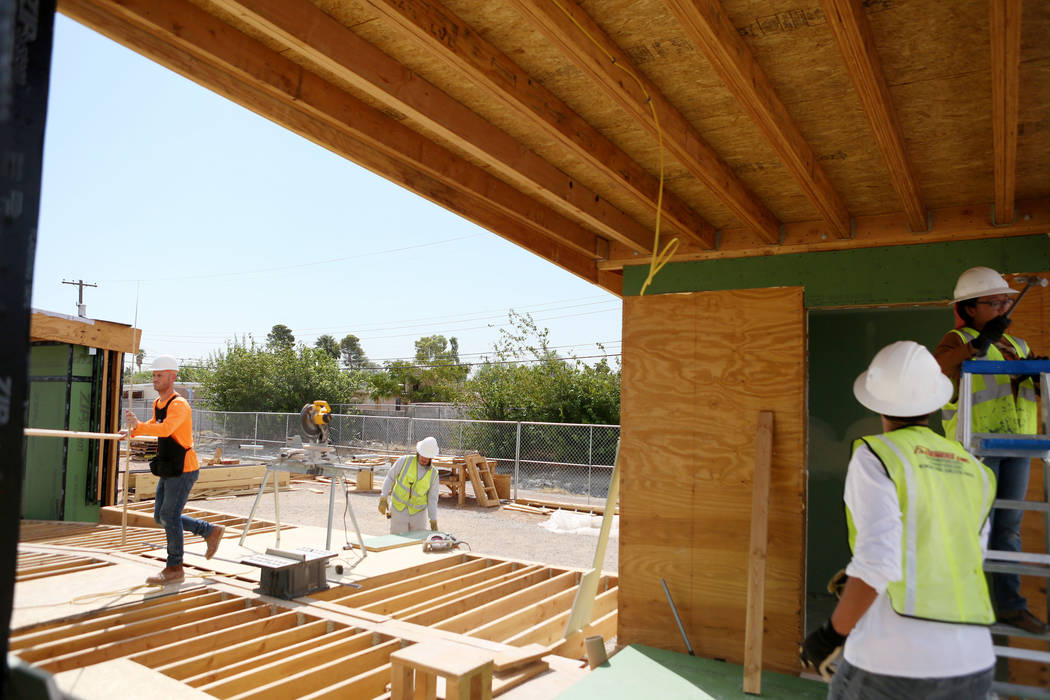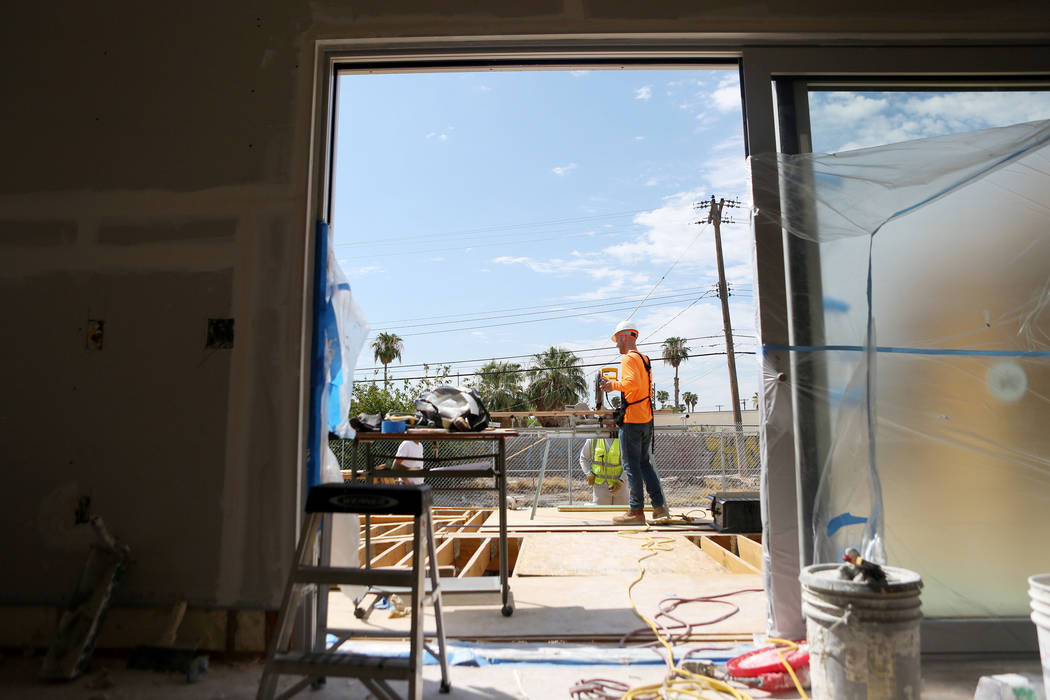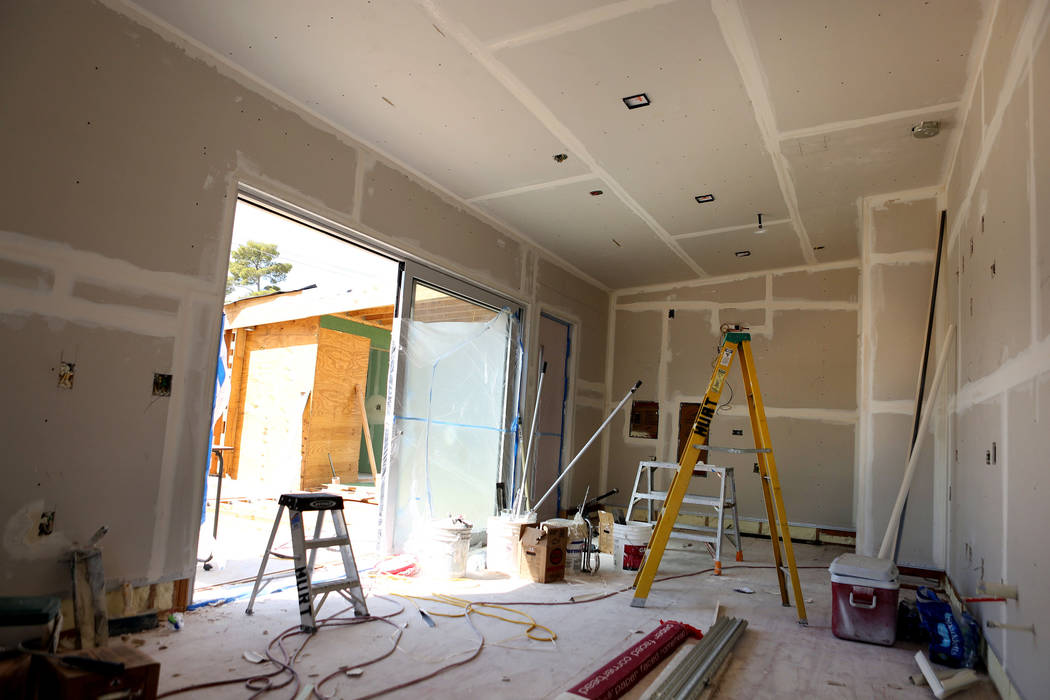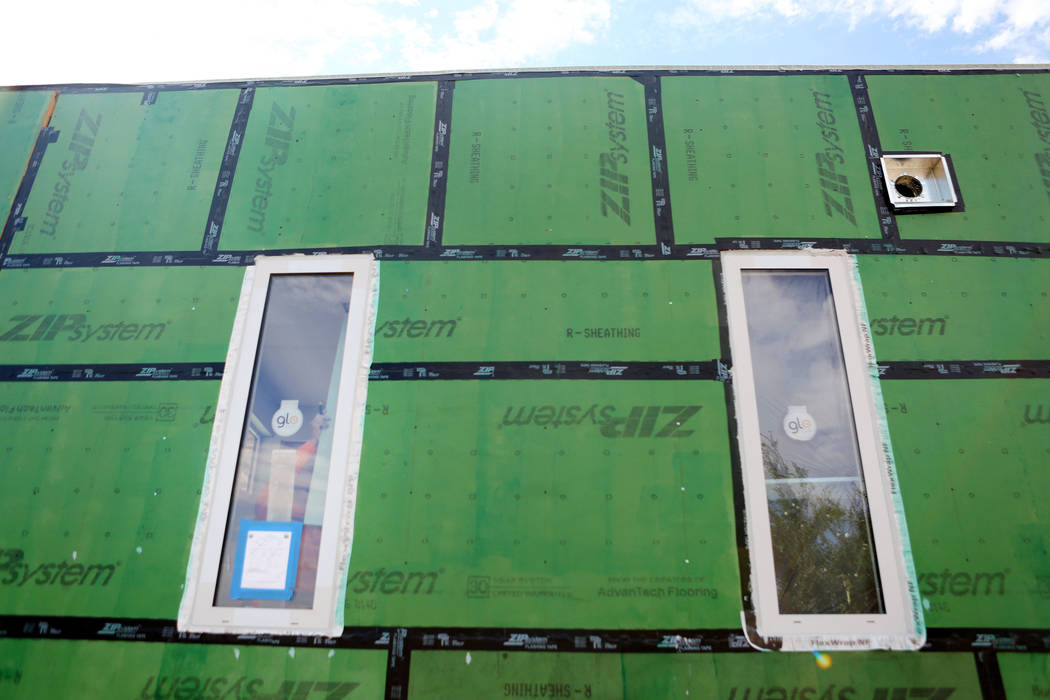 On a back corner lot of UNLV's Paradise Campus and more than a mile away from regular classroom sessions, students donned construction hats and bright yellow vests.
It's not the typical attire of a college student, but this is not a typical school project.
The task at hand: Design and build a solar-powered house from the ground up.
"All the students that helped design the project are actually hands-on building it as well," UNLV student Nasko Balaktchiev said. "It's an excellent learning opportunity for all of us to physically see things come together."
Balaktchiev is project manager for UNLV's team of students who are competing in the U.S. Department of Energy's Solar Decathlon, which begins this week in Denver.
UNLV will be judged against 12 other teams on how well the 990-square-foot house, dubbed Sinatra Living, blends design excellence and smart energy production with innovation, market potential and energy and water efficiency.
"This is just amazing," said Dr. Rama Venkat, dean of UNLV's College of Engineering. "It cannot be taught in a classroom. It cannot be taught in a laboratory setting. This is real."
Aging in place
The team of about 20 students first came together in fall 2015 to propose the project that would be its entry into the competition.
At the outset, the students knew the home needed to perform well in solar energy production. But Sinatra Living also had to have market appeal.
The group came up with a solution for people who want to age in place, said Brenda Tena, the team's interior architecture lead.
"I have a really strong passion for creating spaces for people to experience and making them accessible to as many people as possible," Tena said. "Everyone should have access to great spaces, and that's what I try to champion."
An age-in-place home helps older adults and those with disabilities stave off institutionalized care and remain in their own home.
The team will be judged on how well the house keeps true to this concept. One feature that appeals to this market is the home's Tesla battery, which stores all the excess energy the house creates.
"If there's ever a grid outage, or a natural disaster that occurs and can wipe out the grid, our Tesla battery can continue to power the home," Balaktchiev said. "If you have any critical life support systems in the house, you don't have worry about those going out."
The home is also fully wheelchair-accessible, with kitchen counters that move up and down, and features a closed-loop floor plan — a benefit to those with dementia.
"It doesn't matter where you start in the house, you end up in the same place," Tena said. "We've been pretty consistent since the very beginning, and have been refining the same design ever since then."
Other juried categories include architecture, engineering, communications, innovation and water conservation.
'Intense' competition
Designing and building the home were the first two major tasks; the final step is transporting the modular home to Denver. Once there, the home must be put back together in time for the 10-day competition that starts Thursday.
"Most of us have no experience doing this," Balaktchiev said. "I think we've learned a lot. It's pretty impressive what we've been able to achieve."
Venkat said the two-year commitment bests that of the average senior capstone project, which usually lasts a year.
"This is amazing keeping the team together, focused on the project, and raising funds, which is not easy," Venkat said.
It's such a commitment that the original field of 16 teams has narrowed to 13.
"The competition is really intense," Balaktchiev said. "Not everyone is able to raise the amount of money necessary."
By the end of August, the team had raised $750,000 in cash and another $300,000 in in-kind donations.
Such a commitment — in fundraising and time — has led the team to set ambitious goals.
UNLV competed in the 2013 Solar Decathlon, placing first among the U.S. teams, but second overall. The overall winner this year will get a $300,000 grand prize.
Balaktchiev, however, seemed more excited about another prize.
"Bragging rights," he said with a chuckle.
Contact Natalie Bruzda at nbruzda@reviewjournal.com or 702-477-3897. Follow @NatalieBruzda on Twitter.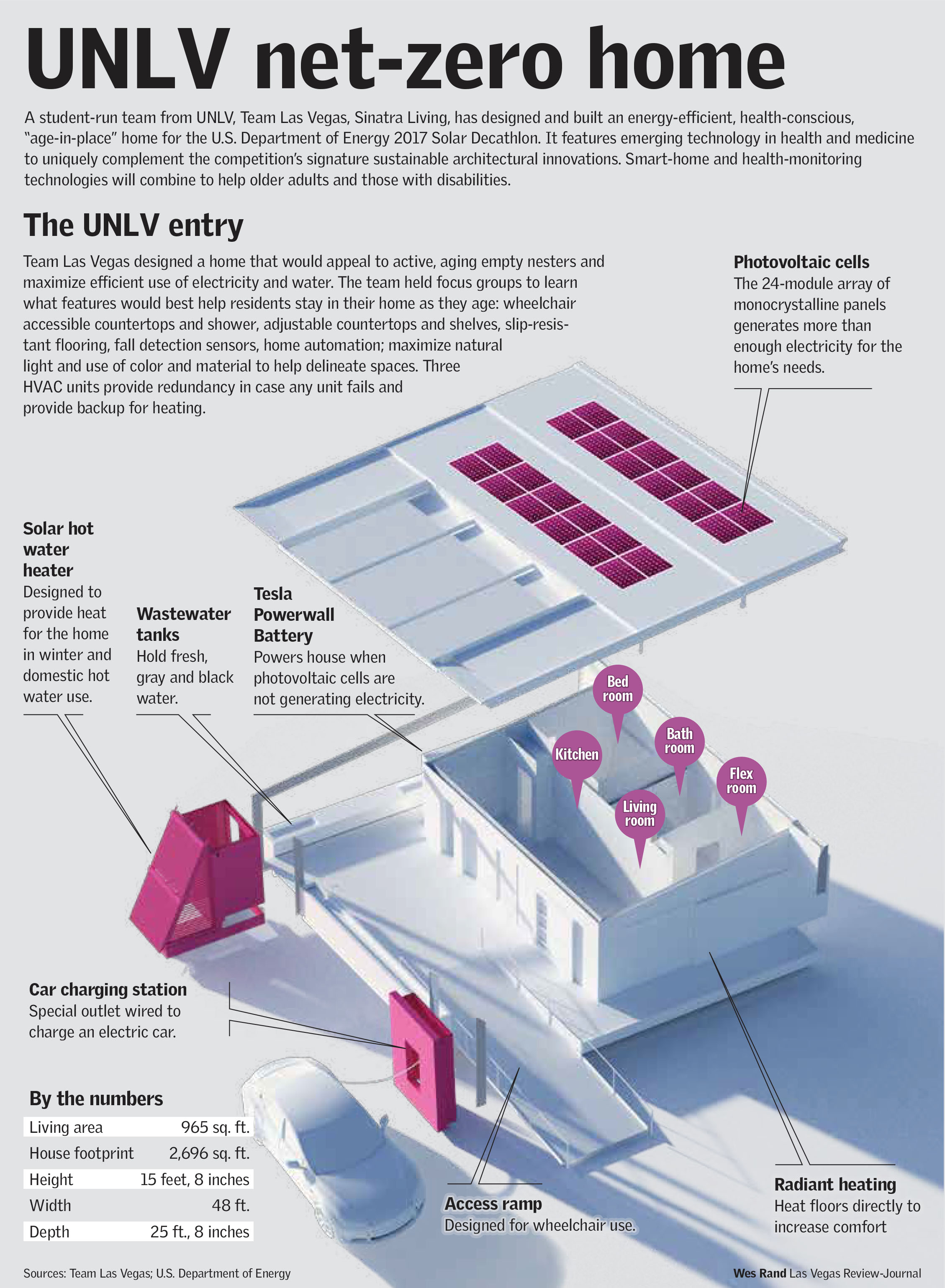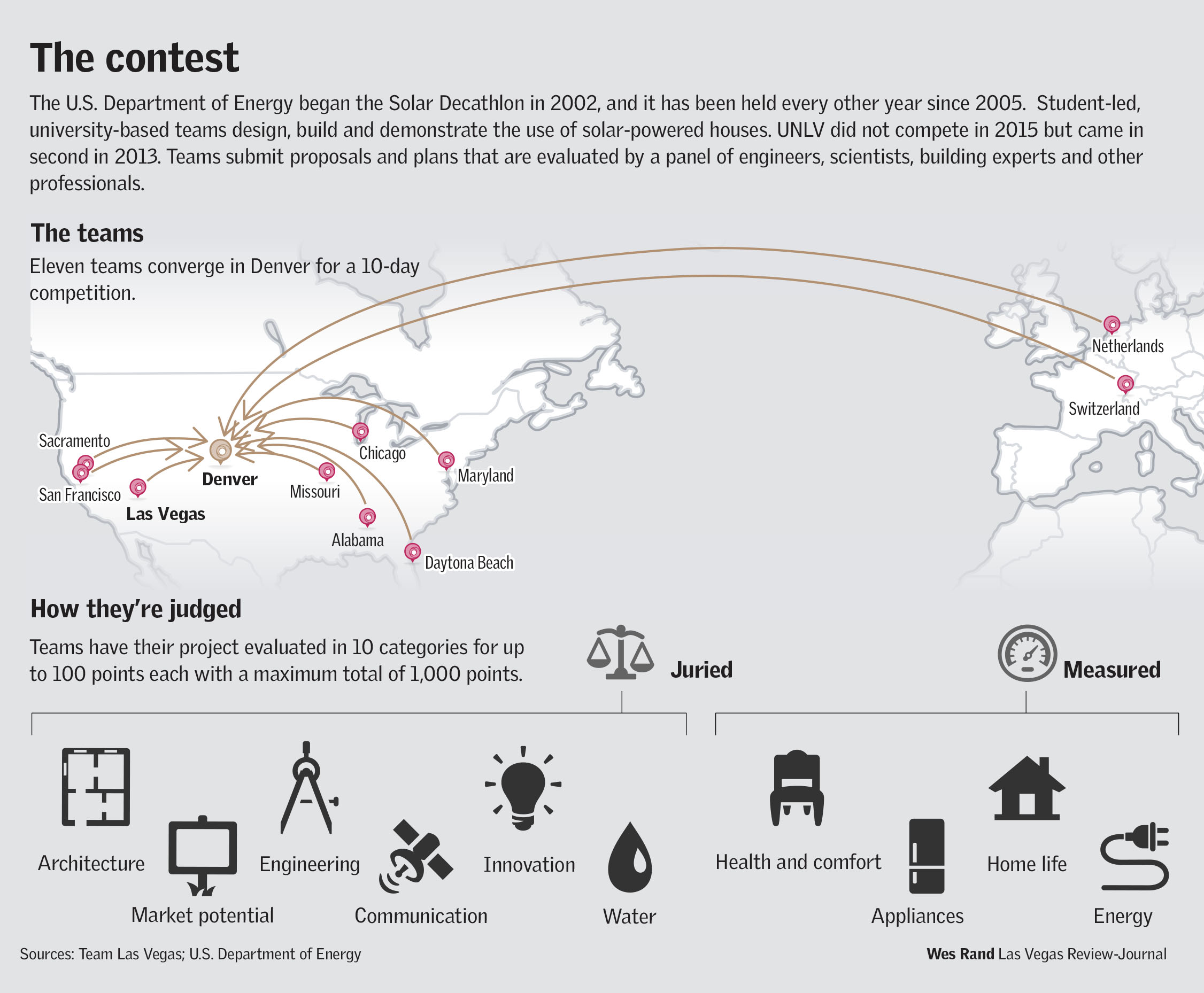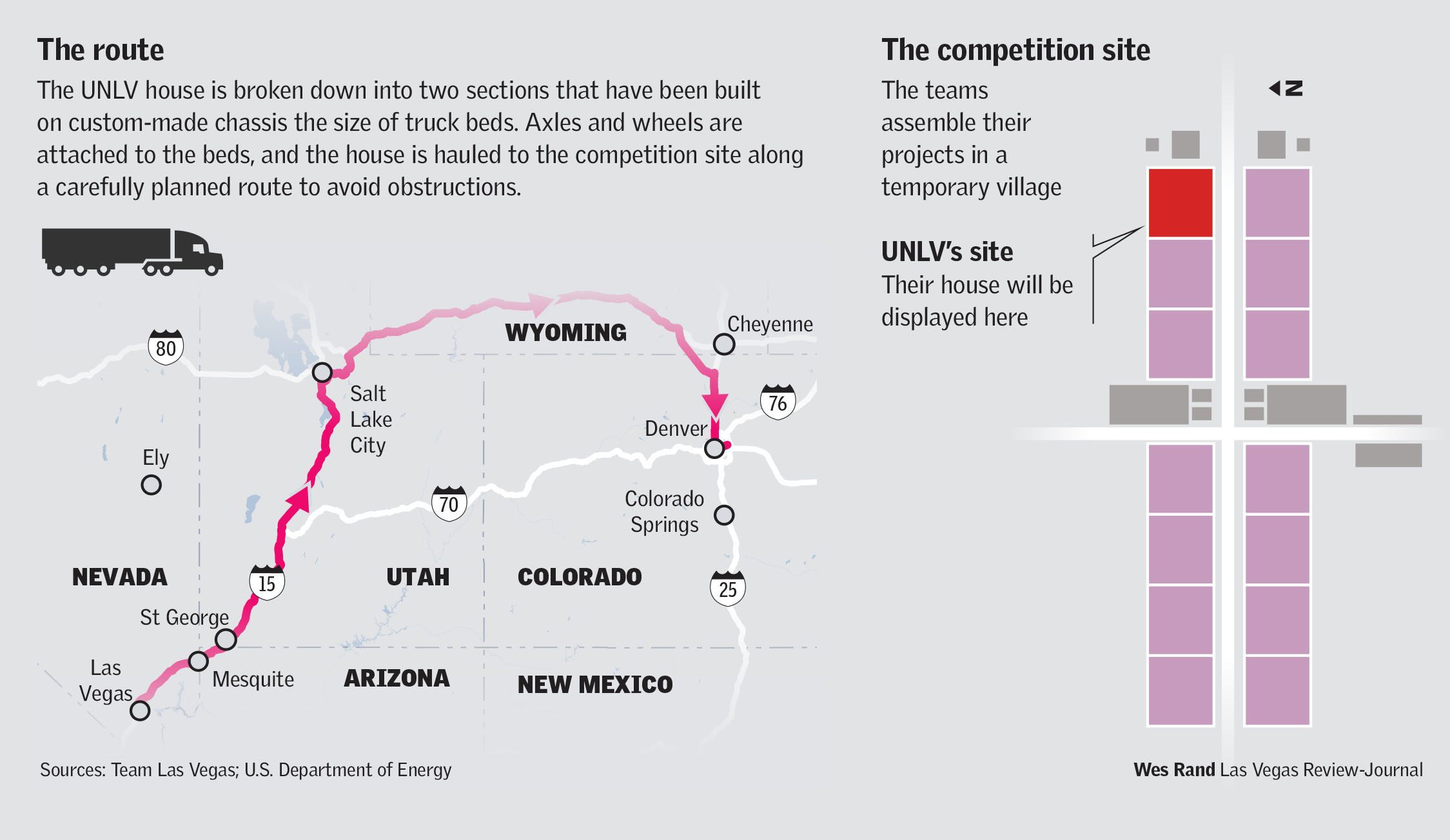 Other U.S. teams
— University of Maryland
— Missouri University of Science and Technology
— Northwestern University
— University of Alabama at Birmingham and Calhoun Community College
— Embry-Riddle Aeronautical University and Daytona State College
— University of California at Berkeley and University of Denver
— University of California, Davis
— Washington University
— Washington State University
— West Virginia University
International teams
— Netherlands: HU University of Applied Science Utrecht
— Swiss team: École Polytechnique Fédérale de Lausanne, School of Engineering and Architecture Fribourg, Geneva University of Art and Design, and the University of Fribourg
(Source: U.S. Department of Energy)