UNLV president says university has entered 'renaissance period'
September 13, 2016 - 7:10 pm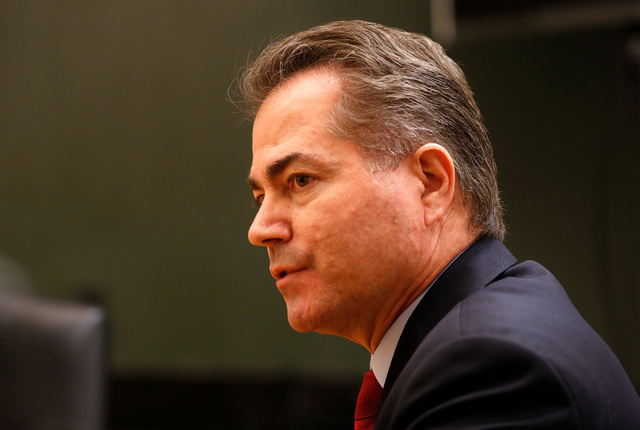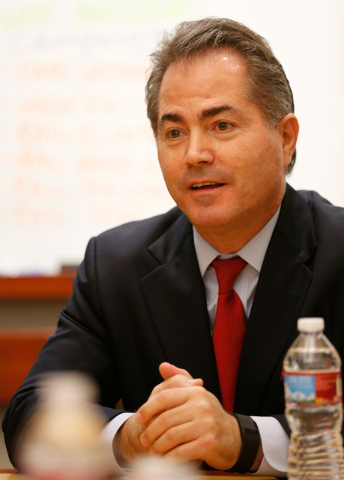 Changes are on the horizon for UNLV as the college tackles a long list of goals for the new academic year, President Len Jessup told the Las Vegas Review-Journal's editorial board Tuesday.
"We really feel that the university's in a renaissance period," Jessup said. "There's a lot going on."
MASCOT REVISITED
Jessup, who will deliver his second state of the university address Thursday, said the school has launched a $50,000 campaign to "refresh" its Hey Reb! mascot, hoping to address concerns that the character has racist ties to the Confederacy.
Complaints over the university's nickname and mascot have emerged for decades from groups who decry both as offensive. UNLV Chief Diversity Officer Rainier Spencer dismissed the sentiment last November in a 60-page report, noting that the criticism has been fueled by "mythology and general misinformation." Despite those findings, the school has budgeted $50,000 for a consultant who will update Hey Reb! following criticism from students and faculty members who were upset with Spencer's findings.
The school's nickname will remain unchanged.
UNLV spokesman Vince Alberta said that although surveys show most students and faculty members are not offended by the mascot, administrators are responding to outcry from the minority community.
"It's the right thing to do," Jessup said.
DEBATE TICKETS
The university expects to receive about 75 tickets for this year's final presidential debate, claiming about 8 percent of the 900 seats available for the big event.
Administrators said that number may change in the coming weeks before the Oct. 19 debate, which will take place inside the school's Thomas & Mack Center. At the request of the Commission on Presidential Debates, only about 5 percent of the Thomas & Mack's 18,500 seats will be used.
"This is a made-for-TV event," Alberta said. "That really is the focus. The people in the audience are there more to provide a backdrop for the event."
School officials hope benefits from being a debate site include positive publicity from national media outlets and the opportunity to engage students directly in the political process.
ENGINEERING EXPANSION
Administrators want to boost space for UNLV's engineering program, which has earned a $9 million gift from the family of longtime supporter Fred Cox to erect a new building on campus.
Jessup says administrators are seeking state funds to help pay for about 60 percent of a new $32 million building to accommodate one of the school's fastest-growing programs, which has about 2,500 students. The rest of the building would be paid with private funds.
But Jessup said he's not optimistic that the school will get the money it needs from the state, which has signaled that no money will go to new buildings. UNLV is amid several expansion projects, including a new $59 million home for UNLV's hospitality school — a four-story facility that will boast a high-tech kitchen, a student-run cafe and sweeping views of Las Vegas' glimmering skyline.
"I just don't think there's going to be the revenue to do very much in terms of new buildings," Jessup said.
Contact Ana Ley at aley@reviewjournal.com or 702-224-5512. Find @la__ley on Twitter.