UNLV program fast tracks teachers to Las Vegas schools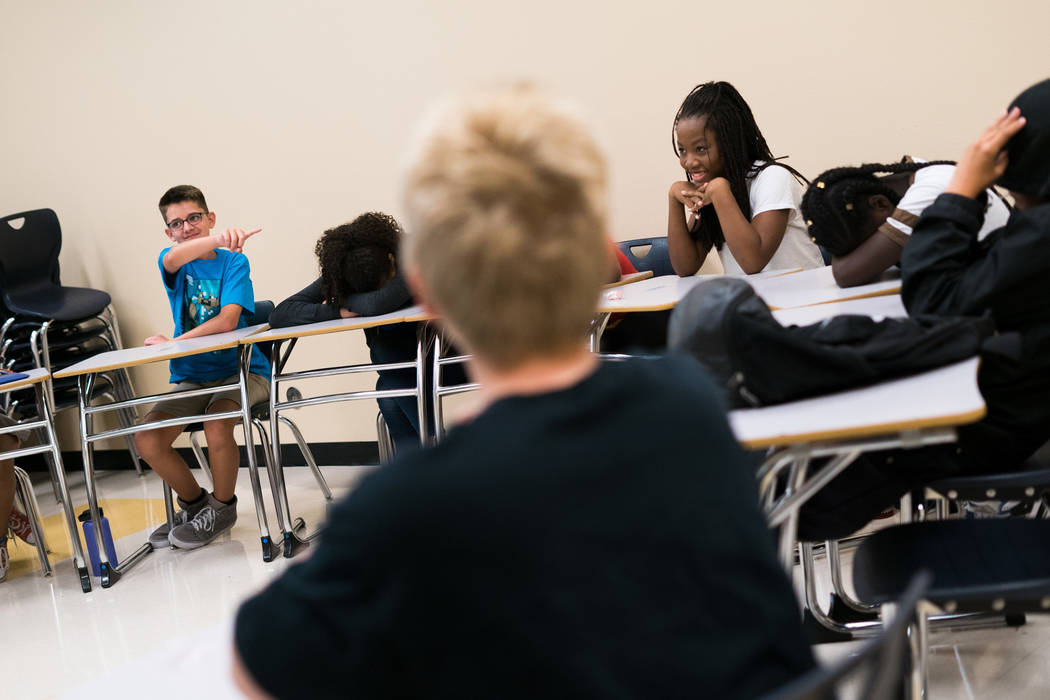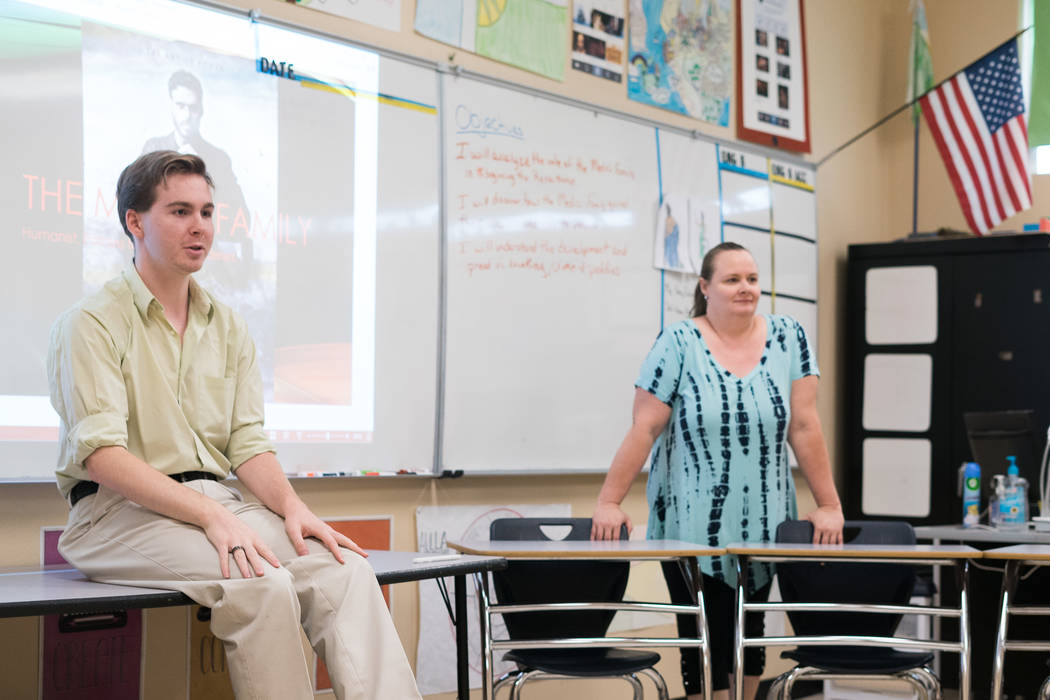 The middle schoolers bustled into the classroom at 8:30 a.m.
They were rowdy, exchanging smiles and stories with one another, and the student teacher at the center of the classroom tried to get them to focus.
"What have we learned so far about the Medici family? Who were they?" Dylan Barnard asked twice.
At first the room failed to quiet down, but Barnard, a Rebel Academy participant and a UNLV student on the path to obtaining his provisional teaching license, persisted.
"What if I said they were the first mafia?" he asked.
One student spoke up: "That'd be cool."
Barnard then launched into the final day of teaching social studies at the UNLV-led Rebel Academy.
For the past month, Barnard and 13 other UNLV students fulfilled the practicum portion of the state's Alternate Route to Licensure program.
Instead of being embedded in a classroom over the course of a semester, the student teachers wrote and implemented lesson plans over a fast-tracked four-week period at Somerset Academy in North Las Vegas.
Iesha Jackson, an assistant professor at UNLV and co-director of Rebel Academy, said that while the program takes place over a shorter time period, it's a better experience than what the students might get in a traditional practicum course. She said they're working directly with both a mentor teacher and a university supervisor, both of whom give immediate feedback.
"I think this particular approach helps to prepare them for the rigors of teaching in a way that you don't get spreading this out over a full semester," Jackson said.
Learning to teach
Receiving feedback on how to build a proper lesson plan benefited Barnard, who fell in love with history on trips to Europe with his family, right away.
"I've learned so much," he said. "Because I am a history buff and because I love the subject so much, I've tried to go with too much information at once. We only have 60 minutes. I can't try to teach thousands of years worth of information in 60 minutes. But I've tried, and I've failed."
Jackson said she's received "consistent" feedback from the mentors that the 14 student teachers have "grown tremendously" over the past month.
"The mentor teachers are seeing them develop into the kinds of teachers they would want as colleagues, which I think is a huge testament to the recruitment process, but also the Rebel Academy and the ways in which the program is structured," Jackson said.
Kelley Smith, a mentor and a high school teacher at Losee Academy, said she's grown too.
"I think I've learned as much as the student teachers have," said Smith, who will begin teaching at Robison Middle School this fall. "We've had a lot of contact, a lot of discussion. It reminds you of why you got into teaching."
Smith said she's advised Barnard and Heidi Guy, another student teacher, that social studies doesn't have to center around note-taking. Over the past four weeks, the students did not take any notes in class.
"They were shocked at how much the kids actually retained and knew from the very first lesson," Smith said. "I've tried teach them, 'Yeah, you're going to have your days when the kids have to take notes.' But if you get them involved, you make it a discussion-based class and you value their opinions, they're going to hold on to that information."
Jobs lined up
On Thursday, Barnard wrapped up the summer curriculum with a review of the Medici family and engaged the students through a game of mafia.
He will soon put the experience to use. Barnard will teach two U.S. history classes and three world history classes at Chaparral High School in Las Vegas this coming fall.
It's an example of how the flexibility and timing of the summer program benefits those who sign up, Jackson said.
Students like Barnard can begin a teaching position in the fall, as long as the other requirements — two additional courses and passing scores on the Praxis certification exams — are met.
Guy, 47, who circulated around the room and encouraged the middle schoolers to keep their voices down as Barnard told the story of the Medici family, doesn't yet have a job lined up. But the experience has been fulfilling.
She had been contemplating the elementary school route but now realizes her passion for teaching history to middle school students.
"It just feels like the right place to be," she said.
Contact Natalie Bruzda at nbruzda@reviewjournal.com or 702-477-3897. Follow @NatalieBruzda on Twitter.
Did you know?
The Rebel Academy has been providing practical teaching experience to UNLV students since 2015. Those who participate in the academy are part of the Alternate Route to Licensure program, which provides teacher candidates with a conditional teaching license after several criteria have been met. To date, 77 student teachers have taken part in the Rebel Academy. Iesha Jackson, co-director of the academy, said it's a way to fast-track students into vacant teaching positions across the state.