UNLV semester begins with added safety feature
August 27, 2017 - 1:00 pm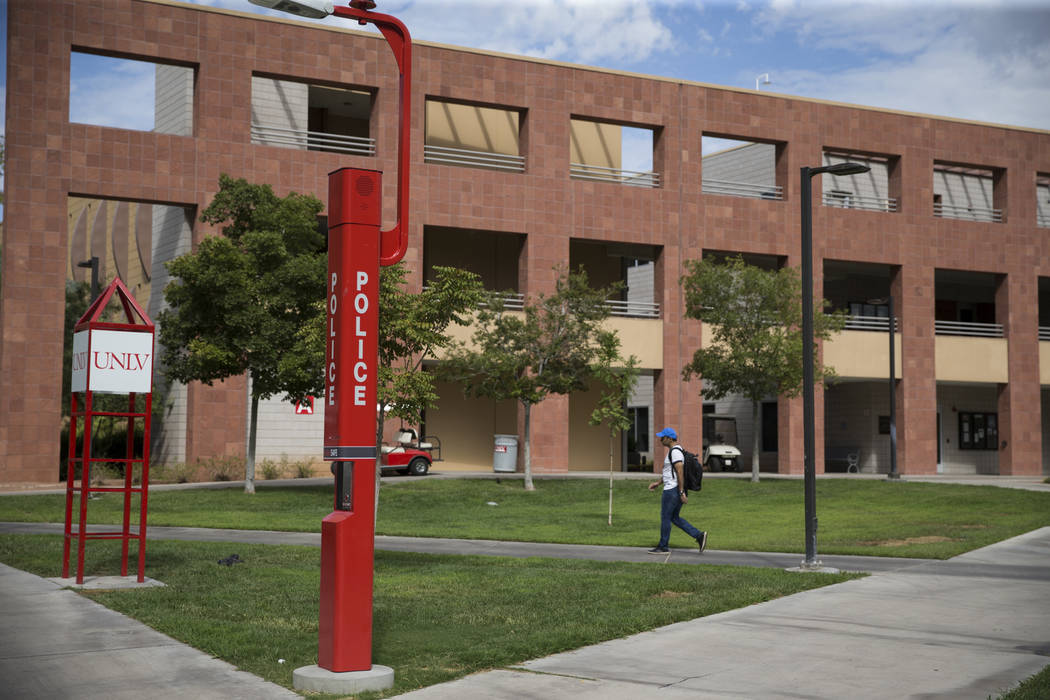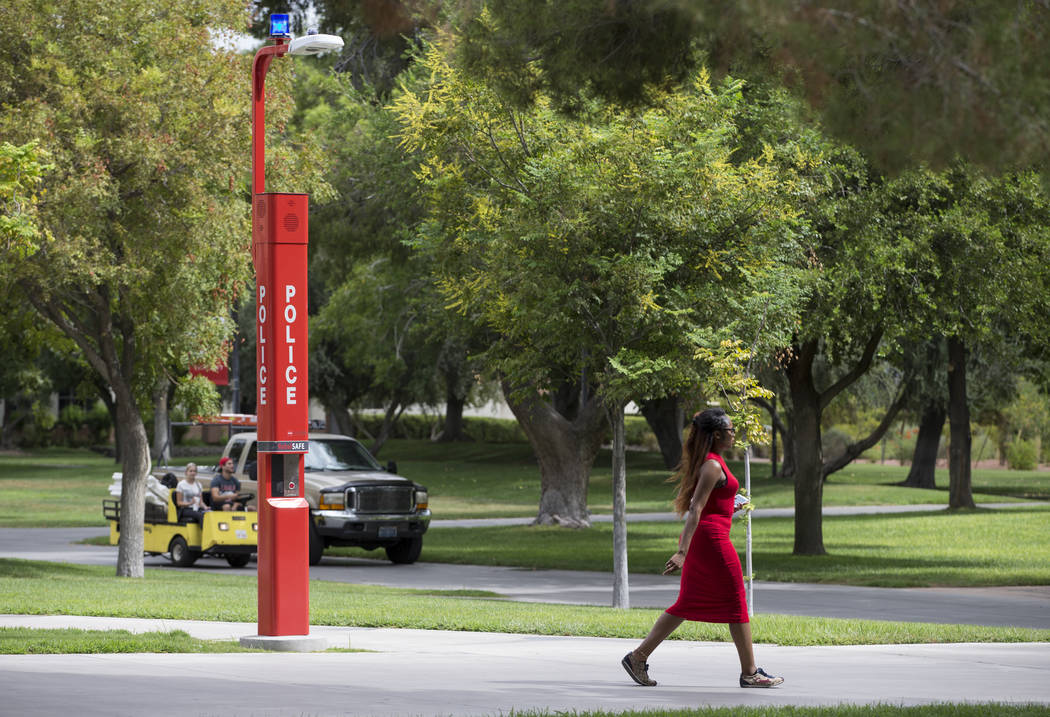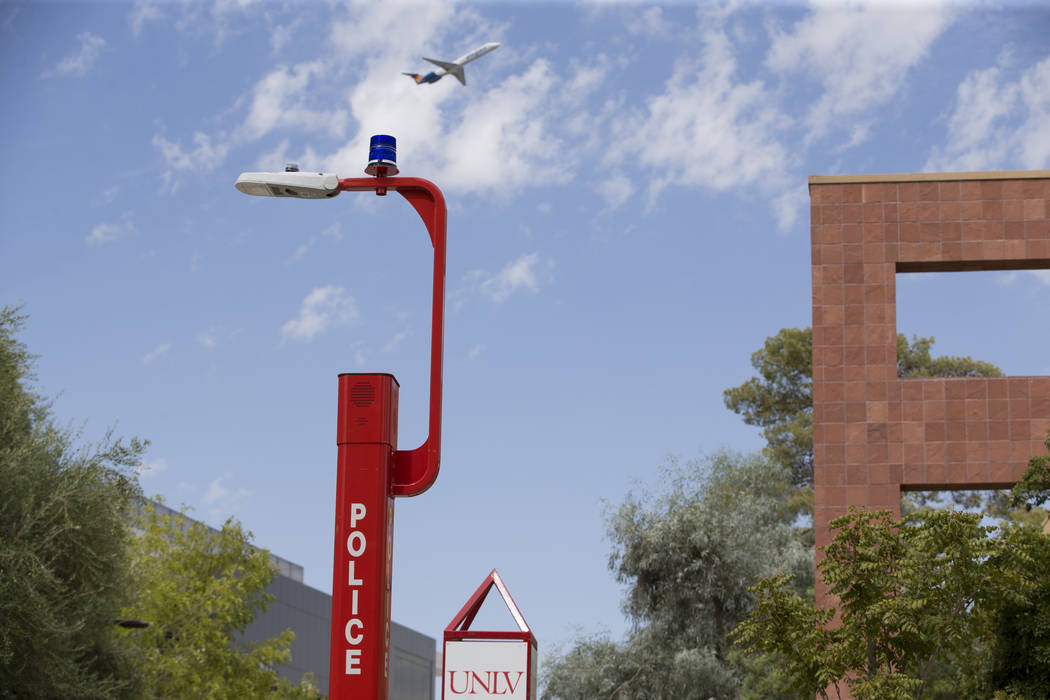 When UNLV students converge on campus Monday for the beginning of fall courses, they will be greeted by a new safety feature.
Towering 15 feet into the air and weighing 350 pounds, new emergency phones are being installed in highly trafficked areas of campus.
"You can't mistake these new phones for the old phones," said Samantha Bivins, chairwoman of the health and safety committee for student government, which spearheaded the project. "The old ones were maybe 6, 7 feet tall. It's a really great product."
The new systems are technologically savvy, featuring a livestreaming, 360-degree camera and a feature to broadcast emergency announcements.
"If there is someone who attacked someone and then ran away, you could zoom in on their features," Bivins said. "If it was a car that got away, we could see a license plate or a car description. It's a much, much better system."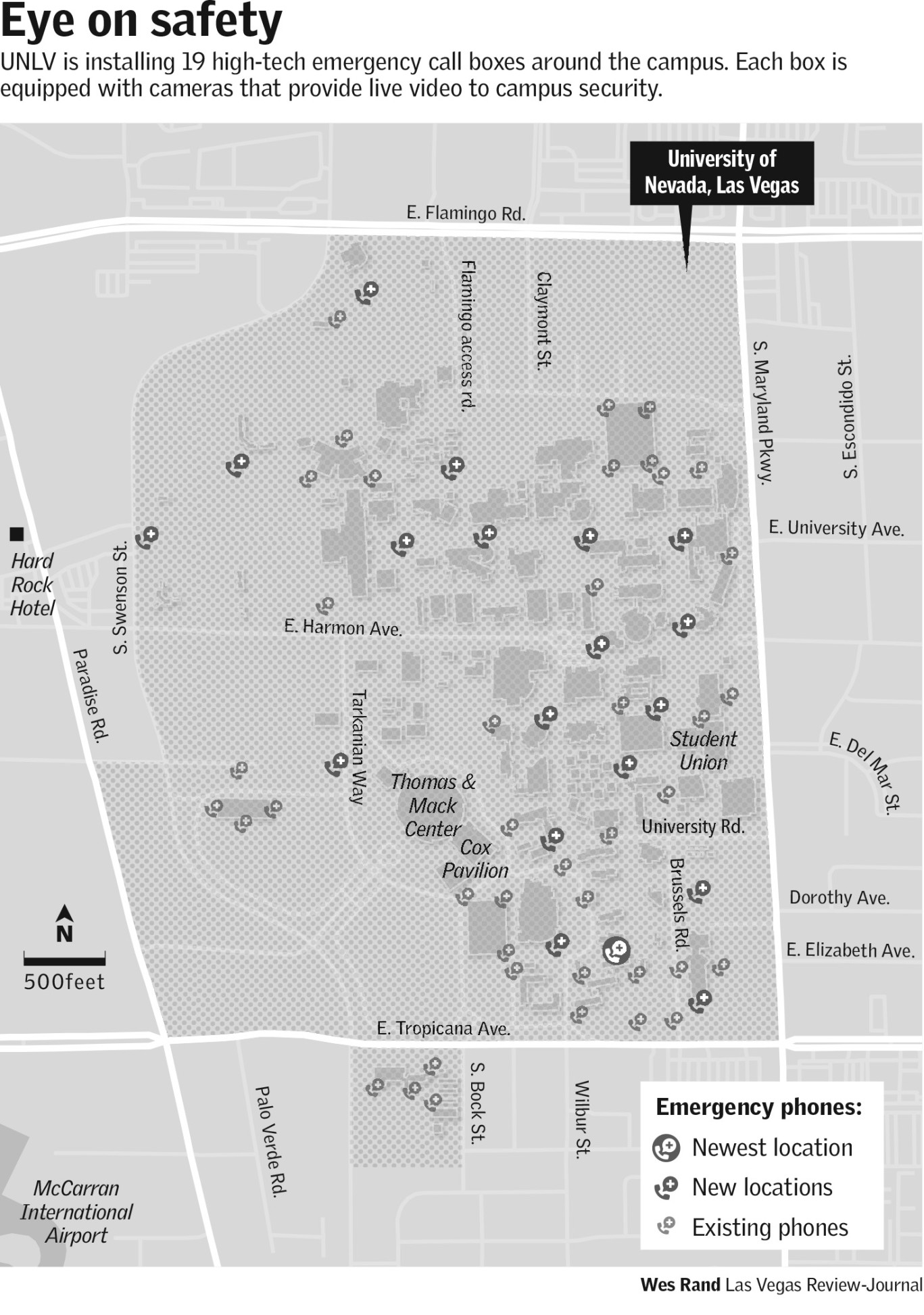 'Lasting' impact
When Bivins became a student senator two years ago, she began brainstorming uses for $850,000 that had piled up in a student government account.
"No one was proposing any projects to come out of that account," Bivins said. "There were all these different things we could be doing with that money."
The money had to be spent on a capital improvement project that could benefit all students. Bivins said the idea to upgrade the older phones — installed in the late 1990s — developed after she spoke to UNLV Police Services.
"For me, it wasn't just about things staying safe while I was here," Bivins said. "My kids go here. I wanted to be sure something that I was going to spend time away from my family working on, would be something that would be lasting."
Student government unanimously approved $250,000 to install 18 phones, Bivins said. Replacing the entire emergency phone system would cost about $1 million, she said.
The offices of telecommunications, information technology and other campus units are working together to fund and maintain the project moving forward, UNLV spokesman Francis McCabe said.
Bivins said she hopes the entire university, including the Paradise and Shadow Lane campuses, will have the new phones within 10 years.
"Hopefully it will be before then, if we can get some other university departments to somehow jump on board," she said.
Added urgency
A 19th phone was added to the roster of replacements. Bivins said there were two incidents — including a stabbing — that occurred near the residential halls on the south side of campus showed the importance of the project.
"There have been a few things since then (initial planning) that made it so that this project, in our eyes as a student government representing the students, more urgent," Bivins said.
A review of the campus crime log from Feb. 24 to Aug. 24 shows that theft outnumbers other crimes on campus, with several thefts occurring inside buildings, like the Lied Library or the Student Union, and in parking lots.
The new devices will not be able to see inside buildings, but Ryan Doyle, technology director for UNLV Police Services, said several phones are being placed in parking lot H and the Thomas & Mack Center lot, and near others.
And upon the request of students, one system was placed outside of the architecture building because of its proximity to Tropicana Avenue, Bivins said.
Not 'Big Brother'
While the cameras record 24/7, Doyle said the university is not using them to act as "Big Brother." The cameras do not record audio, he said. The cameras are also separate from the emergency phone system, which, once activated, connects the person in danger to dispatch.
"With the phone, when it's activated, it will send out a signal to the system … our surveillance system will then pull up these cameras on the video wall," Doyle said. "It allows dispatchers to improve situational awareness."
Contact Natalie Bruzda at nbruzda@reviewjournal.com or 702-477-3897. Follow @NatalieBruzda on Twitter.
Other campus safety features:
UNLV offers multiple layers of notification, including the Emergency Notification System, which is also called Rebel SAFE Alerts. This system sends text and email to all enrolled cell phones and email accounts in the event of an emergency or closure at the university. Rebel SAFE Alert messages are also posted to UNLV social media platforms, campus building video monitors, classrooms, and the UNLV homepage. UNLV routinely tests this system.
UNLV Police also recently unveiled the Rebel Safe app. Rebel Safe is an enhanced safety feature that sends important safety alerts and provides instant access to campus safety resources.