UNLV's first doctors-to-be begin classes Monday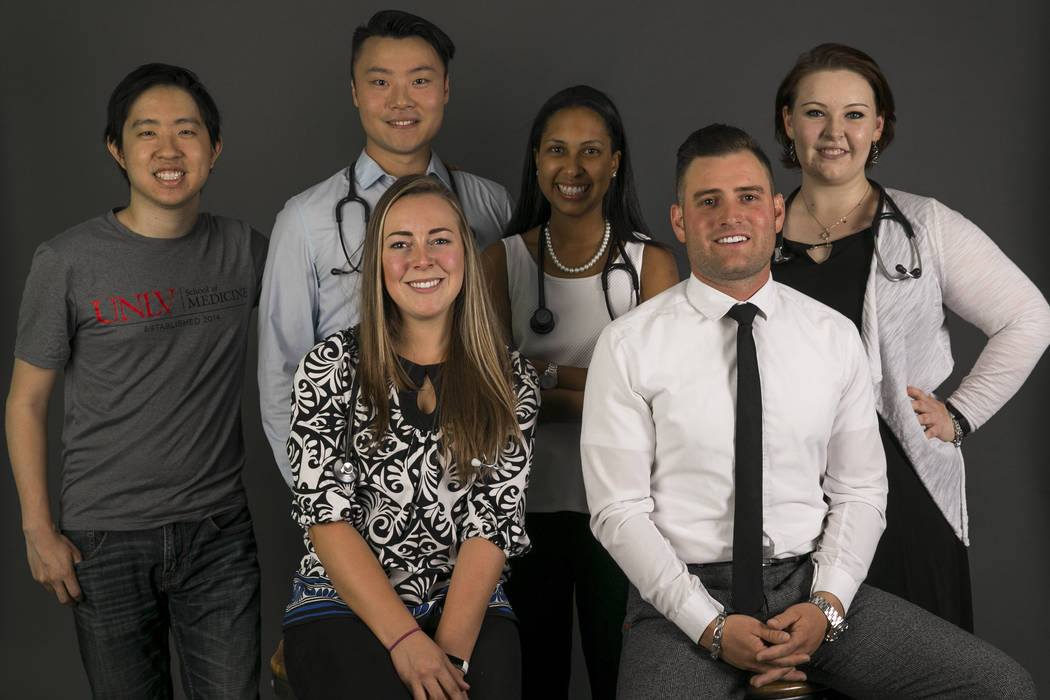 UNLV's inaugural class of medical students won't be listening to heartbeats quite yet, but the stethoscopes they receive on their first day of studies Monday will be put to good use over the next four years.
On a landmark day for the university's long-planned School of Medicine, the first class of 60 students will be presented with the medical instruments that will be their constant companions while they receive their medical educations and beyond during an afternoon celebration at the UNLV Student Union.
"It's a new day for medical education in Nevada," Jason Geddes, vice chairman of the Nevada Board of Regents, said. "The first class looks terrific. I'm looking forward to them getting on campus and getting started on the program."
The students, who were selected partly for their ties to Nevada and are receiving full-ride scholarships as part of the school's inaugural class, form a gifted group.
Administrators boast about the first class's competitive Medical College Admission Test scores (508, compared with the national average of 500) and impressive GPAs (3.6 for pre-med coursework).
They are equally proud of the class's diversity: 20 percent of the first class are Latino and 8 percent are African-American — both groups considered underrepresented in the field of medicine.
A lot of work
For the first six weeks, students will be immersed in emergency response and population health studies, which will be followed by a six-week introduction to medical science.
Arriving at this point was no easy feat.
Regent Mark Doubrava, a physician and chairman of the board's health sciences system committee, said the valley was struggling to deliver health care to its residents in the mid-2000s. So he and others tried to persuade the state's only medical school at the time — the University of Nevada School of Medicine in Reno — to establish a more robust presence in Southern Nevada. After several failed attempts to persuade the existing school to invest more in Clark County, they took a different route.
In December 2013, the board gave the green light to begin planning a new medical school to be located at UNLV.
Shortly thereafter, Barbara Atkinson was named the planning dean. She developed the vision and education program for the school, garnered regional and legislative support and hired a core team of academic faculty and staff.
Since then, officials have inched closer and closer to the first day of school, while clearing fundraising milestones along the way — including a recent $25 million anonymous gift — toward a new $100 million medical education building; acquiring a site for it in the emerging Las Vegas Medical District; earning preliminary accreditation; and obtaining a $19 million line of credit for clinical operations.
While waiting on additional funding to construct the new building, the university has made a temporary home for the students at its existing Shadow Lane campus.
Las Vegas city officials foresee a big redevelopment spurt in the city's urban core from the new medical school. Betsy Fretwell, who leaves her city manager position this month, has said by 2020, the school will have a $600 million impact on the economy, resulting in more than 4,000 new jobs and an additional $30 million in tax revenue.
Physicians expected to follow
The new school also will go a long way toward bringing doctors to Nevada, Doubrava said. Often, he said, medical school students and medical residents stay in the city where they went to school or did their residencies in because they establish roots there.
With 198 physicians per 100,000 residents in 2010, Nevada falls far below the U.S. average of 272 doctors, a report by the Centers for Disease Control and Prevention shows.
While Atkinson was at the helm for the important milestones, she will miss Monday's ceremony to welcome the new students, as she is recovering from a major health scare after suffering a ruptured intestine in early July.
But the show will go on, with UNLV President Len Jessup joining the students Monday for the symbolic presentation of the stethoscopes.
The instruments were donated and will be presented by Dr. Constantine George, a local physician, who also will deliver the keynote address at the ceremony.
Contact Natalie Bruzda at nbruzda@reviewjournal.com or 702-477-3897. Follow @NatalieBruzda on Twitter.