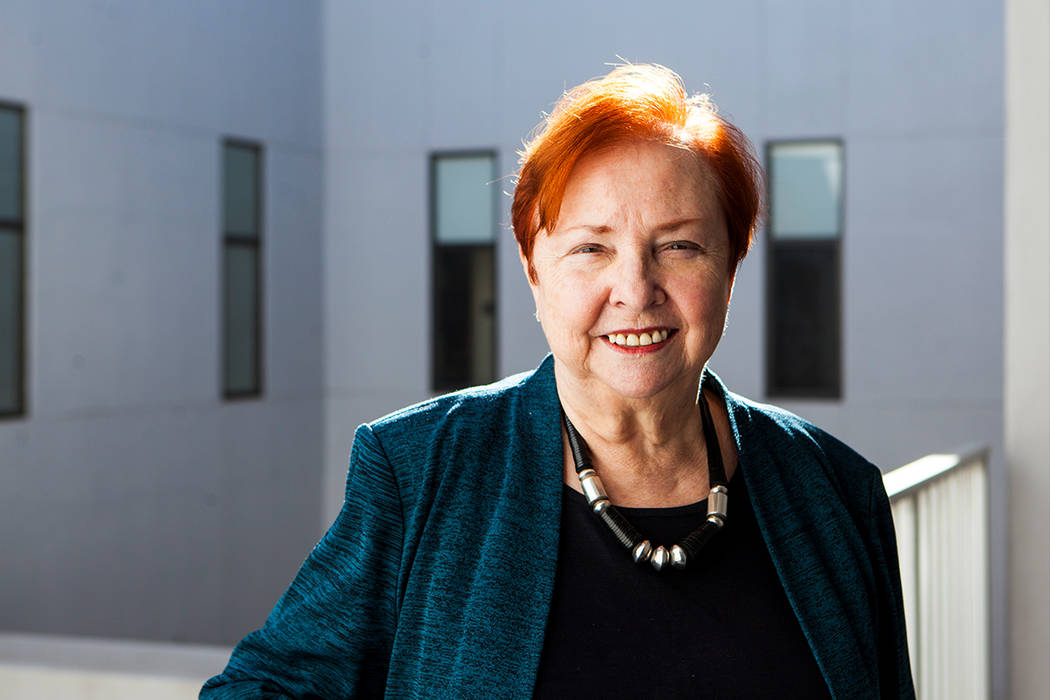 Barbara Atkinson, the founding dean of the UNLV School of Medicine, is making "positive gains every day" in the hospital after suffering a "very serious" illness, university officials said Tuesday.
The comments came after the Las Vegas Review-Journal published an article quoting two sources familiar with the situation as saying the 74-year-old dean was fighting for her life at University Medical Center in Las Vegas after suffering a ruptured intestine that triggered a serious infection.
Hours later, UNLV officials responded. While saying they were limited in what they could disclose about Atkinson's condition by federal health privacy law, they indicated that she was improving.
UNLV administrator Maureen Schafer said Atkinson, the former dean of the University of Kansas School of Medicine, had undergone "a very serious surgery … (but) continues to make incremental positive gains every day."
"Her doctors have advised the family that she can make a full, positive recovery," said Schafer, chief of staff at the medical school.
Diane Z. Chase, UNLV executive vice president and provost, said in a statement that Atkinson was admitted over the July 4th weekend to UMC, which will serve as the main clinical teaching center for the region's first public medical school, and "underwent successful surgery."
On the brink of a milestone
The timing of Atkinson's illness could not have been worse, coming just days before she was to welcome the landmark medical school's first class of students on Monday.
The sources, who spoke with the Las Vegas Review-Journal on condition of anonymity, said Atkinson suffered an intestinal rupture at home before being hospitalized, then battled an infection — a not-uncommon aftereffect.
Citing privacy law, Schafer did not go into specifics on the dean's surgery and hospitalization. But she said the dean is not now fighting an infection.
It was unclear how long Atkinson might be sidelined as she recovers, but UNLV officials, including Chase and President Len Jessup, have met to discuss appointing an acting dean to fill in until she is ready to resume her duties, said Dr. Mark Doubrava, a physician and member of the state Board of Regents.
"That would be the normal process if a dean was absent for an extended length of time," Doubrava said.
Vince Alberta, chief marketing officer for UNLV, noted that Provost Chase met with faculty and staff early last week and has had followup communication with them "for input on the potential appointment of an acting dean."
Because Atkinson is expected to need a lengthy recovery, Alberta said the appointment of an acting dean is a very real possibility.
"We expect to get input from Dr. Atkinson about it," he said, noting that an acting dean "would just be holding down the fort" until Atkinson returned to work.
While saying she did not want to diminish the fact that the dean had a very serious surgery, Shafer also said she does not want to alarm people who care about UNLV, Atkinson and the new medical school.
"There is a positive prognosis for her recovery," Shafer said. She said medical school students who learned of her illness "have written personal cards to her and expressed their interest on a daily basis."
'A dream come true'
Three weeks ago, the renowned educational leader, clinician and researcher — Atkinson was elected to the prestigious Institute of Medicine of the National Academy of Sciences in 1997 — said she was eager to see the first class of 60 students begin school.
"This is going to be a dream come true for many people in Southern Nevada," said Atkinson, who didn't start medical school until her own children began grade school. "I want to be there when they graduate in 2021."
Sources close to the medical school say that Atkinson has built a foundation for the school to carry on if she is forced into an extended absence.
"She went after, and got the best people for this school," one said.
Doubrava expressed similar sentiments, saying that instruction will begin on time and that students will follow the curriculum as its been designed.
Atkinson came out of retirement in 2014 when UNLV officials sought her help in starting a medical school from scratch. In 2017 Nevada lawmakers provided $27 million to get the school up and running and in the recent Legislative session budgeted another $53 million.
Atkinson became planning dean for the school in May 2014 and was named founding dean 18 months later.
It's a huge job. She oversees installation of the curriculum and accreditation, recruits faculty and manages school operations, philanthropy and community outreach.
She has also crafted the framework for the school's faculty practice plan, graduate medical education program, hospital affiliation agreements and community clinical teaching sites.
Successful fundraiser
She has also succeeded as a fundraiser. With the Engelstad Family Foundation's backing, she helped raise $13.5 million in 60 days in 2015 to fund 135 scholarships for future medical students — including the entire charter class. The school will also give out 25 scholarships valued at $27,000 a year to the classes admitted in 2018, 2019 and 2020.
In June, a $25 million gift that Atkinson helped cultivate with Jessup — the donor has chosen to remain an anonymous — was given to the medical school. That gift, along with another $25 million chipped in by the Legislature, goes toward a $100 million medical education building to be built in the Las Vegas Medical District, the planned 674-acre cluster of medical offices, retail and residential space near UMC.
The medical school has interim space reserved at UNLV's Shadow Lane Campus, which is across the street from UMC and Valley Hospital.
Two weeks ago, Atkinson said she was confident that the additional $50 million needed for the new education building will be raised in the not too distant future.
"It'll happen pretty soon," she said.
Doubrava said that he believes fundraising efforts are continuing as normal in Atkinson's absence.
"Everyone is just waiting to see Dean Atkinson's return," he said.
Las Vegas city officials have predicted a big redevelopment spurt in the city's urban core from the new medical school. Betsy Fretwell, who leaves her city manager position this month, has said by 2020 the school will have a $600 million impact on the economy, resulting in more than 4,000 news jobs and an additional $30 million in tax revenue.
The new school also will go a long way toward bringing doctors to Nevada, according to Doubrava. Often, he said, medical school students and medical residents stay in the city they went to school or did their residences because they establish roots there.
With 198 physicians per 100,000 residents in 2010, Nevada falls far below the U.S. average of 272 doctors, according to a report by the Centers for Disease Control and Prevention.
Jessup was not immediately available for comment.
Contact Paul Harasim at pharasim@reviewjournal.com or 702 387-5273. Follow Follow @paulharasim on Twitter. Contact Natalie Bruzda at nbruzda@reviewjournal.com or 702-477-3897. Follow @NatalieBruzda on Twitter.