UNLV's marriage and family therapy program paying for itself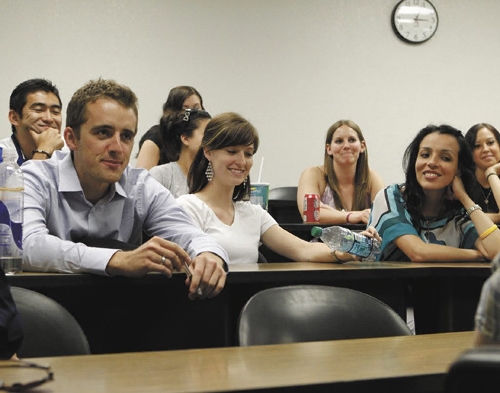 There's this guy in the marriage and family therapy program at UNLV, Jordan Staples, who is 28 and from Utah. Last year, he was looking at graduate level university programs that were close to home.
He liked UNLV's program. It's one of only about 70 accredited master's level programs nationwide. It's small, and it's good.
So Staples accepted. He told the other schools he was considering that they should take him off their lists.
He came here with a sense of excitement and shopped for an apartment. His new life was about to begin.
And then, UNLV officials announced they were killing the marriage and family program, one of a half-dozen that would be eliminated to save money.
The state was about to cut UNLV's budget, so administrators were eliminating some of the university's most expensive programs.
Marriage and family therapy, because it is a clinical program with intensive faculty supervision and real, hands-on work, is expensive.
Indeed, it was listed as the 10th most expensive at the university, in terms of cost per student.
The higher education system's Board of Regents would all but rubber stamp the university's recommendations on program eliminations.
Staples and the rest of the incoming marriage and family therapy class were, basically, screwed.
Flash forward a year, to this past week, and there is Staples sitting with a couple dozen other graduate students in professor Markie Blumer's marriage and family therapy classroom at the University of Nevada, Las Vegas.
How did this happen?
Magic. Innovation. Capitalism. Call it what you will.
TRYING SOMETHING NEW
"All along, we believed (marriage and family therapy) was an important function of the university," said Lee Bernick, the dean of UNLV's College of Urban Affairs. "The problem was we weren't evaluating programs on the basis of whether they were good or bad, but on their cost."
Soon after the proposal to kill the program was made, Bernick went to UNLV President Neal Smatresk with an idea: Let us try to make this program pay for itself.
In essence, the pitch was to double tuition from around $13,000 for a master's degree to $26,500 over the program's 2½ years. They also would let more students in, going from a new class of 12 each year to 25.
"Let's try this," Bernick said. "If it doesn't work, if we can't fund this, then the program will die anyway."
Smatresk said OK, let's go for it.
That first new class, including Staples, was in. Another group will arrive this fall.
"If they had cut the program, I would have been a year behind," Staples said.
Other students nodded in agreement.
"I would have been deported, basically," said Sohei Fujita, who is from Japan and studying under a student visa.
It was too late to get into another program, he said, so he would not have been in school at all.
AN IMPORTANT PROGRAM
Gerald Weeks, the marriage and family therapy department chairman, said Nevada needed to save the program.
It is small, he said, with only five full-time faculty, but it serves the state.
First, it produces graduates, most of whom stay here. Nevada — terrible divorce rate, child abuse rate, domestic violence rate — needs more marriage and family therapists. It needs more mental health workers in general, Weeks said.
The program also runs a clinic that charges fees on a sliding scale. The less you can pay, the less you have to pay.
In the next year, the clinic will provide more than $1 million in free counseling, Weeks said. It is so busy it's running out of room and is seeking a donor who could help them get more space.
"There's a huge demand for what we do," he said.
He said Nevada ranks far below other states in the number of marriage and family therapists per 100,000 people. Colorado and California, he said, each have close to three times the number, proportionally, that Nevada does.
To top it off, he said it is very difficult to recruit such therapists from out of state. Students do a lot of training while in school, he said, and they get licensed in the state where they went to school. Because of this, they tend to practice in the state where they trained.
"If you don't train them here," he said, "you won't have them here."
SUCCESS WON'T BE UNIVERSAL
Bernick said the self-supporting idea seems to be working. The program gets no funding from the state. The faculty who teach in the program are paid, in a roundabout way, by the program.
Money raised through the high tuition goes into an account that's separate from the university's state funding. Though tenured faculty must be paid through the regular university budget because of rules, Bernick said the university is reimbursed by the marriage and family therapy account for each course taught by a tenured faculty member.
It's complicated, but he said it works.
The tuition also pays for a half-time secretary and will pay for a new employee who will help supervise the larger number of students working in the clinic.
In addition, it will pay stipends to graduate assistants, which are typically paid by the university. It will not, however, provide tuition waivers for the graduate assistants, he said. Such waivers are typical for most graduate assistants.
While Bernick is optimistic that the new funding mechanism will work for marriage and family therapy, he said it probably won't apply to most programs. The university is considering eliminating several other programs in the coming months as budget cuts continue.
It might work, Bernick said, for some other professional programs. The kinds of programs were you absolutely must have the degree to practice in your field.
But you wouldn't want to do it for a program like, say, nursing, which has hundreds of students in it.
It almost certainly wouldn't work, Bernick thinks, for something like philosophy, which was once on the university's cut list. It wouldn't work for a lot of science programs, either, he said, because they can get very expensive to run.
Tuition would be so high, no one would want to pay it.
Contact reporter Richard Lake at rlake@reviewjournal.com or 702-383-0307.