West Prep students, parents protest possible charter school takeover
October 19, 2016 - 5:02 am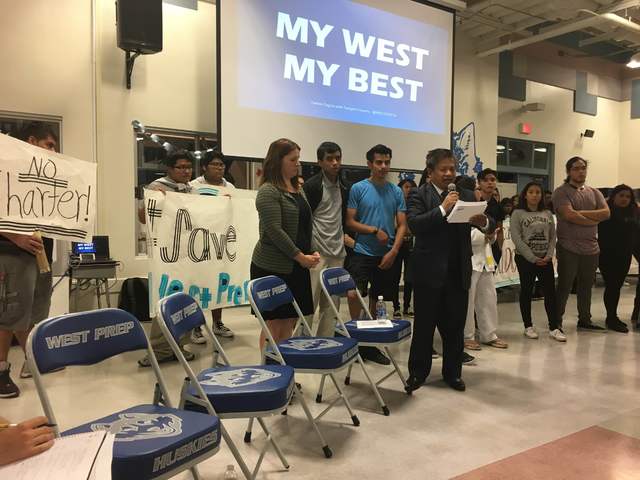 Nearly 500 parents, staff and students poured into the West Prep school Tuesday night to protest the possibility of a charter school takeover.
West Prep's middle school landed on this year's underperforming schools list, making it eligible for the statewide Achievement School District.
Through that program, six chosen schools will be converted to charter schools and paired with approved school operators.
That option didn't sit well with the West Prep community, which made impassioned testimonies about the school to Achievement School District Superintendent Jana Wilcox Lavin.
Senior Saul Fuentes shed tears after praising Principal Danny Eichelberger for making the school a better place.
"Now that he came, we changed," Fuentes said. "We've been better, and now you want to come in and you want to tell us that you're going to take this away from us?"
Lavin, who was invited to answer questions at the event, tried to clarify that all current students would still be guaranteed a seat in the middle school.
She rebutted the notion that charter schools expel or exclude poorer-performing students.
"I just wanted to clarify that actually, by law, in a charter lottery you can't ask for any information about a student other than their name and where they live," she said. "These schools will remain neighborhood schools and serve the students that live in those neighborhoods."
But the crowd cheered louder for the staff and students who spoke against the idea.
"We're going to stand up and I hope that I see all you parents there," said Nevada Peace Alliance President David Gomez, whose children went to the school. "I hope to see you fight because you're not going to let them take our school."
West Prep isn't guaranteed to be in the Achievement School District: It's one of 47 schools eligible for the initiative statewide. Six will be chosen in February.
Yet the meeting hinted at the possible unrest on the horizon if any of the 21 eligible Clark County schools are taken over by a charter school operator.
"Quite frankly, it's preposterous that you'd consider putting a charter operator to run the middle school smack dab in the middle of a K-12 institution," Assistant Chief Student Achievement Officer Jeffrey Geihs said of West Prep's eligibility.
After the meeting, Lavin said it's great that the community is clearly united.
"The students really demonstrated a tremendous amount of advocacy and voice," she said. "I think these kinds of spirited discussions are an important part of the process, which is a long way to go in making a decision."
Contact Amelia Pak-Harvey at 702-383-4630 or apak-harvey@reviewjournal.com.