Gusty winds, colder weather to blanket Las Vegas Valley this week
Updated October 28, 2019 - 10:11 pm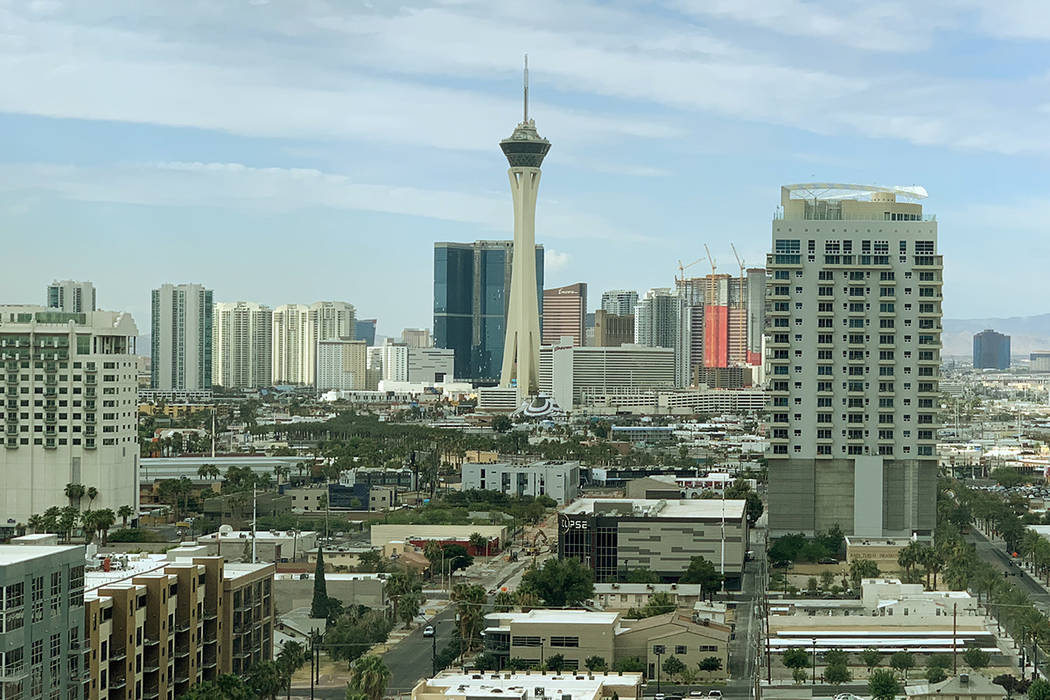 If you haven't already, get out the warm coat and gloves.
Monday's high temperature in the Las Vegas Valley only reached 58 degrees. The last time Las Vegas saw a high in the 50s on this date was exactly 10 years ago, said National Weather Service meteorologist Jenn Varian.
The weather service called this week the first taste of winter, with temperatures 20 t0 25 degrees lower than normal.
Also according to the weather service:
Tuesday afternoon is expected to bring the windy arrival of a cold front. The day's high will warm up to 67. West winds up to 10 mph will shift to the north, and gusts could reach 35 mph in the afternoon.
Low temperatures will drop to freezing and perhaps a bit lower later this week.
Wednesday's high temperature will drop back down to 55, and Thursday should be the coldest day of the week with possibly some of the outer edges of the valley — including Nellis Air Force Base, northwest Las Vegas, Mountain's Edge and Southern Highlands — dropping to freezing overnight.
Thursday begins a warming trend with a high of 61 that will warm into the low 70s by the weekend.
Contact Marvin Clemons at mclemons@reviewjournal.com or at 702-383-0217. Follow @Marv_in_Vegas on Twitter.
Things to do before it gets cold
Before it gets cold, Las Vegas Fire & Rescue suggests you check your heating equipment to make sure it will operate properly if you decide you need it. Here are some suggestions and safety tips:
Dust burn off: Furnaces have been sitting unused for more than six months in most buildings and probably have accumulated a buildup of dust from sitting. The first time the burners are used, they will begin to burn off that accumulation which will result in a burning smell, even possibly producing a light white haze in the building. This is normal and will continue until the residue is burned away. You do not need to call 9-1-1.
Use furnace during next few days: Take advantage of the warm days this week and use your furnace a few times during the day to burn it off before it gets cold. Open windows and doors to circulate the air so the burning smell leaves. This may take a few times to accomplish to get rid of the smell.
Listen to operation: Listen to the furnace and make sure it sounds like it is operating properly. Better to find out while it is warm that it may need some maintenance work than waiting until it gets cold.
Cautions: If you turn on your furnace and it makes noises, smells like something is burning and smoke starts to come out the vents and continues to get thicker, leave the building immediately and call 9-1-1 from a safe location outside the building.
Maintenance every 2 years: It is recommended that you have preventive maintenance performed on your furnace at least every two years to make sure it is operating safely and properly.
Space heaters 3 feet from anything that burns: If you plan to use a space heater, make sure it is kept at least three feet from anything that can burn like bedding, furniture or curtains. Space heaters should be plugged directly into a wall outlet, do not use extension cords. Never leave a space heater operating unattended. If you leave the room, it should be shut off. Always unplug space heaters when not in use.
Check fireplace damper: If you plan to use the fireplace, make sure the damper is open (the trap door at the top, inside the fireplace.) Use the fireplace properly. If it is a solid fuel fireplace, you can use logs inside for fuel. If it is a natural gas only fireplace, nothing that can burn should be put in the fireplace. There is a small metal plate on the fireplace which will indicate what type it is: solid fuel or gas only. Never use the fireplace with the damper closed; carbon monoxide will build up in the building, which could lead to deadly consequences.
Working alarms: It is especially important during heater season that you have properly operating smoke alarms and carbon monoxide detectors in your building. Both are there to give you adequate warning in case of fire or a carbon monoxide leak, both of which are most likely not detectable while you are asleep.
Smoke alarms are suggested for each bedroom, one in the hallway to the bedrooms, one outside the kitchen area and one for each level of the home.
Carbon monoxide detectors are suggested in the hallway to the bedrooms and one for any other levels of the home. Furnaces, water heaters, and stoves are major producers of carbon monoxide.
Do not use outside cooking devices: Outside cooking devices such as barbecues, hibachis or camping stoves should never be used inside a building for heating. Using the oven for heating is not suggested.