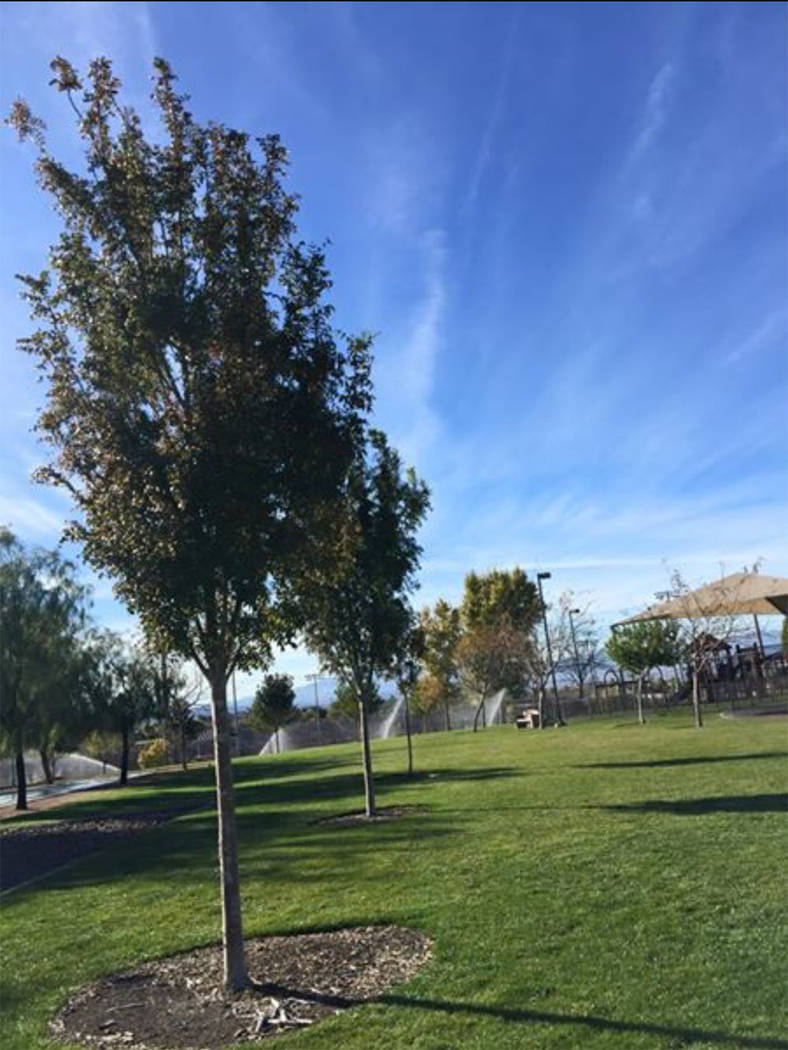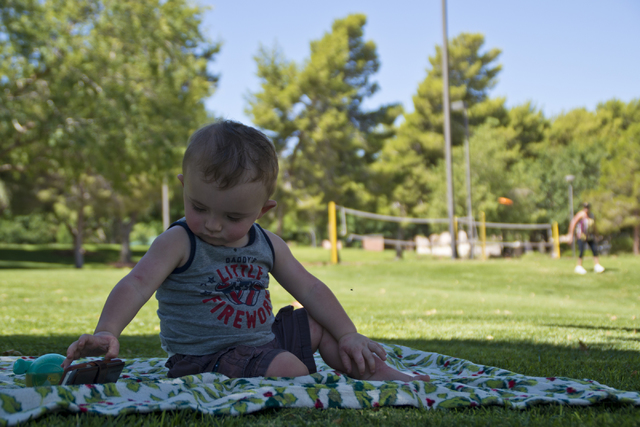 The city of Henderson's Celebrate Life Commemorative Program allows residents — of Henderson or otherwise — to honor a graduation, birth, death, wedding, anniversary or other event, Henderson spokeswoman Kim Becker said.
Residents can commemorate someone through an existing park tree for $125 or have a tree planted for $200. Customers receive a certificate and a mention on the city's website, which lasts one year for existing trees. Benches start at $1,400, and picnic tables are $1,500. The price depends on the manufacturer, Becker said, and the city provides lifetime care and maintenance for it.
Residents can request a park or trail location for their commemorative item, but the city makes the decision based on what is available. O'Callaghan Park, 601 Skyline Road, has several commemorative trees, Becker said.
The program is meant to beautify parks, Becker said, while also giving residents the opportunity to celebrate loved ones. Henderson does not have a record of how many people have participated in the program or when it started, she said.
Alyssa Holdener, 23, of Pahrump, said that when she walks by two specific trees at Anthem Hills Park, 2256 Reunion Drive, she sees more than just plants. Her mother and aunt had two trees planted in honor of her grandparents, Edith and Harold Cohen, who lived in Henderson's MacDonald Ranch community. Her grandparents were honored for being the longest-married couple in Henderson a week before Edith Cohen died at 91 in 2011. They were married about 70 years. Harold Cohen died a year later at 92, Holdener said. Their trees are side by side.
"To me, it's a tree we planted in their honor, and it's growing, and it's nice to visit it," she said. "(But) nobody else would notice it. To them, it's just another tree."
Becker said that the city used to provide the option for people to purchase plaques for their trees, but it stopped when people began leaving decorative items, such as flowers and photos, at the sites. Benches and picnic tables still include plaques, Becker said.
"We don't want for people to feel like it has a cemetery feel," Becker said. "The purpose is really for the beautification of the park."
Holdener said she rarely visits the cemetery, but she visits the tree about once a month.
"For me, it was very hard to ever visit the cemetery," she said. "It's kind of more like a slap in the face when you see the tombstone. It made an eerie feeling for me. The tree was more of a celebrational feeling and a happy feeling. I feel very connected to them when I go there."
Carol Jarmel-Fishman, who lived in Henderson for several years before moving to Vermont, said she ordered a tree in for her late husband, Neil Michael Fishman, because they used to frequent the Russell Road Recreation Complex. He died from Parkinson's disease in 2014, she said.
"He especially enjoyed our walks in the parks with our dog, Curly," she said. "As he became less able to walk, I would drive to a park, assist him to a bench, where he would wait while I took the dog around the park. … So when he died, I thought it was fitting to honor him by planting a tree to provide shade, beauty and something for dogs to water."
People have dedicated memorials to their pets. "Beloved dog Joey" was commemorated through a tree, according to the city's website. There's also a mention of the Las Vegas Black Mountain Lions Club.
Other Southern Nevada governments have similar programs.
North Las Vegas City Hall completed its memorial wall in August and will allow residents to purchase a plaque to honor someone who has died, according to spokeswoman Delen Goldberg. Pricing has not been finalized, she said.
Clark County and the city of Las Vegas have Tree Memorial Planting Programs that to commemorate people who have died. It costs $500 for a new tree and a plaque, or $100 for a plaque at an existing tree. The Las Vegas program also includes benches and pedestals with a plaque for about $1,000 for those who are living or dead, spokesman Jace Radke said.
Contact Kailyn Brown at kbrown@viewnews.com or 702-387-5233. Follow @kailynhype on Twitter.
Celebrate Life Commermorative Program
Phone: 702-267-4027
Website: tinyurl.com/ybm8wygI