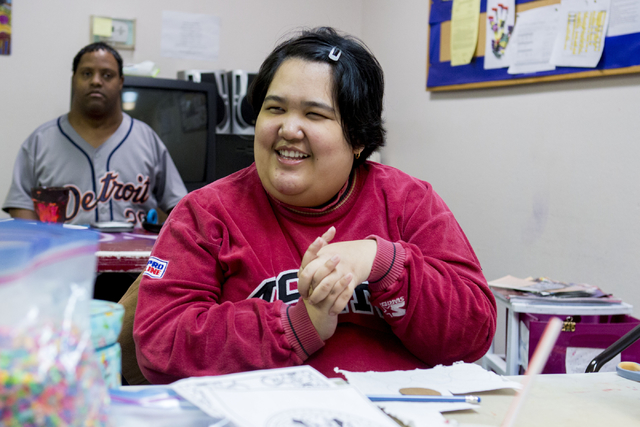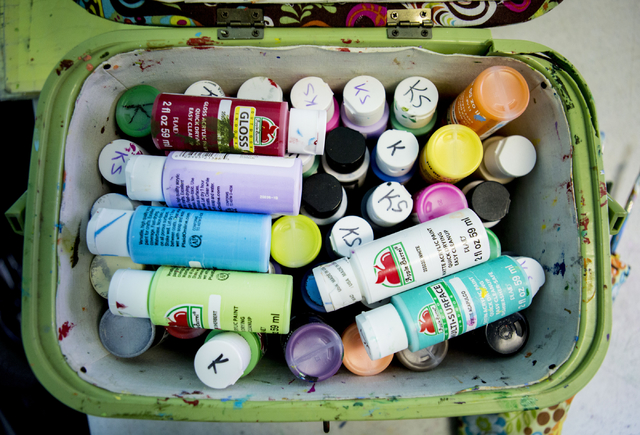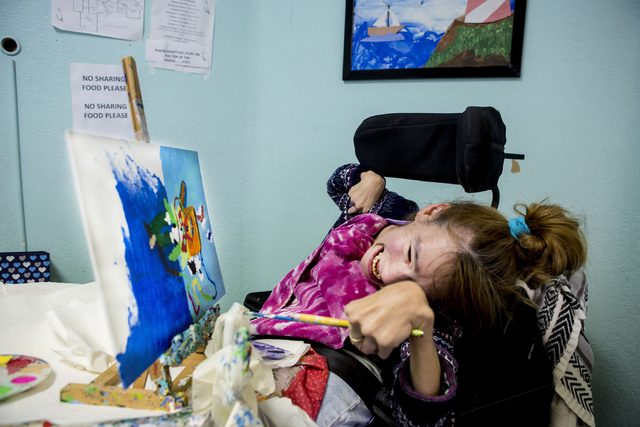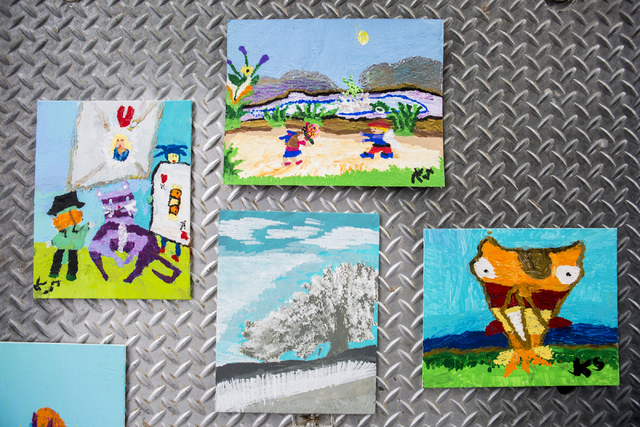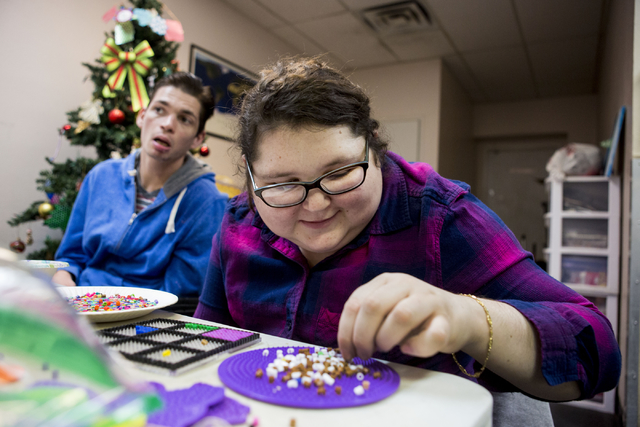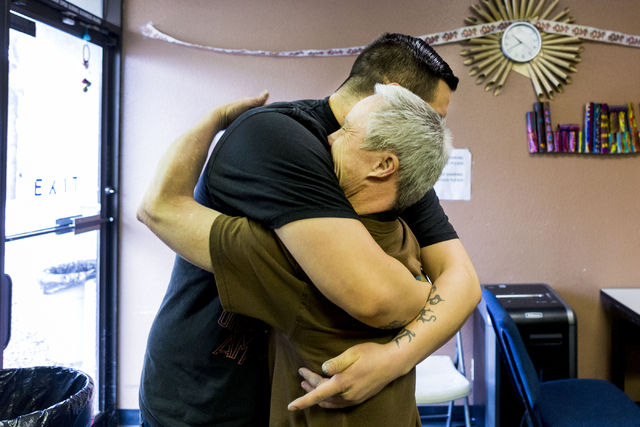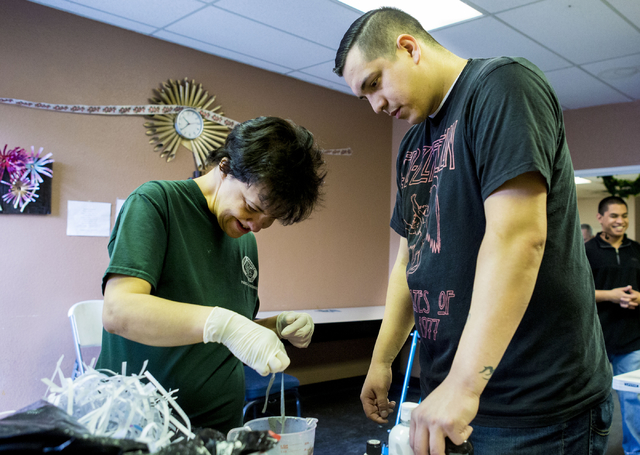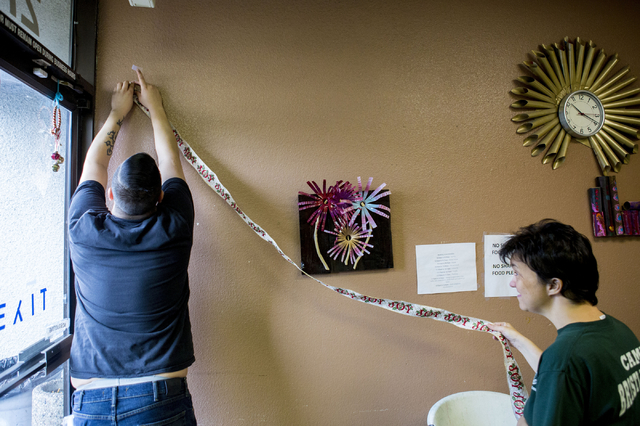 Kai Shaffer loves to paint, but it's much more than a hobby for her.
For 51-year-old Shaffer, who has cerebral palsy, and other individuals who work at Transition Services, being creative and productive means getting a paycheck, which is key to becoming independent.
"For many of our individuals, this is their first job," said Sally Rothfuss, executive director at Transition Services, a nonprofit that helps provide employment to those with developmental disabilities. "It's a huge thing to be able to get your own paycheck and spend the money that you earn. It helps our individuals build their confidence and pride."
Transition Services, founded in 1998, has six locations throughout the Las Vegas Valley to offer employment through creation of handmade gifts and provision of services such as cleaning, pet care and yard maintenance.
Individuals are paid between $1.50 and $7.25 an hour depending on the service and their capabilities, according to Rothfuss. Those who want to apply to work at the nonprofit group must have an open case with the Desert Regional Center, a state-operated regional center for individuals with intellectual or developmental disabilities.
"We let them choose what they want to work on," said Kayla Wagner, supervisor at the Henderson location. "If we have orders then we try to get them all to work on the same thing, but it really depends on their preference. Everyone has a job; even our lowest-functioning groups can still produce products."
Finding work can be a challenge for people with developmental disabilities.
Nationally, about 17.5 percent of persons with a disability were employed in 2015. In contrast, the employment rate among people without a disability is 65 percent, according to the U.S. Department of Labor.
The 2,700-square-foot Henderson facility, which opened in 2000, has 48 individuals and 13 staff members, according to supervisor Mico Mauleon.
A visit to the facility earlier this month found participants creating gifts just in time for the holidays. Some were grouped together to create paper through a process of blending, dying, dipping and rolling, while others were busy making handmade cards with soda can hearts on them.
Other craft items include soda can ornaments, Capri Sun tote bags and necklaces made from rolled-up magazine paper.
"This year I've done a lot of crafts, and I love making crafts," said Jasmine Cessna, 26. "I also have a lot of friends here. Sometimes people get a little crazy, but they calm down easily."
Cessna said she appreciates the facility. "If I wasn't here, I'd be stuck in my house all day instead of going out," she said. "Here I get a paycheck and I can use it to go shopping or to help people."
Employees typically work between one and five hours and can participate in a daily half-hour meditation after lunch to calm them, Wagner said.
On top of creating crafts and artwork, individuals are tasked with picking up supplies from stores and delivering magazines from the company's sister crew to libraries, schools and recreational centers around Henderson.
Every Friday they end the workweek with karaoke, games and fast food.
Next year, plans call for expansion of the facility or relocation to a bigger building with the hope of opening a gift shop, Wagner said.
"Sometimes it's socially lonely for individuals to be out in the competitive workforce, but here they all have friends," Rothfuss said. "We want them to show off their abilities and not capitalize on their disabilities."
The facility is open for tours, but people must call ahead to schedule.
Employees sell their items from 10 a.m. to 1 p.m. every Friday at the Green Valley Pavilion, 200 S. Green Valley Parkway.
For more information, call 702-450-1691 or visit www.tsilasvegas.com.
Contact Sandy Lopez at slopez@reviewjournal.com or 702-383-4686. Follow @JournalismSandy on Twitter.