Teen gymnasts from Henderson represent Nevada in competition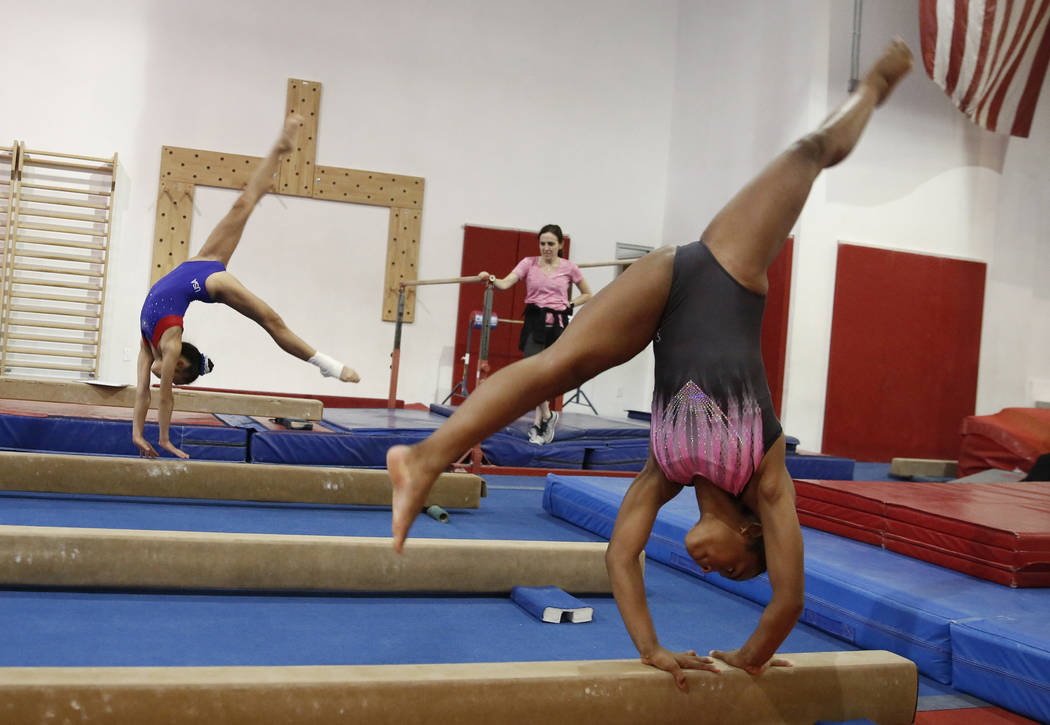 Before their big competition, the two young gymnasts readied themselves at the balance beam.
They puffed up their chests, put their arms high above their heads, arched their backs and effortlessly thrust their legs into three back flips.
"That was so cool," 14-year-old Selena Harris said to teammate Kailin Chio, 12, at Gymcats in Henderson as their coach, Cassie Rice, looked on.
The Henderson girls were the sole Nevada representatives during the Junior Women's competition on August 17 and 19 at the Championships of the USA gymnastics meet at TD Garden in Boston. Twenty-five athletes nationwide qualified for the meet, with spots on the women's USA Gymnastics Junior Team on the line.
Harris and Chio placed 11th and 12th — those with the top six scores made the team — and are hopeful for their futures in the sport, which include Olympic dreams and goals to do college gymnastics.
"It's thrilling to be there, at this age," their coach, Rice, said. Chio was the youngest athlete at the meet.
Harris made the qualifying meet last year for the first time and said this year was a chance to show off more of her skills.
"It's always been my goal to make the national team, but to even get close …" she said. "We were both getting frustrated; we just had to tell each other that we made it here for a reason. Hard work is better than luck."
Harris' favorite moment was getting seventh place on her vault routine and earning a medal. She traveled to Boston with her mother and two younger sisters, Miriam and Celeste, who also practice the sport.
Her dad, former professional wrestler Christopher Harris, was also there. That's where Harris gets her atheltic ability, said her mom, Nidia Harris.
"I really can't put into words how proud I am of her; she sets these goals, and it's amazing to see her accomplish them," Nidia Harris. "My nerves were going for her, but I know that she's a really great athlete; she just goes out there and gets it done."
Harris hopes to train at the USA Gymnastics National Team Training Center at Bela Karolyi's Ranch in Texas.
Chio still has three years to try to qualify for the junior national team.
Harris will be a senior next year. If she makes it to nationals then, she will have to compete for a spot on the senior team against well-known gymnasts like Simone Biles.
"They're really lucky to have each other right now," Rice said as the girls stretched on the floor last week, warming up for the national competition.
Chio said that the meet was a good learning experience for her and is looking forward to adding harder tricks to her routines next year.
"It's just a sport that feels natural to me," she said. "I learned it's OK to make mistakes because i'm really young for my age and to be at this level is really cool."
Chio's mom said her daughter sets her sights high and aims to be in the 2024 and 2028 Olympics.
"At 5, she knew exactly what she wanted to do," Sara Chio said. "It's a lot of sacrifice, it's a lot of time, but it's her who drives it, and as long as she wants to do it, we will."
Sara Chio is a former gymnast herself, having trained for 10 years and competed for seven. She enrolled Kailin and her older sister Nayah, 15, who is now a competitive swimmer, in gymnastics to improve their coordination.
The girls train about 35 hours a week and come straight to practice after a day at the Coral Academy of Science Las Vegas.
"They have to love it," Rice said. "I can't make kids be this. They're just gifted."
The girls also represented Nevada at the beginning of this month at the US Classic in Columbus, Ohio, where Harris placed 13th and Chio 14th.
Chio said that "it's really cool for us two to be on the same level as we are now and compete together because we're really good friends and really good teammates."
Contact Briana Erickson at berickson@reviewjournal.com or 702-387-5244. Follow @brianarerick on Twitter.