'The best parade in town': Henderson holds St. Patrick's Day parade
Updated March 11, 2023 - 4:08 pm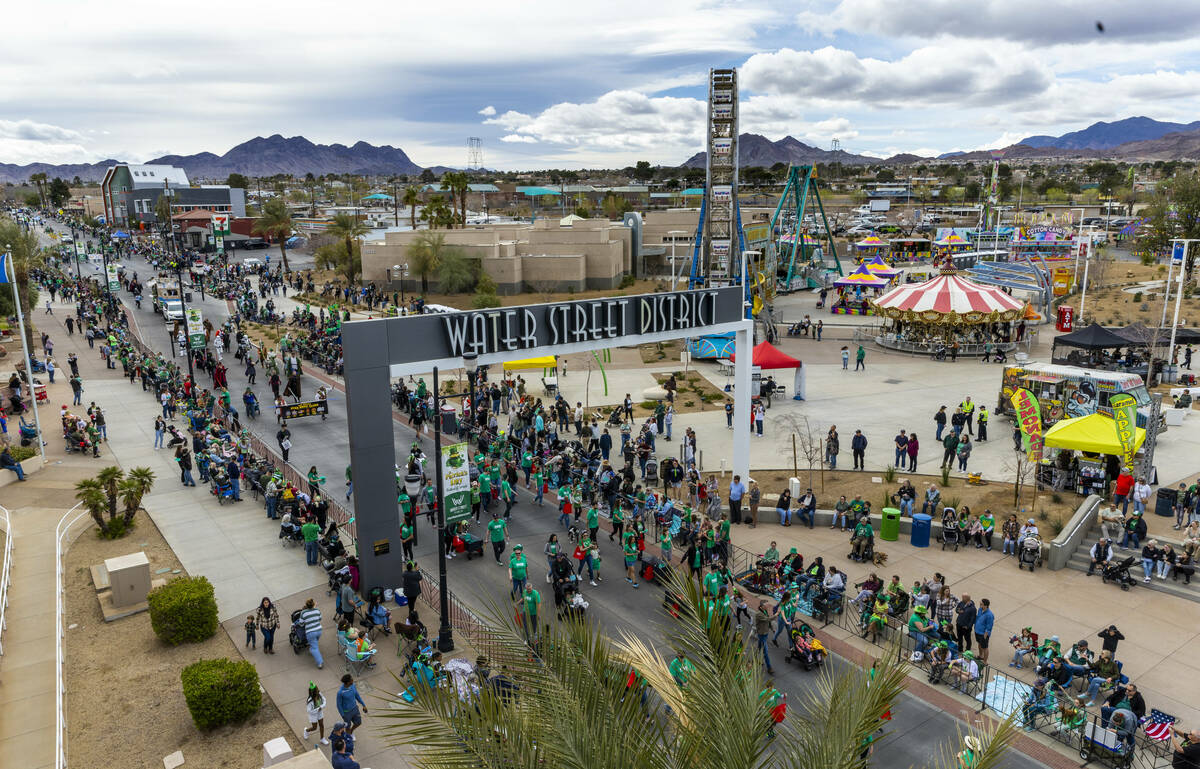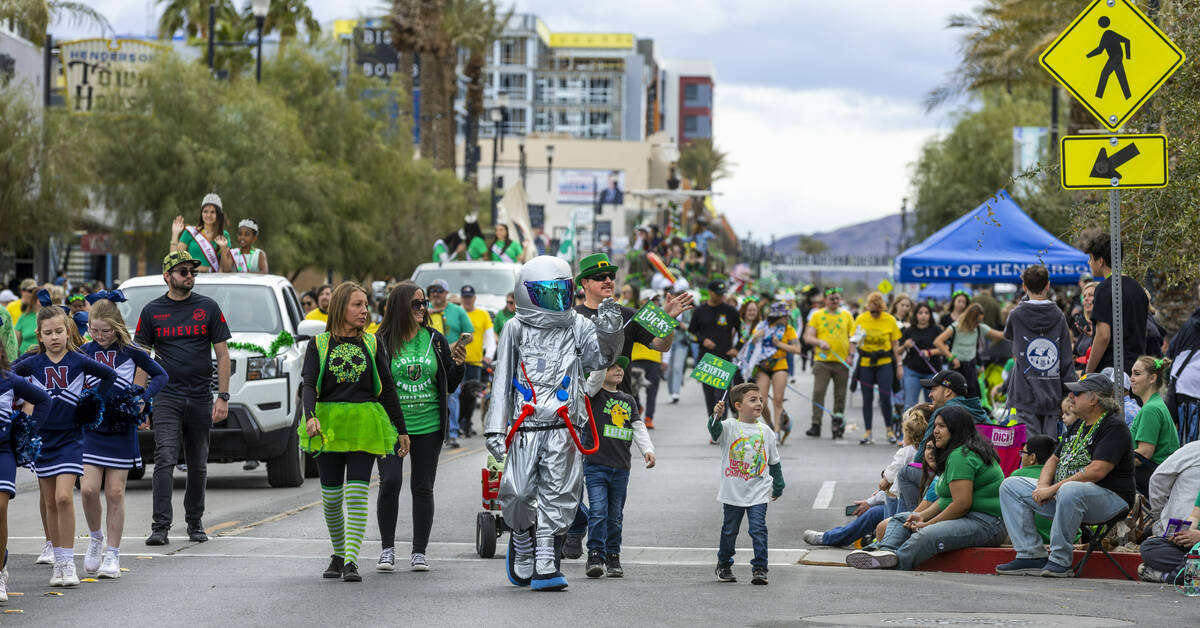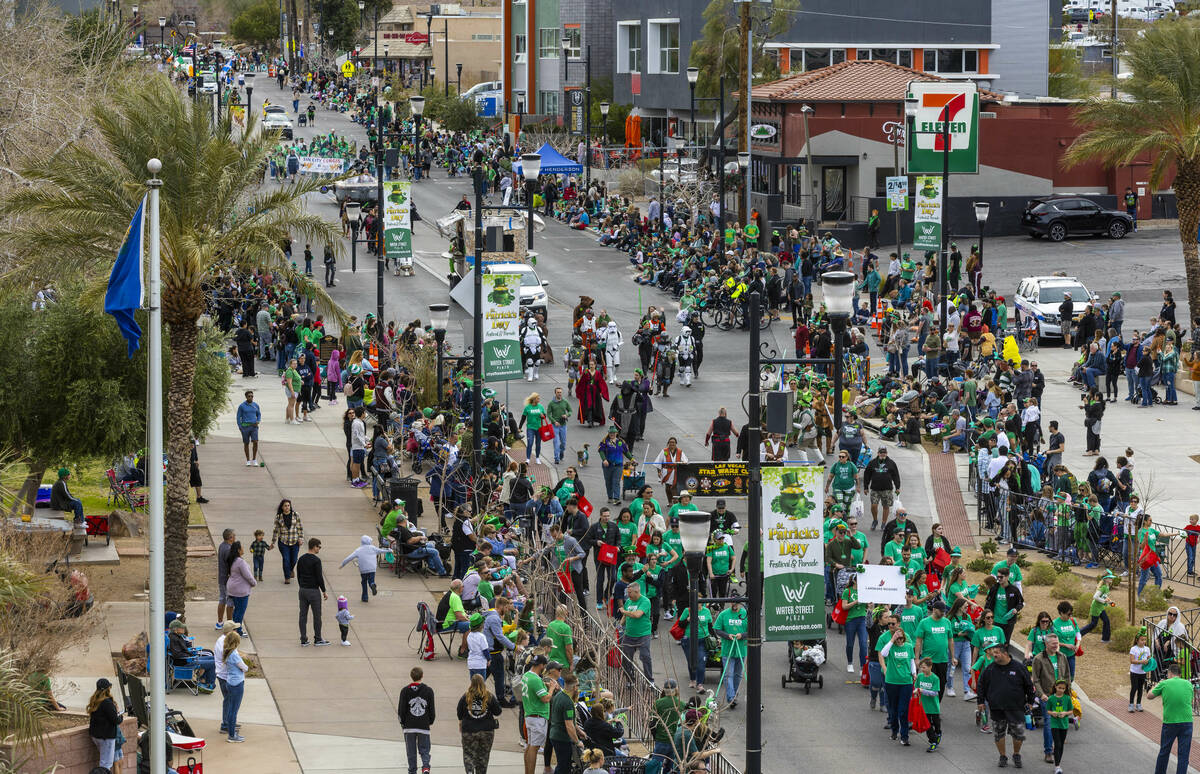 Henderson's Water Street was covered in green Saturday morning for the city's annual St. Patrick's Day parade.
Floats featuring the Henderson City Council, local businesses, organizations and clubs marched and drove down the popular roadway as crowds of onlookers cheered and waved.
Some float operators said the parade is among the best in the Las Vegas Valley.
"It's the best parade in town, it really is," Erik Pappa, with the Vegas Viking Lodge, said while clad in viking gear. "If you've been to parades downtown, they don't have as many locals and they're not as enthusiastic."
Pappa and the Vegas Viking Lodge of the Sons of Norway have been regulars at the St. Patrick's Day parade and other valley parades for years. The lodge built its float — a replica of a Viking ship built onto a trailer — in 2005, and have used it for parades since.
Others attendees and float operators at Saturday's event have made the parade a yearslong tradition.
Jake and Candi Rossetti have attended the St. Patrick's Day parade for six years. They arrived at Water Street early Saturday at 8:30 a.m. to secure their favorite spot on a corner in the middle of the parade's path. The couple set down a blanket and brought a cooler full of food and drinks to watch with their three children.
While many were regulars, some in the parade were making their debut on Saturday, including Joseph Barrera, coach of the Spartans Basketball Academy.
"We attended and watched it for a few years now," Barrera said, "and then as we grow out this youth community basketball organization, I thought it'd be a nice opportunity for us to kind of showcase the kids."
Barrera said his players loved marching in the parade, particularly the younger players. He commended the city for being easy to work with in signing up to be a part of the parade.
Multiple float operators echoed Barrera's praise of the city. Allen Glatts, activity coordinator for the Families for Effective Autism Treatment of Southern Nevada, said the organization has never had a problem with the city in the seven years his organization has been in the parade.
Families for Effective Autism Treatment was one of many organizations using the parade to try to spread the word about their cause.
Multiple unions and Jason Patchett with Do It 4 Rex were among the other organizations featured in the parade.
Contact Mark Credico at mcredico@reviewjounal.com. Follow him on Twitter @MarkCredicoII.