Veterans pass Henderson program, get records cleared
November 13, 2017 - 1:52 pm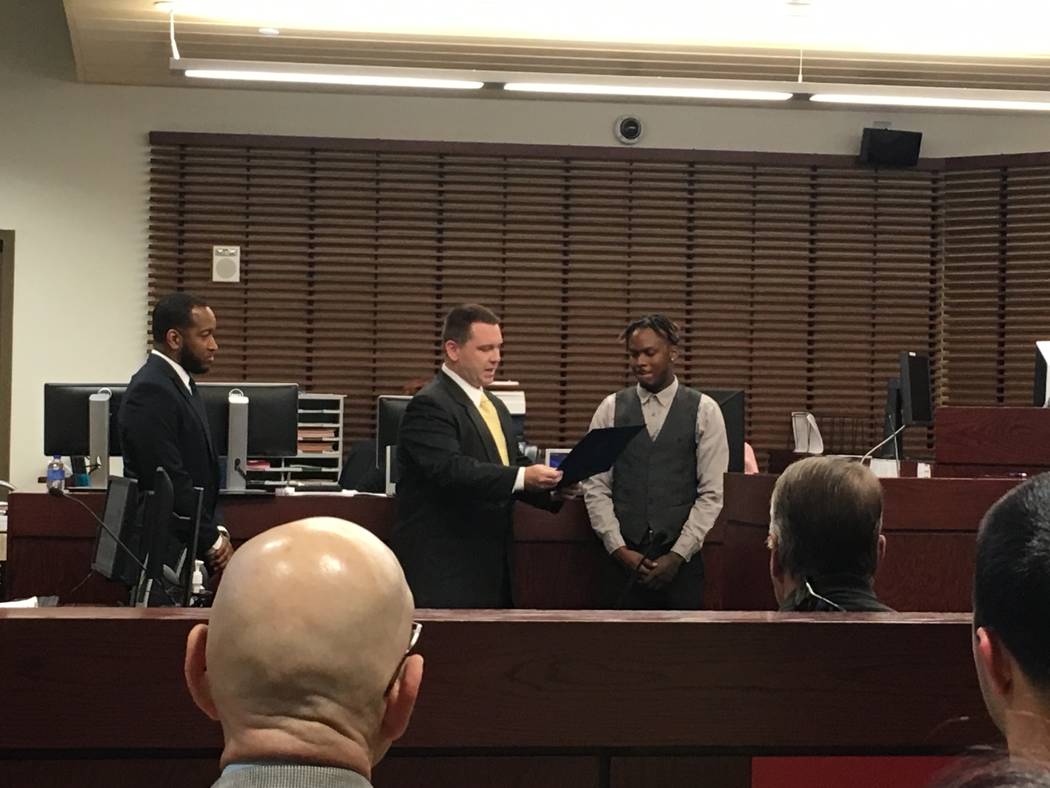 Applause filled a packed courtroom as three men graduated from Henderson Municipal Court's treatment program for veterans Nov. 9. Completing the program expunged crimes from their record and could help them re-enter civilian life.
The program typically lasts 18 to 24 months and requires participants to stay sober, follow strict counseling appointments and fulfill community-service requirements.
For Wesley Higgins, who said he had been arrested over 35 times before entering the program 14 months ago, the treatment enabled him to regain his "dignity, my self-respect and my honor," he said.
Judge Mark Stevens started Veterans Court in 2011. Its participants have committed misdemeanors, the majority of which involve domestic disputes or DUI charges, he said. Entrants in the program have to call the court every day to find out if they have a urinalysis the following day, and they have to attend counseling weekly.
People who enter the program are assigned a mentor to help them through the process. Byron Brooks, an Army veteran who helped Higgins, became a mentor in 2013.Watching veterans graduate makes the process "extremely worthwhile," he said.
"And some guys you've got to pull; some guys are a little bit more willing," Brooks said.
Mario Allen, whose wife and two children looked on as he graduated, was charged with resisting arrest over two years ago. After getting through the program, he said he wants to be a truck driver and eventually go to school to study film and video editing. He said he plans to "explore, vacation, do all kinds of things."
"At the beginning, it's kind of like, 'I don't want to do this,' Allen said. "And then you realize that it's not there to punish you. It's kind of there to help you. To see what you're doing wrong so you can change it to better things. It is a hard program to complete, but if I can do it, anybody can do it. It's pretty much just like the military. Be where you've got to be, do what you've got to do."
Many veterans in the program have struggled with alcohol. Zachary McGuire said he "used to be a bottle-a-day drinker" when he returned to the U.S. from deployment overseas. This program was the first of several he tried to keep himself sober.
"I've been on parole. I've been on probation. … I've been to rehab," McGuire said. "But this is the only one that actually got me sober and makes me want to stay sober as well."
Most of the entrants are hesitant when they enter the program, Brooks said, but they come out at the end as a better person .
"Because you've got to remember, they're coming in from being arrested. They're coming in at a low point in their life," he said. "When they leave here, they're at a high point with lots of peer support, lots of resources. It's a great process."
Contact Diego Mendoza-Moyers at dmendozamoyers@viewnews.com or call 702-383-0496. Follow @dmendozamoyers on Twitter.