Las Vegas group offers care to ex-nuclear test site workers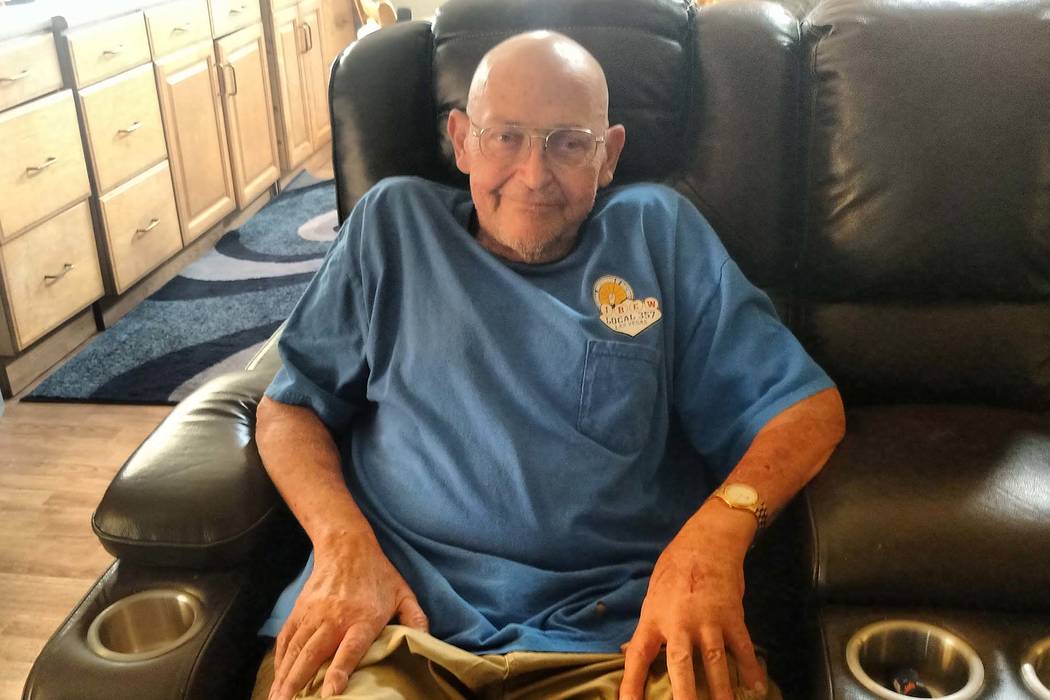 Former Nevada National Security Site employee Ted Yanuzis estimates he has observed more than 400 nuclear tests.
Yanuzis, who helped oversee machinery used to set up nuclear tests, said he never thought about the adverse health effects associated with those weapons.
That changed when he was diagnosed with lung cancer in 2016.
"You didn't think about the effect that it had on the body or the mind," he said. "You just thought what a devastating device it was if ever used."
Nuclear Care Partners
Shortly after his diagnosis, Yanuzis searched for medical groups to help cover the cost of care.
He came across Nuclear Care Partners, which provides free in-home care to former atomic workers who developed illnesses after exposure to radiation and other toxic materials. The agency has offices in 13 states, according to its website.
The group said it has helped more than 300 people in the valley since 2011. About 80 percent of clients at the Las Vegas office, 2810 W. Charleston Blvd., Suite 80, are former test site employees, said Community Outreach Manager Ruben Mendoza.
Nuclear Care Partners helped guide Yanuzis through receiving treatment and compensation through the federal Energy Employees Occupational Illness Compensation Program Act, approved in 2000.
Yanuzis had surgery to remove part of his right lung and underwent chemotherapy. He has been cancer-free since 2017.
Yanuzis, 69, credits the group for helping him overcome his disease and keep a positive outlook.
"I wouldn't have been in the shape I'm in now, mentally or physically, without their help," Yanuzis said.
Some Las Vegas Valley clients worked at South Carolina's Savannah River Site nuclear reservation and Colorado's Rocky Flats Plant nuclear weapons production facility.
"Every area's different, because every one was exposed to different things, so you've really got to know your area to know what to help your people with," Mendoza said.
Mendoza feels a personal connection with his work. Besides bonding with clients, Mendoza has had family members who worked at the testing range, formerly known as the Nevada Test Site.
"I remember going to high school, and you can feel (explosions) 60 miles away," said Mendoza, who graduated from Rancho High in 1989.
Building relationships
Nuclear Care Partners regularly plans social events for former atomic workers, including monthly lunch and breakfast outings at the Cannery in North Las Vegas.
"We try to build relationships because these are lifelong relationships," Mendoza said.
Yanuzis, who worked at the test site from 1977-97, will need lifelong care for chronic obstructive pulmonary disease. Nuclear Care Partners provides a certified nursing assistant and a case manager who check on him at his Spring Valley home.
"They've cared for me, and I've cared for them like a family," Yanuzis said.
Contact Jacob Lasky at 702-383-0219 or jlasky@reviewjournal.com. Follow @Jtlasky on Twitter.
Nevada National Security Site
The Nevada National Security Site, formerly the Nevada Test Site, is 65 miles northwest of Las Vegas. At 1,360 square miles, it is larger than Rhode Island.
From 1951 until 1992, the United States conducted 928 nuclear tests there.
As of Sept. 9, more than $970 million has been paid out for compensation and medical bills for 6,526 test site employees, according to the U.S. Department of Labor.
Las Vegas Review-Journal