Herb Jaffe: What can new ballpark do for Summerlin? Plenty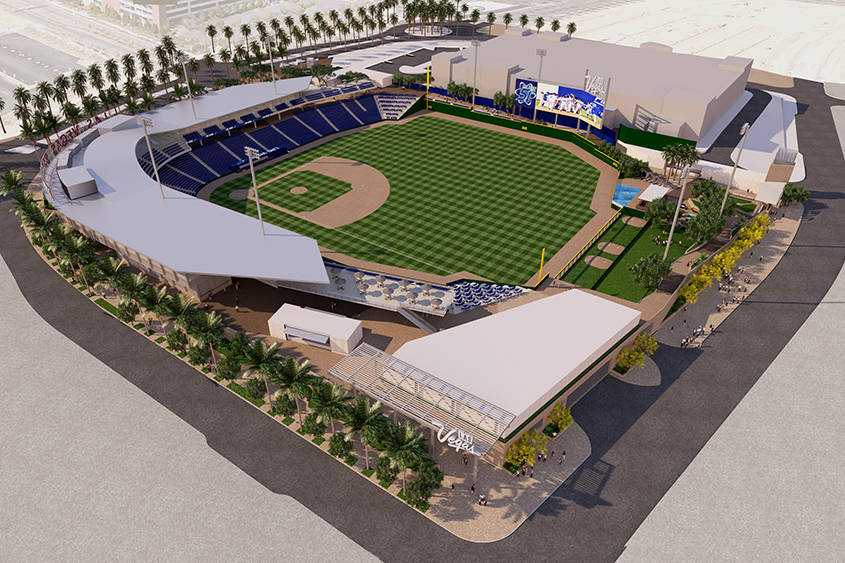 Feb. 23 was a noteworthy date for Summerlin. It was the day when lots of dignitaries gathered on a windblown plain opposite City National Arena in Downtown Summerlin to witness the groundbreaking for Las Vegas Ballpark.
April 5 is another noteworthy date. That marks the opener of the Las Vegas 51s' final season at Cashman Field before the 2019 inaugural at their new home in Summerlin on a date yet to be determined.
There's another noteworthy date that comes to mind – Jan. 20, 1961. That was the day John F. Kennedy was inaugurated as the 35th president of the U.S. It was also the day he spoke the following words, which have since become immortalized: "Ask not what your country can do for you – ask what you can do for your country."
So you might ask, what does Kennedy's statement have to do with Summerlin's new ballpark?
Quite a bit when you think about what the stadium can do for Summerlin, instead of what Summerlin is doing by providing this state-of-the-art, $150 million ballpark for a triple A baseball team on a choice site.
No one expected any of the many sports and civic dignitaries who attended the groundbreaking to speak about what the 10,000-seat stadium can do for Summerlin. As expected, all their comments dealt with what the facility will do for the 51s and for professional baseball by taking the team out of one of the shabbiest ballparks in America and into the most modern field of dreams.
But Tom Warden, who played an integral role in bringing Las Vegas Ballpark to fruition, well understands what the stadium will do for Summerlin.
"The ballpark will be an iconic centerpiece in Downtown Summerlin, and its impact will be considerable, not just for Summerlin but for all of Las Vegas and beyond," said Warden, who is senior vice president of community and government relations for The Howard Hughes Corp.
Warden has worked behind the scenes for more than a decade to make the new home for the 51s a reality, and not only because the Hughes Corp. owns the baseball team and is the developer of Downtown Summerlin, which is the cornerstone of Summerlin. Hughes also has been instrumental in development of the entire 22,500-acre master planned Summerlin community, of which 6,000 acres remain undeveloped.
"Bringing organized baseball to the community in the form of the Las Vegas Ballpark will energize development of all of Summerlin into a new urban environment. It will also serve as a boon for many businesses that are already here. I know that the retailers and restauranteurs in Downtown Summerlin are very excited about the stadium," Warden commented.
"Aside from the 70 or so baseball games a year that will be played here, the stadium will become a focal point for other sporting, entertainment and civic events, all of which will greatly benefit the community," he visualized.
Warden referred to the ongoing commercial and residential development of Downtown Summerlin as a "micro reflection of a great entertainment city that is fast becoming a great sports city as well."
"The infusion of major professional sports in just the last few years has become a game-changer for Las Vegas. There aren't many places anywhere else that can boast of being both a great entertainment and sports capital."
In essence, Warden was saying that what the construction of City National Arena has done to help create a hockey craze throughout all of Las Vegas and beyond, could be paralleled by a new surge of baseball enthusiasm once Las Vegas Ballpark opens next door.
"Just think about all that has happened to Southern Nevada in such a short time – in addition to our new stadium, a National Hockey League team, a National Football League team with another new stadium in a couple of years, a major women's basketball team, an organized soccer team, and who knows what else."
Herb Jaffe was an op-ed columnist and investigative reporter for most of his 39 years at the Star-Ledger of Newark, New Jersey. Contact him at hjaffe@cox.net.