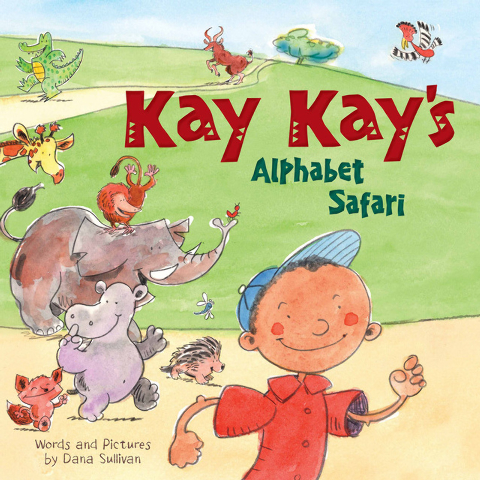 You've looked high and low.
There's something very important that you can't find, even though you've searched everywhere: beneath your bed, inside your closet, in your car seat, behind the sofa. It's not in the kitchen, in the bathroom or the car. You don't know what to do.
So why not follow what's in "Kay Kay's Alphabet Safari" by Dana Sullivan? Think — because what you're looking for might be right under your nose!
It was a beautiful, sunny day, and Kay Kay planned to enjoy it. With a smile on his face, he strolled past Bungoma's new village school and he heard the children call his name. They were proud of their new classroom, and they wanted him to see it.
Kay Kay looked around the classroom and saw shiny floors. He saw brand new desks and plain white walls that practically begged for someone to paint something on them. Kay Kay told the children that he would paint animals A to Z on the wall.
But which ones?
Like many people, Kay Kay thought best when he was moving, so he used his feet and his brain to go to the countryside. There, he met Ant, but there'd be no chatting because Kay Kay was deep in thought.
A few feet down the path, Baboon and his friends wanted to dance, but Kay Kay couldn't take even a minute for that. He had to think of animals, A to Z.
Fox was having a tea party not far away, but Kay Kay didn't have time for tea. He couldn't settle an argument for Jackal, there'd be no games with Leopard, and absolutely no jokes or riddles with Porcupine, either. Snake could daydream on his own and Warthog would have to run around with his friends by himself, because Kay Kay was busy thinking. This animal A to Z stuff was very, very hard!
And then, suddenly, it hit him! The answer was right in front of him, and he had to get to work quickly. But, of course, there was one thing missing: what could he paint on the wall that starts with a "K"?
Based loosely on a true story of a talented Kenyan taxi driver and the "very real" Star of Hope School, "Kay Kay's Alphabet Safari" is a cute A-B-C book based on animals. For small children, that kind of thing can't be beat.
But author-illustrator Dana Sullivan adds a nice surprise for slightly older kids, too: in the back of this book, you'll find a behind-the-scenes story of how this book came to be, as well as more information on Star of Hope, Kay Kay himself and a website filled with videos and photos. If they're up for more, your kids can also learn to say a few words and funny phrases in Swahili.
Find this book for 2- to 4-year-olds, share it with 5- to 6-year-olds, and you won't be sorry. If your children want A-B-C in a different kind of F-U-N, "Kay Kay's Alphabet Safari" might be just what they're looking for.
View publishes Terri Schlichenmeyer's reviews of books for children and teens weekly.
About the Book
"Kay Kay's Alphabet Safari" by Dana Sullivan
c.2014, Sleeping Bear Press $15.99 / $16.99 Canada 40 pages