Reading is a lifesaver in 'The Story Book Knight'
October 12, 2016 - 10:45 am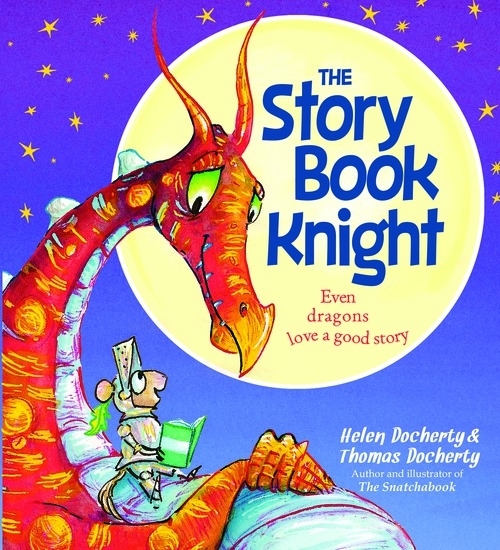 You love it when someone shares a book with you.
Sharing a book is great for snuggling, listening, laughing or settling down before bedtime. When you share a book you like, it makes everybody happy. And in the new book, "The Story Book Knight" by Helen and Thomas Docherty, it might save a kingdom.
Everybody knows that knights are big and brave and love to fight. Knights are almost all like that — except Leo. He was sweet and quiet, and Leo loved to read.
That bothered Leo's parents a great deal. Knights are supposed to battle, but Leo didn't seem to understand that. Finally, his parents decided not to fight about not fighting. Leo could read, they said, but he had to agree to do something else, too. They sent him to tame a dragon in a nearby kingdom. It would be fun, they told him.
And so, with a small pile of sandwiches and a big pile of books, Leo sighed, jumped on his trusty steed, Ned, and headed for the nearby kingdom. They didn't travel long before they were stopped by a creature with eagle wings and a lion's legs. Leo knew it was a griffin because he'd seen one in a book — the very book, in fact, that he gave to the griffin before Ned and Leo moseyed on.
It was a hot day for a ride, so they didn't mosey long before they spotted a cool stream just perfect for a picnic. But Leo's lunch was a bit delayed when a nasty troll threatened to make Leo into lunch. Leo knew all about trolls, though, because he'd read about them in a book — the very book, in fact, that he gave to the troll before he and Ned finished their meal and moved along.
It was late afternoon by the time they reached the nearby kingdom, only to find the streets empty. And messy. And smelly. And crispy, as though a fire had scorched everything. A fire, like the one coming from the nose of a dragon.
A great big dragon, who sat in the middle of the street…
Where is your child's favorite snuggle-up-and-read spot? Is it a cozy chair, a cushy sofa or a bed piled with blankets? No matter where it is, "The Story Book Knight" belongs there, too.
With an adorable rhyme and irresistible pictures, the Dochertys show young children that there's no reason for belligerence, but that kindness and sharing go a long way. Because Leo loves to read (and subtly promotes the written word through his interest), it's no coincidence that the items shared are books. I was charmed at how the Dochertys wove that into a tale, and the way Leo passes the tomes along, well, you just can't miss it.
While I'm sure you'll be charmed by this story and its illustrations, it's really meant for kids ages 4 to 8. For bedtime, cuddle-time, break-time or just because, "The Story Book Knight" is the perfect book to share.
View publishes Terri Schlichenmeyer's reviews of books for children weekly.
About the Book
"The Story Book Knight" by Helen and Thomas Docherty
c.2016, Sourcebooks $16.99 / $23.99 Canada 32 pages