Puppy's presents can be mischievous in book
December 17, 2014 - 2:34 pm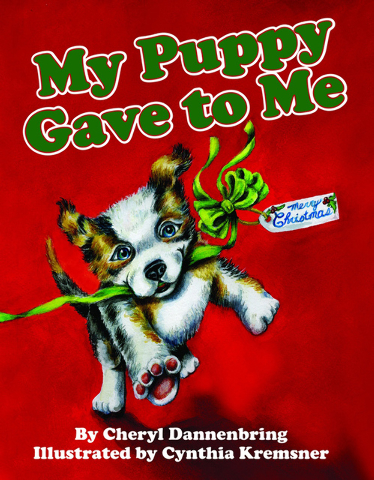 This Christmas, you're hoping for a few special gifts beneath the tree.
You want a certain something that you wish Mom and Dad would give you. Santa will bring a bag full of gifts – you're sure of that! Grandma always gives you clothes, and your favorite Auntie likes to give you money.
You're going to love what's beneath your tree this year … mostly. In the new book "My Puppy Gave to Me" by Cheryl Dannenbring, illustrated by Cynthia Kremsner, there are some presents you can probably live without.
There's a new puppy in the house and he's a bundle of energy. He romps and runs and gives kisses — and on the first day of Christmas, he also gave his little girl the lights from her family's evergreen tree. Oops.
She loves him anyhow because, really, who wouldn't love a puppy that gives his little girl three broken bulbs and the lights from the tree on the third day of Christmas?
Yes, he's a playful pup — and he's very helpful, too. On the fourth day of Christmas, he brought his little girl some toys for a tea party. She was happy about that, but probably not so glad to see "the lights off our evergreen tree" again.
It's hard to stay mad at such a cute puppy, particularly when he brings great things on the Fifth and Sixth days of Christmas. He's really a good boy, except when he misbehaves and bothers the cat. And what he does on the Eighth and Ninth Days, well, no doubt that his little girl's Mom was quite annoyed!
And yet, he is a puppy and puppies can be mischievous. The little girl knows that's true and though he still gets into things, she knows her puppy means well. He didn't mean to get into the holly, for instance, but it happened. He didn't mean to rip and rumple all the wrapping paper, but he surely did mean to steal the Christmas cookies, because that happened, too.
Just like it happened that he pulled down "the lights off our evergreen tree."
So are you humming a certain Christmas carol yet? You will be, once you start reading aloud "My Puppy Gave to Me."
And that's okay. Dannenbring matches her poem closely to the classic song, so much so that your child can definitely be forgiven for thinking the words here need to be sung. If you think you can't carry a tune in a barrel, though, don't worry: the story is cute all by itself and your child will still love it. She'll also love the bold, colorful illustrations because they perfectly depict puppyhood, its friskiness and messiness and "five pounds of love."
My only caveat is that some "days" may call for a conversation on the dangers of puppies having baubles they shouldn't have. Know your audience, point those things out when reading this book aloud, then sing your heart out. For your 3- to 7-year-old, "My Puppy Gave to Me" is a great gift to give.
View publishes Terri Schlichenmeyer's reviews of books for children weekly.
About the Book
"My Puppy Gave to Me" by Cheryl Dannenbring, illustrated by Cynthia Kremsner
c.2014, Pelican Publishing Company $16.99 / higher in Canada 32 pages