Summer tall-tale adventure relies on illustrations to spin story
September 7, 2016 - 10:45 am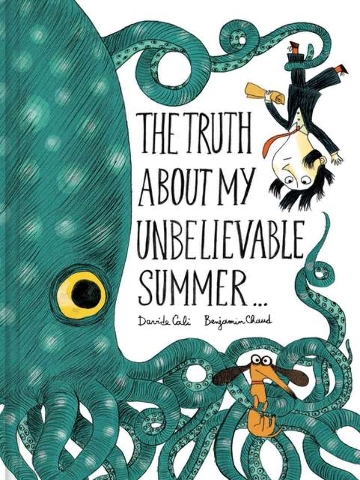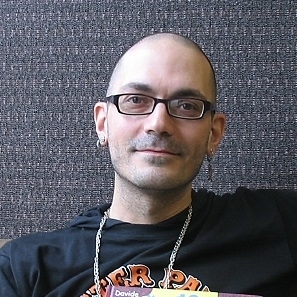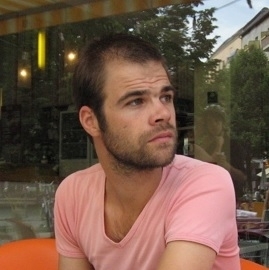 You know your teacher's gonna ask.
You know she will, and it's going to be hard to remember three months ago, two months ago, one month ago. It's hard to remember last week, so you might want to get your imagination going. When it comes to "The Truth about My Unbelievable Summer," Davide Cali and Benjamin Chaud might have some ideas you can use…
"So, what did you do this summer?" the teacher asked.
It was one of the first days of school, and the boy was anticipating the question. He knew she'd want an answer, so he thought up something quick.
He went to the beach, he told her, and he found a message in a bottle! The message wasn't just any old thing — it was "a treasure map!"
But lurking behind his shoulder was a bird, a black-and-white magpie that liked to steal things. That bird took that treasure map and flew all the way out to a ship on the water and the boy had no choice but to follow. But the crew of the ship wasn't very friendly, so the boy jumped into the sea and was captured by an equally unfriendly squid.
Long story short, there were "some people making a movie" but one of the actresses knew what was up. She said she'd seen the map in a library but there was that magpie again and everything was quite a mess until the boy's uncle stepped in to help.
Uncle was a bit of a mad scientist, so he could only offer just so much assistance and a few experimental inventions, nothing all that great, so the boy (along with his brave dog) had to keep looking for the magpie by themselves. Of course, that wasn't easy at all, but finding the treasure was and, well, in the end the summer "was OK."
And then, uh-oh. He was afraid he'd gone too far in his wild tale. He figured his teacher would never believe him in a thousand years. She'd know that he made it all up.
But his teacher had a pretty interesting summer herself…
Lies, liars, lying. Your child has undoubtedly heard those words lately on the news, and he knows better, right? But, sometimes, embellishment is oh-so-tempting, and "The Truth about My Unbelievable Summer…" is a perfect example.
In a story that gets taller by the half-page, Cali is spare with the words he uses. There isn't much to this story, in fact, if you only consider the words themselves — there's really not a lot of actual reading in this book — but the tale is happily accompanied by busy illustrations from Chaud that make it seem fuller. Together, those sparse words and the imaginative drawings create a tale that kids will find outrageous and outrageously fun.
For 8- to 11-year-olds who aren't quite ready to head back to class, this is the perfect ease-into-school type book. The subject is appropriate now so, as for "The Truth about My Unbelievable Summer," they couldn't ask for more.
View publishes Terri Schlichenmeyer's reviews of books for children weekly.
About the Book
"The Truth about My Unbelievable Summer …" by Davide Cali, illustrated by Benjamin Chaud
c.2016, Chronicle Books $12.99/$17.99 Canada, 44 pages