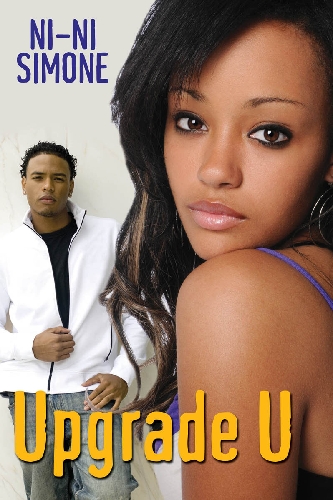 There is nothing better than kicking it with your friends.
You and your girls know everything there is to know about one another. There are no secrets and they know when you ain t feeling it.
But what if you ve got heavy things buggin ? Can you give truth to your friends? In the new book Upgrade U by Ni-Ni Simone, a young woman learns that the only truth she needs is the one she gives herself.
A little sweet-talk and a good scholarship. That s what got 17-year-old Seven McKnight to college in New Orleans, and life was slammin . One of her roommates was her bestie, Shae, from high school back in New Jersey. The other roommate, Khya, was a home girl from N awlins, and Seven liked her immediately. Best of all, Seven s boo, Josiah, was a b-baller at Stiles U, and Seven couldn t wait to see him.
But Josiah was MIA those first few days of college, and when he finally returned Seven s seven million text messages, his excuse was pretty lame. He blamed his disappearing act on practice, and his words were smooth.
Too smooth for Seven.
Just like Shae and Big Country, Seven and Josiah had been in love for years. But could she trust him? Could she look aside when he seemed to be spending a lot of time with some whoady he said was just a friend but who sure looked like more?
Though this drama with Josiah was just one thing on her mind, college kept Seven busy. She d been planning on majoring in something that would make lotsa moola, but she was learning that she possessed a real talent for writing. She was busy catchin da wall with her roomies and their neighbor, Courtney, who loved him some animal-print-and-feather-boa outfits. And then there was Zaire …
They met when he accidentally splashed water on them just after a storm. Zaire was a homeboy and was fine as all that, but he was off-limits to Seven. If she was going to be the future wife of an NBA player, she needed to trust that things would work out with Josiah.
But could Seven really trust anybody?
Basically, the premise behind Upgrade U is good. Bare-bones, it s about a 17-year-old s first year at college, learning about herself, growing up and growing past the little boys she s known so far. There s some comedy here, some romance, girl power and a fundamentally decent story.
The problem is that this book is so heavily loaded with slang that some readers may find it unreadable at least, at first. The author has made this novel real, but it may be too real for teens unfamiliar with the dialogue Simone uses. The antidote to that is to stick with it because the story is worth it and the language gets easier.
Perhaps best suited for African American girls ages 15 to 17, this book might also please any teen patient enough to muddle through what could be a difficult read. Without that key perseverance, though, Upgrade U might just be kicked aside.
Terri Schlichenmeyer s children s book reviews appear weekly in View.