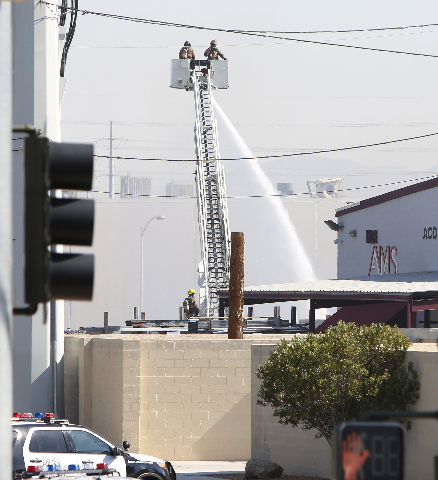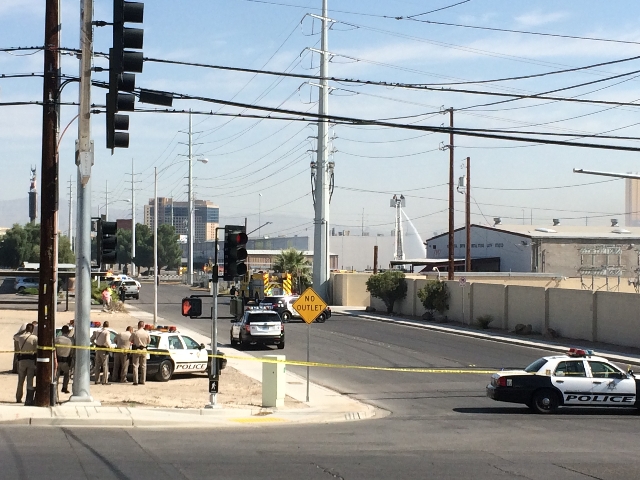 At least one person was hurt after a propane tank exploded in an industrial area west of the Strip on Tuesday morning.
The fire was reported at Vegas Balloon Rides, 4390 Polaris Ave., near the intersection of Harmon Avenue and just west of Interstate 15, where two vans with utility trailers caught fire and two large propane tanks exploded just after 9 a.m. The fire department said the tanks ranged in capacity from five to 20 gallons.
Flames threatened two more propane tanks and ammunition inside the business, the fire department said in a news release. Firefighters extinguished the blaze before it reached the other tanks and nearby businesses.
A 35-year-old worker, who was believed to be working in the yard at the time of the explosion, was taken to University Medical Center for minor burns to an arm and a leg, the fire department said.
The extent of damages was not immediately known. The cause of the fire is under investigation.
Metro evacuated a business nearby and Polaris and Dean Martin Drive near the fire were blocked off for nearly three hours.
Las Vegas police were blocking traffic on Polaris Avenue and Dean Martin Road between Harmon Avenue and Flamingo Road. Anyone trying to access businesses north of Harmon between Polaris and Dean Martin will be turned away, Metro said in a tweet about 9:30 a.m.
Photographer Bizu Tesfaye contributed to this story. Contact Cassandra Taloma at ctaloma@reviewjournal.com or 702-383-0381. Find her on Twitter: @CassandraTaloma