2 worn soccer fields with artificial surfaces closed, deemed unsafe
January 11, 2016 - 6:17 am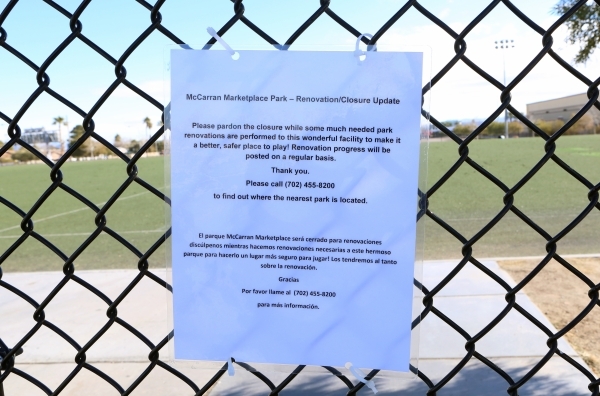 Things could get tricky for Clark County as officials mull over what to do with two south-valley soccer fields that look more like golf course fairways than football pitches.
The two artificial turf soccer fields, located at 5800 Surrey St., just east of McCarran International Airport, were closed last week by the county after conditions of the playing surfaces were deemed unsafe.
The fields, which opened in 2007, have literally been torn to pieces. Large chunks of turf are missing in several areas, the seams between turf sections are showing, and the plastic grass pulls out of the ground with ease. Mindy Meyers, assistant director for the county's Parks and Recreation Department, said some of it is from standard wear and tear associated with soccer fields, but added that people playing in cleats, which the park prohibits, have only increased and expedited the damage.
But 2-foot-wide holes and exposed seams might not be the only things unsafe on the fields.
There is a growing level of concern with the little rubber nubs, which act as the dirt in artificial turf and are often kicked up during play, with some now wondering if they could be harmful to a person's health.
Studies are popping up across the country, including an ongoing one undertaken by Gaboury Benoit, an environmental chemist and professor at the Yale School of Forestry and Environmental Sciences, that suggest the nubs, often called "crumb rubber," contain carcinogens.
And county officials, including Meyers, haven't let those studies go unnoticed.
"If there's a health consideration that we now need to think about, that will help us make the decision," Meyers told the Review-Journal on Friday.
Used commonly for lawns and playing fields and touted as the alternative to water-hungry natural grass, synthetic turf is a common sight in Southern Nevada.
But as kids and athletes run on the turf, that "crumb rubber" is sprayed into the air, which is where the concern lies.
In his lab at Yale, Benoit has been analyzing the organic compounds found in the rubber pebbles to see if any are considered harmful.
Unfortunately, Benoit said he's found several cancer-causing compounds so far.
Benoit said he has identified about 100 organic compounds in rubber, of which about half have been tested for toxicity in the past. Ten of those compounds that have been tested, Benoit said, are either known or considered possible carcinogens.
Those materials, while essentially harmless on the ground, become hazardous once the particles are kicked into the air and inhaled, Benoit said.
"A lot of this is going into playgrounds and fields where young people are playing and could be exposed," Benoit said.
Meyers said the county is considering converting the fields near McCarran to natural grass, which is what is used in every other soccer field managed by Clark County.
"We know natural turf really well," she said. "Our guys do a great job of keeping it up."
Meyers added that the county will have to consider the increased maintenance associated with natural grass fields, such as watering and mowing, but the added costs might not be the deciding factor.
"Those are all things that we need to look at when we make our final decision," she said.
Whatever decision Meyers and the county come up with likely won't be official until at least July 1, when the county's fiscal year begins. Meyers said the project will have to compete for funding with other projects across the valley, but stressed that the new turf, be it grass and dirt or plastic and rubber, is a priority.
— Contact reporter Colton Lochhead at clochhead@reviewjournal.com or 702-383-4638. Find him on Twitter: @ColtonLochhead.