500 rally in memory of bicyclist killed on the road
September 5, 2015 - 2:56 pm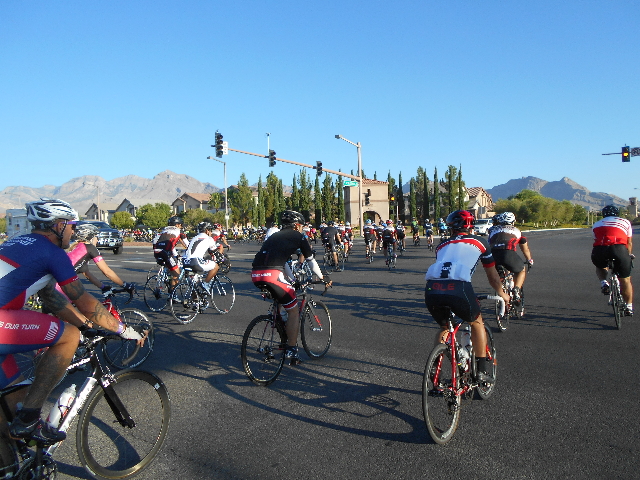 Kasey Hunt remembers her husband's "goofy" laugh.
Jason Hunt talks about how his brother would "push you" to pedal harder "but never leave you behind."
The two joined on Saturday in Summerlin with other family and members of Southern Nevada's bicycling community to honor local cyclist Matthew Hunt, 37, who died in August while riding his bike on the Strip.
And they made sure Hunt's death won't be in vain: Local and state officials were on hand with details about a crackdown on drivers who violate the state's bicyclist right-of-way law.
The bike safety awareness ride and rally, at LifeTime Athletic's 10271 W. Charleston Blvd. club, drew more than 500 people, including Clark County Commissioners Susan Brager and Larry Brown. The commission issued a proclamation Wednesday recognizing Hunt and the safety rally.
Kasey Hunt said turnout for the event proved her husband was well-loved in the community.
"I thought it was just me he made feel special. But it was everyone," she said.
"It's amazing that this many people took time out of their day to support not only Matthew, but this safety movement," she added. "If the laws had been followed, this wouldn't have happened."
Added Jason Hunt: "(Matthew) did everything right. At this point, it's up to drivers to pay attention."
What the law says
State law requires drivers to allow at least 3 feet of space when passing bicyclists. If possible, drivers should yield an entire lane.
But Pat Treichel, regional cycle coordinator for LifeTime Athletic in Summerlin, said motorists don't always obey the law. Worst still, he said, they drive distracted — making phone calls or texting on the road.
Public officials said they will work harder to get the law's message out.
Ron Floth, bicycle outreach coordinator for the Regional Transportation Commission, drew cheers from the crowd when he announced a local police crackdown beginning Oct. 1.
The Metropolitan Police Department will put spotters on bikes across the city to catch motorists who fail to yield 3 feet to riders.
The state Department of Motor Vehicles will also revamp its drivers handbook and test to incorporate information about cycling rights of way, Floth said.
The Nevada Highway Patrol plans to boost enforcement in the fall as well.
Numbers from the state Department of Traffic Safety's Fatality Analysis Reporting System show eight bicyclist fatalities in Clark County so far in 2015. That's already nearly double 2014's five fatalities, and it's the highest number since 10 deaths in 2005.
Statewide cycling fatalities peaked at 14 in 2004, and dipped to three in 2012. They're at eight deaths so far in 2015.
Hunt's death is the latest.
How it happened
Police said Hunt and a second cyclist were riding south on the Strip near Spring Mountain Road about 8 a.m. on Aug. 3, when a 1998 Ford Mustang driven by 23-year-old Breanna Jimeno of Las Vegas hit Hunt from behind.
Hunt, who was wearing a helmet and following the rules of the road, suffered critical injuries. He was taken to Sunrise Hospital and Medical Center, where he died on Aug. 9.
Police said Jimeno stayed at the scene and cooperated with investigators. Neither she nor the other cyclist were injured.
Metro said Jimeno was "distracted," but the department has not elaborated on what drew her attention from the road.
Metro's public communications division didn't respond by press time to a request for comment on whether charges have been or will be filed, but a source close to the Hunt family said Saturday that the investigation into the accident is ongoing, and they "expect new developments soon."
Hunt's family said he was doing something he loved: Sharing his passion for cycling through a bike tour for a client.
Hunt began his career with sporting goods retailer Big 5 nearly 15 years ago. He also was a guide for Action Tours, a concierge at the Wyndham Grand Desert timeshare, and lead concierge for travel website Expedia. Expedia promoted Hunt to destination manager of the company's Nevada and Southern California district.
In January, Hunt became a partner in bicycle tour and rental company Bike Blast Las Vegas.
His standing in the city's tourism and outdoors communities was clear in the list of supporters who sponsored his memorial rally. Nearly three dozen partners included the Paris, Monte Carlo, Wynn and Encore; The Howard Hughes Corp.; Allegiant Airlines; LifeTime Athletic; sports clothing retailer Lululemon; Trader Joe's; Land Rover; Metro; the Regional Transportation Commission; the Highway Patrol; and Las Vegas Cyclery.
The Review-Journal also was a sponsor.
Hunt's family has raised more than $44,000 through its GoFundMe.com/matthewhunt account to help cover his medical expenses.
Saturday's rally also brought in nearly $5,000 in raffle and auction donations for the family.
Hunt's heart, kidneys, liver and pancreas were donated to five critically ill people.
In addition to his wife, Kasey, Hunt left behind children Madeline, 6, and Wyatt, 4, as well as two brothers, two sisters, two step-siblings, and many extended family members.
Kasey Hunt and the couple's children have left Southern Nevada and now live in Orlando, Fla., because it became too painful to stay, she said.
But Kasey Hunt will have reason to come back.
She said her husband's safety ride and rally will become an annual event — one that Treichel said will supplement the "3 Feet for Pete" ride, scheduled to hold its third annual installment Saturday. That ride honors the life of local jet mechanic Pete Makowski, 33, killed in 2013 when a gravel truck struck him from behind while he was on a training ride to Jean.
"We'll see you there," Treichel told the crowd. "We've gotta keep this movement going."
Review-Journal database editor Adelaide Chen contributed to this report. Contact Jennifer Robison at jrobison@reviewjournal.com. Find her on Twitter: @_JRobison