Abortion foes rally in Las Vegas
January 21, 2013 - 12:27 am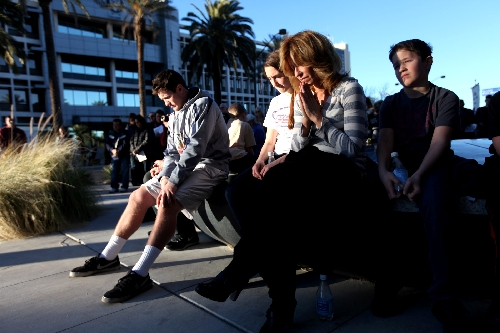 Facing the American flag with her right hand over her heart, Kathleen Miller recites the Pledge of Allegiance amid "Women Do Regret Abortion" and "Men Regret Lost Fatherhood" signs.
"With liberty and justice for all – born and unborn," she adds.
Miller, a liaison for anti-abortion activities, helped sponsor Lights for Life through the Diocesan Pro Life Office.
Lights for Life held its 20th annual anti-abortion prayer vigil Sunday in front of the Lloyd George U.S. Courthouse on Las Vegas Boulevard.
Pregnancy organizations, members of the church and families gathered for an hour of songs, prayers and speeches.
"We must remember the 55 million babies who were lost to legal abortion," Miller said. "Remember the mothers and fathers with empty arms and empty hearts."
Lights for Life was also supported by organizations such as Living Grace Home, First Choice Pregnancy Services and Women's Resource Medical Center.
While the vigil is held every year, Sunday's event targeted a specific cause.
Tuesday marks the 40th anniversary of the Supreme Court case Roe v. Wade.
On Jan. 22, 1973, the U.S. Supreme Court ruled 7-2 that a woman's right to have an abortion was tied to the right to privacy under the due process clause of the 14th Amendment.
The ruling indicates the procedure decision, before the end of the first trimester, is left to the medical judgment of the woman's physician.
The state can regulate the procedure after the first trimester and even prohibit it after the viability stage, except when necessary.
The viability stage occurs when the fetus can live outside the womb, usually after 28 weeks.
Undeterred by the legal right, local organizations support Lights for Life with the hope of educating the public on pregnancy choices other than abortion.
Living Grace Home provides food, shelter and education to unwed pregnant girls ages 14 to 22 through their pregnancy and up to 90 days after giving birth.
Since 2007, the organization has helped about 105 young women.
"We provide assistance through the temporary crisis," said Miller, executive director of Living Grace Home. "I call it temporary because the longest I heard it last is nine months."
First Choice Pregnancy Services offers free pregnancy tests, ultrasounds , counseling and resources to pregnant women.
The clinic is located near one of the city's largest abortion providers; meaning most of the clients are "highly abortion vulnerable."
"It's the love that our clients see from our workers and volunteers that guides them," said Annie Hollowell, client services director. "We see – in one year – 5,000 women and girls from all walks of life. We are a safe haven."
However, according to a recent survey conducted by the Pew Research Center, 63 percent of Americans would not like to see the courts overturn Roe v. Wade.
This opinion has changed little from the surveys conducted in 1992 (60 percent) and 2003 (62 percent).
In fact, the study shows a decrease in the amount of Americans who view abortion as a critical issue.
Twenty-eight percent thought abortion was a critical issue in 2006 while only 18 percent thought it was this year.
Still, Lights for Life and its supporters continue to urge others not to seek abortions .
The Rev. Robert Kiefer stated that although he calls himself a "pro-choice priest," it simply means he believes people have choices, period.
"Choice is a freedom God gave us," he said. "God gave us the free will to act good or act bad; that is a choice."
He said the rights of one human being should not violate or harm the rights of another .
"Why do we sentence the unborn? A fetus is a completely innocent life, and to kill an innocent life is wrong," he said. "We will never solve the abortion issue with rational logic, but we can solve it with love and truth."
Contact reporter Caitlyn Belcher at
cbelcher@reviewjournal.com or 702-383-0264.
63 percent
of Americans think Roe v. Wade
should not be overturned.
18 percent
of Americans think abortion is a critical issue.
53 percent
of Americans think abortion is not as important as other issues.
44 percent
of adults 18-29 years old know what issue Roe v. Wade dealt with
74 percent
of adults 50-64 years old know what issue Roe v. Wade dealt with
SOURCE: Pew Research Center poll from Jan. 9-13, 2013