Amorous couple's ride on the High Roller ends with felony arrest
February 9, 2016 - 5:42 pm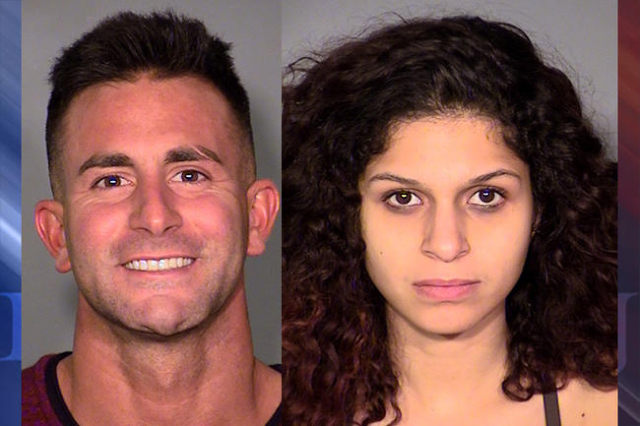 The High Roller Club grew by two on the afternoon of Feb. 5, when a security officer noticed the only passengers in Cabin 16, a man and woman, smoking and undressing.
"The guests in Cabin 17 didn't seem to notice, but the guests in Cabin 15 not only noticed but were video recording the acts" with their cell phones, according to court documents.
Surveillance video — not yet made public — also caught the action on the Caesars Entertainment attraction at the center-Strip Linq.
Security officers used the intercom to tell the amorous couple to "please put all cigarettes out and put all clothes back on."
They stopped, briefly sat down, but then went back at it. They refused a second request to end the tryst.
That's when the Las Vegas police were called.
The 550-foot-diameter wheel with its 28 cabins each big enough to hold 40 people didn't stop rolling — it's continual motion. At the end of the 30-minute ride the fully clothed tourists, Chloe Scordianos, 21, of Hicksville, NY, and Philip Frank Panzica III, 27, of Houston, Texas, were pulled from the giant glass ball and charged with committing sex acts in public, a felony.
The criminal complaint alleges extensive nudity and cunnilingus on the world's tallest observation wheel, which is billed as "The Happiest Half Hour in Vegas!"
"They both said they were just having a good time and didn't think anyone would notice," the arresting officers wrote in their report.
Police watched the video and "clearly saw Scordianos laying on her back in the center of the cabin. Panzica was on his knees over Scordianos and removed her dress. He also removed his clothes while standing up, exposing his penis and bare buttocks, allowing anyone in public to see."
It wasn't the first time people were spotted having sex in the all-glass cabins of the High Roller, which opened in 2014, the report stated. Linq managers told Metro that public indecency is happening more and more, "which they fear will impact the reputation and business operations."
VitalVegas.com even offers "11 Vital Tips for Having Sex on the High Roller," which include "bring a blanket," "use the cover of darkness," "tip a ride attendant," "be prepared for some awkward," and "be fearless."
Metro could not immediately provide statistics about the frequency of arrests at the High Roller, and a Caesars spokeswoman did not respond to requests for comment.
Scordianos and Panzica were booked in the Clark County Detention Center and later posted $3,000 bail. They were arraigned in Las Vegas Justice Court on Tuesday, and are expected back in court next month.
It's unclear how or where the two met. Friday was Scordianos' 21st birthday.
"Ms. Scordianos denies the allegations that this was a public sex act," said her lawyer, Chris Rasmussen. "People who ride the Linq believe they have an expectation of privacy in the individual cars."
Contact reporter David Ferrara at dferrara@reviewjournal.com or 702-380-1039. Find him on Twitter: @randompoker