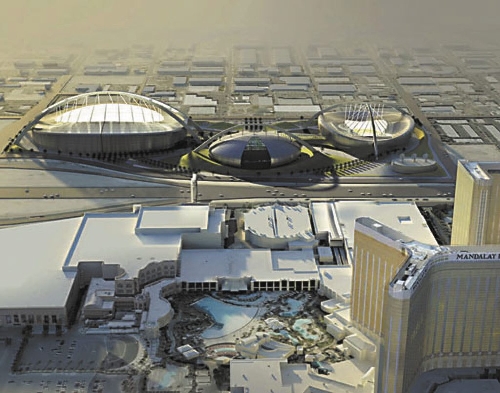 Money always plays in Las Vegas, and Texas-based developer Chris Milam plunked down a big stack of it Friday to purchase the Las Vegas 51s baseball team and, in turn, show he's serious about realizing his grand vision for professional sports here.
The acquisition of the Triple-A franchise — which cost more than $20 million, according to an unnamed source — is the first step in Milam's plan to build three state-of-the-art facilities opposite Mandalay Bay on the west side of Interstate 15.
Milam has labeled the privately financed $1.95 billion project the Las Vegas National Sports Center.
With a 9,000-seat ballpark for the 51s, the proposed center, which will be located on a 63-acre parcel, will feature a 17,500-seat arena designed to house an NBA basketball team and a 36,000-seat stadium for a Major League Soccer squad.
"It's the beginning of the greatest thing ever to happen for sports in this community," said 51s executive director Don Logan, who helped broker the sale of the Pacific Coast League franchise from Stevens Baseball Group to Milam, who owns Silver State Baseball.
"He wouldn't buy the team if he didn't think a stadium deal was going to happen," said Logan, a longtime Las Vegas baseball executive. "To make sense from a business standpoint, he has to have a new facility."
Lee Haney, a spokeswoman for International Development Management — of which Milam is CEO — said the company plans to start construction on the project by the end of the year. But first it needs to finalize the purchase of the land.
"We're currently negotiating the contract for the land purchase," Haney said. "It's coming along well, and we hope to have the land completely under contract within the next 30 days."
While construction is slated to start simultaneously on all three venues this year, Haney said the arena is expected to be finished first, open for NBA action in the fall of 2013. The soccer stadium and ballpark will open, in that order, in 2014.
Haney said IDM likes its chances to lure an NBA franchise to Las Vegas, which hosted the 2007 NBA All-Star Game to less than rave reviews at the Thomas & Mack Center.
"We've been talking to the NBA for quite a while now, and we're very confident they're over their issues with Las Vegas," she said. "I think they have become comfortable with Chris as an entity. It's just a matter now of proving to them we can get a venue built and finding a team we can negotiate the purchase of. We're fairly confident (we can)."
Haney, who said her company also has had discussions with MLS, is equally confident that gambling won't deter any professional team from coming here.
"That's no longer an issue with the NBA, the NHL, the MLS or Triple A," she said.
The two partially enclosed stadiums will be designed to allow expansion. The ballpark could expand to 36,000 seats to accommodate a Major League Baseball team. The stadium will allow for on-demand expansion to 50,000 seats for NCAA events and international soccer exhibitions, and could be further expanded to 72,000 seats for the NFL.
In addition to housing pro sports, all three venues could host NCAA basketball, baseball, football and soccer games.
Subject to final PCL approval, ownership of Las Vegas' 29-year-old Triple-A franchise is expected to be transferred to Milam by the end of July.
"We couldn't be more excited about reaching an agreement to acquire the Las Vegas 51s," Milam, who couldn't be contacted for comment Friday, said in a statement released by the team. "Acquiring this franchise is an important step in the creation of the Las Vegas National Sports Center, which will be the new home of the 51s as well as allow for the expansion of professional sports into the Las Vegas market."
While the deal might give the 51s a new ballpark, it doesn't change any plans by the Las Vegas Arena Foundation, a nonprofit organization trying to build a $500 million sports arena and special events center on land behind Imperial Palace.
Caesars Entertainment Corp. is backing that proposal, having put up the land for the arena. The foundation is seeking to build the arena through a public-private partnership.
"We have a good plan, a great location, financing that is in place, and we're ready to move forward through a public-private partnership," said former Clark County Commissioner Bruce Woodbury, chairman of the foundation. "There seems to be multiple arena proposals out there, but our biggest question on all these other projects is where is the financing coming from?"
MGM Resorts International, which is opposed to any form of public financing for an arena alone, took a neutral stance on the Milam project.
Alan Feldman, MGM Resorts senior vice president of public affairs, said the company does not support projects that would impose a tax increase on taxpayers who do not benefit directly from the development.
"While many details remain to be learned, it is also imperative that the public not be at risk if a proposed project is not built or fails," Feldman said.
Six years ago, the nearly 63-acre parcel in question was valued at $15 million to $20 million, according to real estate experts. The acreage — slightly smaller than the 67 acres that houses CityCenter — is zoned for a hotel-casino.
Then, the economy tanked, land values dropped, and the recession halted development and acquisitions.
In October 1988, Los Angeles-based Weststate Land paid roughly $5.73 million for 58 acres. In 2004, the company bought the adjacent 4.2 acres for $8.3 million.
Haney said she met Friday with several state legislators about introducing a bill to help the company finance the project.
The developer wants to create a special taxing district for the site, hoping that the Legislature will allow it to keep sales, live entertainment, property and other taxes generated at the stadiums' site.
Haney emphasized the developer does not want to increase taxes or to take taxes from people and residents outside the stadium site — as would Caesars Entertainment's initiative petition plan to build its arena.
Under the new plan, any sales taxes, property taxes or other taxes charged in the stadiums' site for an as-yet-undetermined number of years would be rebated to the developers, Haney said. Having the source of revenue would help the developer in acquiring construction bond financing, she said.
In other words, if a sports fan bought a pennant, a hot dog or anything else while attending a game, the current 8.1 percent sales tax would go to the developers.
Haney expects enabling legislation will be introduced in the Legislature in the next couple of weeks.
"The state really would not lose money," Haney said, because the property is now vacant and currently generates a "minimal" amount of property taxes. "We are working with several key legislators, and we are hopeful. "
The big benefit from the project is that it would employ 10,000 construction workers and 4,000 people on a permanent basis when it is completed, according to developer estimates.
Earlier this year, legislators refused to act on Caesars Entertainment's petition to allow it to collect an additional
0.9 percentage point sales tax in a three-mile radius of its proposed arena site.
Grand plans for sports arenas are not new in Southern Nevada.
There was REI Neon, which called for a 22,000-seat arena, retail space, hotel and residential units and a casino on 85 acres near the intersection of Charleston Boulevard and Main Street. A "gap in the financing," as it was described to the Las Vegas City Council, torpedoed the plan.
Anschutz Entertainment Group said years ago they were ready to build an arena behind Bally's on the Strip, though that has not proceeded.
More recently, the Clark County Commission considered three arena proposals: the one behind Imperial Palace, one near South Point and one south of the Sahara on what is known as the old Wet 'n Wild property. That last proposal was also Milam's.
All the projects sought some form of public subsidy, and commissioners did not go along with that idea.
Then came a proposal from L.A. developer Ed Roski and Silverton President Craig Cavileer for a 40,000-seat stadium and related development at the University of Nevada, Las Vegas. Not many specifics are known about the project, which is being hammered out by the developers and the university.
The city of Las Vegas, meanwhile, has been trying to lure an NBA or NHL team downtown for years, and those efforts will continue despite this most recent proposal, Mayor Oscar Goodman said.
"If he can do it, God bless him," Goodman said of Milam's latest plans. "It would free up Cashman for another development, which is wonderful."
The city has for some time been negotiating with The Cordish Cos. for a downtown NBA or NHL arena, which is proposed for Symphony Park. Cordish and Milam's group discussed that location, but "they were never able to reach an accord," Goodman said.
The city will continue its efforts with Cordish to bring professional sports downtown.
"We're working very hard," Goodman said.
Las Vegas Review-Journal reporters Alan Choate, Howard Stutz and Ed Vogel contributed to this report. Contact reporter Todd Dewey at tdewey@reviewjournal.com or 702-383-0354.