Attacked by bees, only way was up a mountain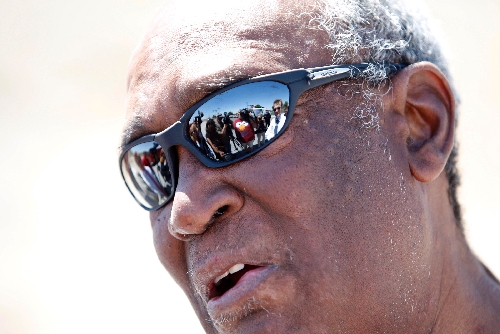 As his face filled with angry bees, Albert Watson decided to keep climbing.
The 69-year-old was about halfway up the rocky slope of Lone Mountain Friday afternoon when he was attacked by the swarm. He figured some stings wouldn't kill him, but a fall down the mountain might, so he continued to march toward the ridge.
"The bees were in my ears. They were in my nose. They were in my mouth," he said Tuesday as he recounted his ordeal from the parking lot of Lone Mountain Park, at the west end of Craig Road. "I was in a hell of a mess."
Watson never got a good count, but rescuers estimate he was stung more than 300 times.
By the time he reached the top of the mountain, the bees had stopped chasing him. He sat down on the rock, dizzy with exhaustion, and was discovered a short time later by some other hikers who called 911.
Watson was plucked from the top of the ridge by a rescue helicopter and spent the next two days at Centennial Hills Hospital.
Las Vegas Fire Department spokesman Tim Szymanski suspects the man probably stumbled onto a colony, prompting the bees to defend their turf.
"If you go into a hive, it's equivalent to a home invasion to humans," he said.
According to Szymanski, the fire department has seen more bee-related calls this year than it has in the past six or seven years, though the reason for the increase is unclear.
On Saturday, a playoff softball game between Centennial and Palo Verde was interrupted when a swarm of bees invaded right field.
Last month, two landscapers wound up in the hospital after they disturbed a bee hive inside the trunk of a tree. The agitated swarm prompted police to temporarily close off part of a neighborhood north of McCarran International Airport.
But state entomologist Jeff Knight insists there has been no significant increase in bee-related incidents across Nevada; reports of bee activity simply peak in spring and early summer because "people see them more." This is, after all, when bee colonies tend to split, sending swarms out in search of new homes.
Szymanski said the city has fielded several previous calls about bees in the Lone Mountain area, but that's certainly not the only place where bees are found.
"You need to be aware anywhere. You need to be aware at home," he said.
Hikers, runners or anyone who spends a lot of time outdoors should consider carrying a bonnet or handkerchief that can be used as a "sting shield" in the event of an attack, Szymanski said.
Bees tend to hone in on the carbon dioxide we exhale, which is why people who are attacked by swarms are generally stung on the face, neck and shoulders, he said.
Szymanski said you should seek medical attention if you get stung more than 10 times or have an allergy to bee stings.
"If you're allergic, you will know within five minutes, and it's a life-threatening situation," he said.
Knight's advice: If you see a swarm, stay away from it. And if you get attacked, run away as fast as you can. The bees should give up the chase after a quarter mile or so.
He went on to note that there has never been a fatal bee attack in Nevada – at least not a human fatality.
Watson said he had never been stung by a bee before Friday.
"Whatever I did on that mountain to anger those bees, I want to apologize to them," he said with a laugh.
Watson turns 70 in a few weeks. He swims and hikes at least a few times a week to keep fit. He said he has climbed to the top of Lone Mountain at least 10 times since he moved to Las Vegas in late 2007.
The bees were scary, but the Vietnam veteran and career Army man said he never feared for his life. "It never crossed my mind that I wasn't going to make it."
His tongue and parts of his face were still numb on Tuesday, causing him to slur his words slightly like someone just back from getting novocaine at the dentist's office.
But other than some black marks on his hands, swelling around his eyes and small welts on his face, he looked pretty good for a guy who got stung so many times.
He said he's still a little weak from the ordeal, and the doctors still have him on three different medications, but he hopes to start hiking again soon.
"Now I appreciate the mountain more, and I have a great deal of respect for the honey bee," Watson said. "There's a lot going on planet Earth, and we're not the only ones here."
Contact reporter Henry Brean at hbrean@reviewjournal.com or 702-383-0350.