Bundy son, another defendant held without bail in Bunkerville standoff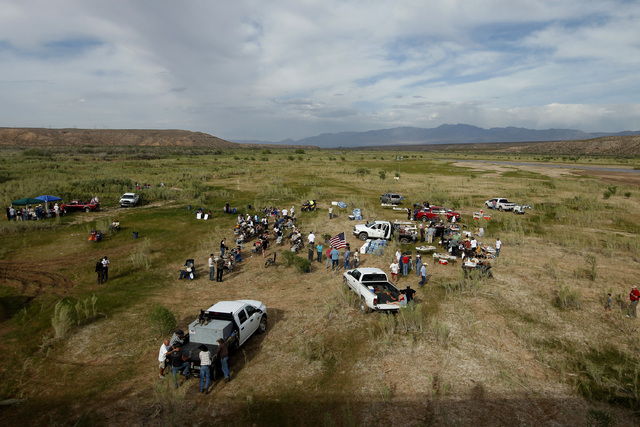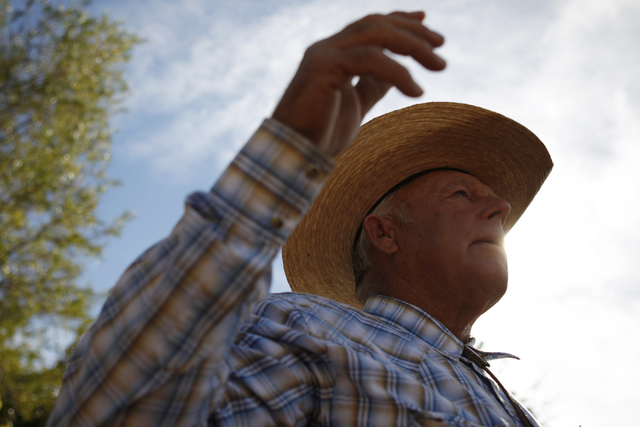 Two more defendants, including one of Cliven Bundy's sons, were ordered held without bail Monday as they await trial on felony charges stemming from the 2014 armed standoff with law enforcement near Bunkerville.
Melvin Bundy, 41, of Nevada, and Gregory P. Burleson, 52, of Arizona, were kept in federal custody following hearings. Both pleaded not guilty but were declared a danger to the community.
Prosecutors alleged the two men were "willing to kill cops" during the April 12, 2014, showdown over a court-ordered government roundup of the Bundy family cattle on federal land. The courts ruled the Bundys owed hundreds of thousands of dollars in grazing fees.
Bundy, described by prosecutors as one of the leaders of the assault on federal officers, faces 14 felony counts, including conspiracy to commit an offense against the United States, extortion, conspiracy to impede or injure a federal officer and using and carrying a firearm in a crime of violence.
Assistant U.S. Attorney Nadia Ahmen said in court that Bundy has a "deep-rooted disregard for federal authority" and an "unwavering commitment" to defy federal court orders.
His lawyer, Lucas Gaffney, argued that prosecutors have little evidence and are portraying Bundy through "guilty by association" with higher profile defendants.
Bundy thought he was merely protesting, not committing any acts of violence, Gaffney said.
But in ordering him detained, U.S. Magistrate Judge Peggy Leen said she is concerned about Bundy's conduct and what he might do in the future.
Burleson, who has gone blind in the two years since the confrontation, sat shackled in a wheelchair in the courtroom. He faces 11 counts in the alleged anti-government conspiracy.
Assistant U.S. Attorney Nicholas Dickinson said Burleson, who has associated with Arizona militia members in recent years, remains a danger to the community because of his participation in the standoff and subsequent violent rhetoric.
Burleson admitted to the FBI that Bundy forces put federal officers in a "kill box" and that he "sighted" the local special agent in charge of the Bureau of Land Management in his rife scope, Dickinson said.
The prosecutor quoted Burleson as once saying about himself, "Never mess with a man who likes to die in battle."
Defense lawyer Terrence Jackson said Burleson is no longer a threat in light of his health, and that prosecutors were wrongly trying to punish him before trial. He said Burleson began going blind in August and has other health problems.
Bundy, Burleson and 17 others, including Cliven Bundy, were charged in a sweeping federal indictment in Las Vegas earlier this month in connection with the showdown a few miles from the Bundy family ranch.
Three more Bundy sons — Ammon, Ryan, and David — are also charged in the indictment. David Bundy, 39, who is in custody, pleaded not guilty Monday to 12 counts in the indictment. Ammon and Ryan Bundy are being held without bail in Portland, Ore., where they were charged in connection with the armed occupation of a federal wildlife refuge earlier this year.
Cliven Bundy, 69, who faces all 16 counts in the indictment, was ordered detained last week as a flight risk and danger to the community. The defiant family patriarch refused to enter a plea to the charges, forcing a judge to make a not guilty plea on his behalf.
A May 2 trial has been set before Chief U.S. District Judge Gloria Navarro for all 19 defendants, but the complex case is unlikely to be ready by then.
Only one defendant, Steven A. Stewart, was ordered released pending trial, but the Idaho judge who issued the order stayed it so federal prosecutors in Las Vegas could make another push to keep him detained. Stewart, who remains in temporary federal custody, has a hearing before Navarro on March 30. He pleaded not guilty Monday to 11 counts in the indictment.
Three other defendants made initial appearances in federal court in Las Vegas.
The arraignment of Eric J. Parker, 32, of Idaho, was continued until Thursday. Both Scott Drexler, 44, of Idaho, and Richard R. Lovelien, 52 of Oklahoma, pleaded not guilty to 11 counts and remain in custody.
Contact Jeff German at jgerman@reviewjournal.com or 702-380-8135. Find him on Twitter: @JGermanRJ
Previous coverage
See a timeline of events leading up Cliven Bundy's conflict with the Bureau of Land Management in 2014. Also, see the most recent reports involving Bundy and his family.