Cactus/I-15 interchange opens in Las Vegas
August 29, 2014 - 1:58 pm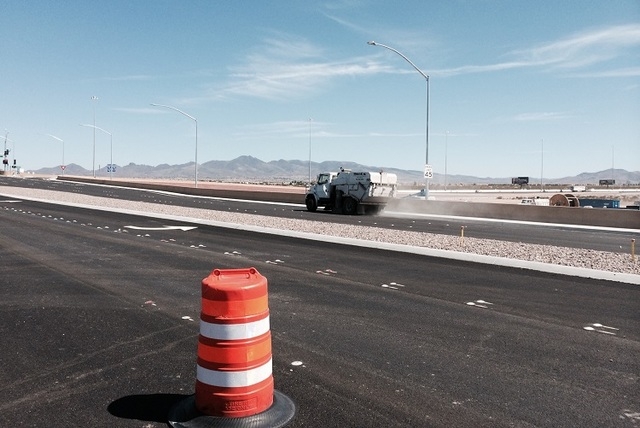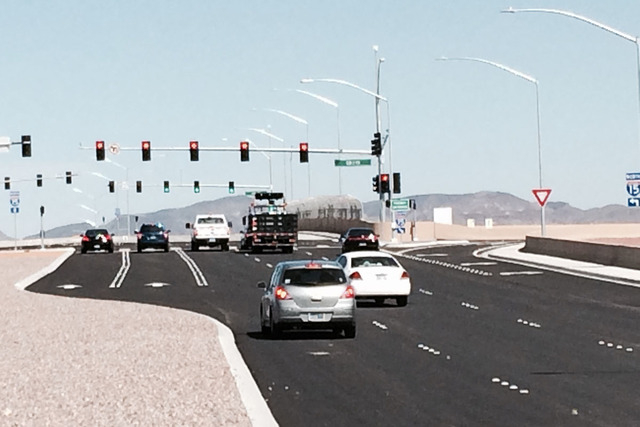 Residents of Southern Highlands and neighborhoods east of Las Vegas Boulevard South can celebrate: The Cactus Avenue interchange on Interstate 15 is open.
Work began on the I-15 traditional diamond interchange between the Silverado Ranch Boulevard and St. Rose Parkway exits in April 2013.
The freeway exits and entrances, with an overpass for Cactus over the six-lane freeway, opened to traffic early Friday afternoon, two months ahead of schedule.
Nevada Transportation Department officials said there would still be some minor cleanup and incidental items to be completed but they wouldn't affect traffic.
The Cactus interchange has been one of the most anticipated road projects in the southern valley because it will serve the rapidly growing Southern Highlands development as well as residential neighborhoods along Cactus east of I-15 and Las Vegas Boulevard South.
Cactus is now paved six lanes wide between Dean Martin Drive and Las Vegas Boulevard, where new traffic signals have been installed and have been activated. To the east, Cactus extends through the unincorporated Enterprise area to Henderson, intersecting with Spencer Street near St. Rose Parkway.
To the west, it runs along the northern edge of Southern Highlands, intersecting with Southern Hills Parkway, which links to Somerset Hills Avenue, one of the major streets into the development.
Residents of those areas were relegated to making their way to I-15 by using Silverado Ranch or St. Rose via Dean Martin Drive or Las Vegas Boulevard. The streets running parallel to I-15 are one lane each direction and traffic would build during morning and evening commutes.
Sami Yousuf, the project's resident engineer, said the early delivery of the $52 million interchange was the result of a series of steps falling perfectly into place.
"On some of these projects, you can't begin work on one item until another is completed," Yousuf said. "On this project, there weren't too many things that were dependent on the completion of another part. We were able to do some things simultaneously and everything came together very efficiently."
Contact Richard N. Velotta at rvelotta@reviewjournal.com or 702-477-3893. Find him on Twitter: @RickVelotta.