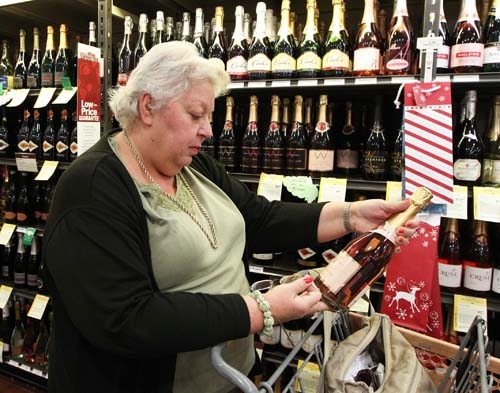 It was Thursday around lunchtime – more than five days before New Year's Eve – and Lori Andrewnovitz was already hunting for her favorite Champagne at a Total Wine & More store in Las Vegas.
The Pahrump resident drove to the Boca Park shopping center in Summerlin to scope out the shelves for Sparkletini Champagne. She bought a raspberry-flavored Sparkletini, and one spiced with peach flavor.
Price: $4.99 per bottle.
Champagne is a New Year's Eve staple, and liquor stores in Las Vegas are bracing for a big sales spike on Monday afternoon. But while Champagne bottles are expected to fly off the shelves in two days, cost-conscious celebrators such as Andrewnovitz are carefully watching their dollars, with many price points expected to be less than $15.
Larry Gove, wine manager at the Total Wine in Summerlin, said the best value are Spanish cavas in the $8-$12 range. Gove noted a Rondel sparking wine selling for $7.99 was one of the store's top three sellers.
Bernard Erpicum, sommelier and service manager at the Public House tavern at The Venetian, who was shopping at Total Wine, said he was buying two cases of Rondel for his restaurant.
For the those seeking the least expensive bottle, Andre sparkling wine was available for $3.97 a bottle on the Total Wine shelves.
The economic crunch is still inhibiting celebrants from buying pricey Champagne, said Jack Vergiels, owner of Las Vegas Liquor Outlet. Vergiels said lower-tier Champagnes such as Korbell and Martini & Rossi Asti are popular brands for less than $15 a bottle.
"People are spending less and buying lower brands," Vergiels said.
The Boca Park shopping center also houses a Lee's Discount Liquor store, where store director Scot Behr has shelves stocked with affordable Champagnes such as a 1.5-liter Cook's that sells for $7.99 and a California Korbel for $9.99. "We're getting ready for a big weekend," Behr said.
New York-based Rosemary Zraly, known as "The Champagne Lady," who monitors Champagne trends, said Champagne consumption mirrors the country's economic mood.
Zraly noted Americans might not be able to tell the difference between an inexpensive Champagne and a very costly one in a blind taste test. But that's OK, she said, because "there are quality products out there that don't cost an arm and a leg."
While shoppers are checking prices, there are some big spenders prowling the Champagne aisles. They can still buy a bottle for hundreds of dollars.
At Lee's Discount Liquor, Behr strolled to the locked glass refrigerator and showed a Rose Cristal selling for $999.99, while a Dom Perignon Rose was selling for $549.99.
Over at Total Wine, the store also offers top-shelf Champagnes. The most expensive? An Armand de Brignac Rose selling for $439.97 a bottle, which is stored behind a locked refrigerator sliding glass. Gove expects to sell two or three of those for New Year's.
Intermediate-priced popular sparkling wines include Cremant de Limoux selling for $15.99 at Total Wine and Moet for $35.99 at Lee's.
Many Champagne buyers still wait for the last day of the year to buy their New Year's Eve bubbly. At the Las Vegas Liquor Outlet, it's the busiest day of the year, Vergiels said.
At Total Wine, it's all hands on deck as all of the store's 34 employees will be enlisted for duty during Monday afternoon's drive time, Gove said.
If celebrators are not buying Champagne, they're buying flavored vodkas, both Gove at Total Wine and Behr at Lee's reported.
And as far as beer goes for New Year's Eve, Behr said celebrators like to buy Belgium lager Stella Artois, Corona and Heineken.
But Champagne is still the king on New Year's Eve, said Erpicum, the Public House sommelier. "Champagne is synonymous with celebration, and New Year's Eve is the most important celebration of the year," he said.