DA says one thing, prosecutors argue another on witness payments
September 21, 2014 - 1:40 pm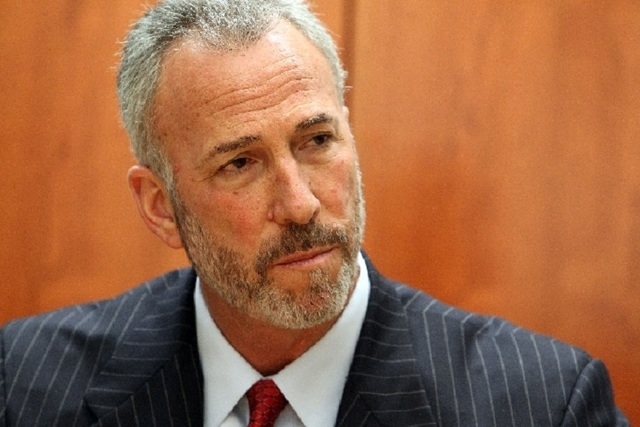 The Clark County district attorney's office can't seem to get its story straight.
District Attorney Steve Wolfson has scrambled over the past year to review and change controversial witness payment practices. But what Wolfson tells the public has differed from what his prosecutors argue in court.
Wolfson said in August his office would start telling defense lawyers about rent payments made for witnesses that went largely undisclosed for years. This is the second policy change to come in under a year. In 2013, the DA's office quit paying witnesses for attending pre-trial meetings after Wolfson took a closer look at Nevada law.
Litigation has been anything but lockstep.
Judge David Barker heard arguments last week on the first case to get back in the courtroom. Defense attorneys asked that a murder verdict be overturned in light of an undisclosed payment.
Chief Deputy District Attorney David Stanton admitted defense attorneys were kept in the dark, but didn't agree that was wrong.
"So you do not concede that a $500 rent payment should have been disclosed?" Barker asked.
"Not necessarily," Stanton said.
Prosecutors taking positions that contradict their boss is troubling, said Bennett L. Gershman, a professor at Pace Law School in White Plains, N.Y., who has written several articles and two books on prosecutorial misconduct.
"This shouldn't happen. It raises serious questions about the supervision in the office, the training and the communication," Gershman said. "There needs to be some inquiry of what's going on here. A good professional office would not tolerate this, where the DA is making policy and his assistants aren't conforming."
In August, a public records request showed the DA's office has been helping out witnesses — in some instances paying them more than $1,000 — since 1989, using a checking account kept off the county's budget. The news stunned defense attorneys.
At issue isn't that the payments happened, but that they were kept hidden.
The case heard last week deals with a grisly 2007 machete attack that left a woman dead, her adult son disabled and her 12-year-old daughter severely wounded. The district attorney's office paid $500 in 2008 to cover the survivors' rent without ever telling the defense, despite a court order to disclose any possible benefits.
Public defenders pointed out that Wolfson said in August that payments were disclosed as required by law when a case goes to trial. In the wake of the machete murder case returning to court after a payment wasn't disclosed, Wolfson went so far as to expand the policy to disclose regardless of whether a case goes to trial.
"This Office supports legally-appropriate positions taken by its Deputies when litigating cases in court," Wolfson said in a statement.
Legally appropriate is cut and dry when it comes to disclosing witness payments, Gershman said.
"There is no ambiguity there," Gershman said. "There is no question — it's so plain and obvious that (the prosecutor) has to disclose this."
POLICY PROBLEMS
The DA's method of paying some witnesses' bills is just the latest witness-related headache for Wolfson.
Until last year, prosecutors had been interpreting Nevada law — which mandates witnesses be paid for the expense of coming to court — to mean they could pay witnesses to meet with prosecutors before trial.
But that practice gave prosecutors an upper hand, defense attorneys argued. Court, they said, meant a courtroom, not an attorney's office. Defense attorneys also interview witnesses before trial, but can't pay them for showing up to their office.
Doing so would mean disbarment, they claimed.
Wolfson ended the policy in 2013, telling media it was "probably inappropriate."
Yet, in responses to appeals filed after this change, the prosecution has argued state law allows such payments.
Federal public defenders, who are appealing a death penalty case from the 1980s based on the payments, have contended prosecutors can't contradict the DA's actions.
"The Clark County District Attorney has recently recognized that the offices' practice of paying witnesses money for pre-trial interviews was improper, and he has discontinued the practice for precisely that reason," federal public defenders argued in March court filings.
The district attorney's office argued federal public defenders misconstrued Wolfson's reason for ending the policy and asked that the defense not be able to refer to media reports regarding the change.
Gershman called it silly for prosecutors to continue to claim those payments were legal. Wolfson ending the practice was essentially a tacit admission that they were not, he said.
'LEVEL PLAYING FIELD'?
When asked about the difference between his statements and his prosecutors', Wolfson reiterated that his office is conducting a "thorough review of all policies and practices regarding Victim/Witness assistance. Until the review is complete, the District Attorney's Office will continue to assist victims, when appropriate."
That review follows a public records request that showed more than 50 payments were made to cover witnesses' rent and other expenses over the course of a decade. The Review-Journal has found one instance in which a payment was disclosed so far.
It is unclear how many criminal cases are involved because Wolfson will not release records showing case numbers. His office argues telling the public which cases had payments would endanger witnesses.
Gershman said the office's apparent discord on top of its refusal to give the Review-Journal case numbers in which payments were made is disturbing. The office's explanation of safety didn't make sense to Gershman as a case number for a closed case doesn't identify a witness, and it's likely witnesses have already been identified in public hearings and public documents anyway.
Withholding case numbers only makes it harder for the public to learn whether due process was denied, he said.
"It undermines justice. It undermines the ability to investigate bad cases and expose them," Gershman said. "It's a cover up, these redactions. That's really unconscionable."
Wolfson, who was appointed in 2012, has stressed that the DA's office has only tapped the off-budget account used to pay witnesses' bills a small number of times compared to prosecutors' large caseload.
The small number of cases provides little comfort, according to Deputy Public Defender Julia Murray.
"I would counter that by saying if I were one of those roughly 40 to 80 people whose rights were completely eroded I would care — and I wouldn't care that I was one of a small fraction of cases," Murray said in court last week. "You cannot create a mechanism for hiding what you're doing. We're all supposed to come into the courtroom on a level playing field."
Contact Bethany Barnes at bbarnes@reviewjournal.com or 702-477-3861. Find her on Twitter: @betsbarnes.