Dakota Jones exits national spelling bee on 'zanja,' finishes fifth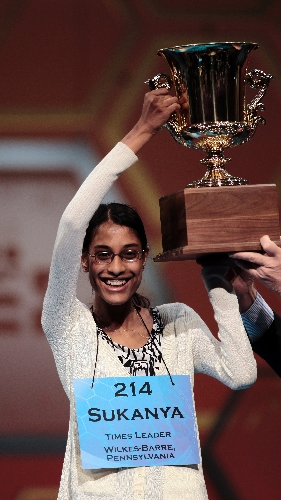 NATIONAL HARBOR, Md. — For eighth-grader Dakota Jones, the long bus rides each day to and from Hyde Park Middle School in Las Vegas paid off this year.
Dakota, 14, spent 45 minutes each way studying words in hopes of besting his 33rd place finish in last year's Scripps National Spelling Bee. Sometimes he studied even more when he got home.
The two-time Nevada state spelling champion saw the results of his hard work when he placed fifth in the nationally televised contest Thursday night after a marathon three-day battle that started with 275 competitors from as far away as New Zealand.
The competition reached its peak when Dakota and four other experienced spellers — from New York, Toronto and two from Pennsylvania — slugged it out over four rounds where nobody missed the words that seemed to get tougher and tougher.
Dakota stumbled in the 15th round.
"I knew all the words until the last one," he confessed afterward.
When Spelling Bee pronouncer Dr. Jacques Bailly assigned Dakota to spell "zanja," the Las Vegan's dream of taking the championship slid into a ditch.
Sticking to a strategy that had served him well throughout the competition, Dakota held his hands together in front of his blue-striped shirt and took a breath.
He then asked Bailly a series of questions allowed to gather some information on the spelling including word origin, definition and alternate pronunciations. He also asked for it to be used in a sentence.
Dakota took a deep breath and paused for a lengthy moment before spelling "Z-A-N-G-H-A."
The word of Spanish-American origin means an irrigation ditch. Dakota said he slipped by mishearing a "g" in the word and substituted an "h" for the Spanish-influenced "j."
After a short pause, Dakota heard the dreaded ding of the bell signaling an end to his deep run. He walked over to his parents, Mike and Jamie, who were seated on stage along with parents of other finalists. They hugged and he forced a smile for the camera.
"Oh, my! There really are no words. We are just thrilled," Jamie Jones said when the competition concluded.
Sukanya Roy of South Abington Township, Pa., was crowned champion after correctly spelling "cymotrichous." Runner-up Laura Newcombe of Toronto had faltered moments earlier on "sorites."
Dakota's performance enthralled his family members following the competition in Las Vegas. The tension was palpable as grandparents Bryson and MonaLaine Jones, together with Dakota's younger sisters, Cassidy, 12, Cheyenne, 9, and Carly, 5, watched the televised contest unfold.
Word by word, round by round, they cheered the competitors, saving their loudest shouts for Dakota.
MonaLaine, who goes by the nickname Sunny, nervously paced and covered her eyes whenever Dakota was at the microphone.
And each time the competitors correctly spelled a word, she would say, with no trace of irony, "Oh, my word."
Dakota, who was sponsored by the Las Vegas Review-Journal, enjoyed a stellar run. No Nevadan has been crowned a national champion. While National Spelling Bee records are incomplete, it appears that Tussah Heera of Las Vegas might have come closest in 2009 when she placed in the top 11.
As the evening's championship rounds began, 13 finalists bowed to more than 1,000 people at the Gaylord National Resort and Convention Center outside Washington, D.C., and a national television audience courtesy of ESPN. They were the last standing in a competition that began with more than 11 million spellers spanning the globe.
The pressure was obvious for all as they began the final rounds, each one word removed from elimination and dreading the ding of the bell that would signify an incorrect spelling.
All but one of the finalists had competed in at least one previous national bee, and four were competing for a third time.
Those remaining had survived three days of competition that included a 25-word written spelling test and two preliminary onstage rounds that winnowed the field of 275 spellers to 41.
ESPN introduced each of the finalists with a prerecorded interview. For Dakota, a network crew spent two days in Las Vegas filming him and his family three weeks ago. Viewers learned of his interest in chess, Rubik's Cube and riding his bicycle.
Among other takeaways was that Dakota really enjoys biology and learning "how things work." He also enjoys food and knows how to whip up his own chocolate bundt cake.
Dakota also offered that the funniest word to spell for him is "geophagy," which means the practice of eating dirt. Dakota showed early signs of his spelling skill as documented in a 1999 home video that showed a very young Dakota spelling the name of his sister Cassidy.
And, Dakota noted that Las Vegas is a "really big city" with an interesting Strip. He has been there to see the water show at the Bellagio.
"It's really fun to watch," he advised.
When the young speller's run for the national trophy ended, a brief, solemn silence descended on his Las Vegas home. Cassidy shed a tear for her big brother. Cheyenne and Carly sat silent and stunned.
But Dakota's family is proud of his accomplishments. Not only is he now one of the top five spellers in the nation, he's also a math competition champion.
"We knew he was special before he was 2 years old," said grandfather Bryson Jones, 68, of Roy, Utah.
Review-Journal writer Doug McMurdo contributed to this report. Contact Stephens Washington Bureau reporter Peter Urban at purban@stephensmedia.com or 202-783-1760.