Doctor who helped create Nevada organ donor service has doubts about program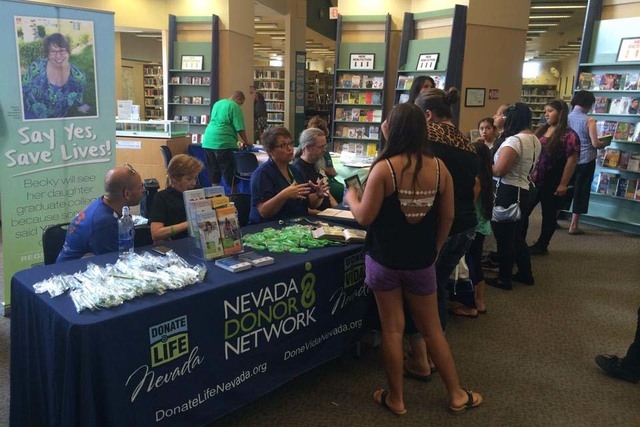 Dr. Joan Brookhyser helped create Nevada's organ donor program more than 30 years ago, but she is no longer an organ donor.
A year ago, she signed a legal document that revoked her consent for organ and tissue donation, then phoned each of her three adult children to make sure they understood her wishes.
The irony of this decision is not lost on her.
"Organ donation is lifesaving, but I did not like what I was hearing about the operations around tissue donation," said Brookhyser, who resigned last year from her position as University Medical Center's chief medical officer.
Brookhyser, a retired ICU kidney doctor, said people who have opted to become organ donors at the Nevada Department of Motor Vehicles may not realize that the heart symbol on their driver's licenses means they also have agreed to donate other tissue that can be sold for a profit.
"The revenue-generating business venture of tissue donation has sullied the charitable desire of good people to donate lifesaving solid organs, like kidneys and hearts and lungs," she said. "They should not be linked in consent forms, in business operations or in patient education, in my opinion."
Brookhyser also is troubled by a Nevada law that allows relatives to give consent for donation after the death of a loved one who may have rejected that option.
"The fact that you can't say no and have it stand after you die horrifies me," she said.
The law includes a prioritized list of people who may make "an anatomical gift," beginning with the decedent's spouse. Next are the decedent's adult children, and farther down the list is "an adult who exhibited special care and concern for the decedent."
Brookhyser thinks Nevadans should have a way of indicating on their driver's licenses that they have said "no" to organ donation.
"'No' when I'm alive means 'no' when I die," she said. "I think it's very cynical to then believe it's OK to open negotiations with my grieving family."
Brookhyser decided to share her concerns with the Las Vegas Review-Journal after reading a story about the family of Henderson resident Judith Bennett, who died unexpectedly in September 2013.
"I thought: This case is the tip of the iceberg," Brookhyser said. "I believe we have a much more severe problem that's never been explored."
Bennett's three adult daughters, who gave consent for the donation of their mother's tissue, have filed a lawsuit that accuses the Nevada Donor Network of fraud. They claim the nonprofit organization made misrepresentions to induce their consent, then "exceeded the scope of their consent and substantially disfigured their mother's body."
"As far as I know, this is the first case of its kind in Nevada," said Las Vegas attorney Gregory Coyer, who represents Bennett's daughters.
Attorney Robert McBride, who represents the defendant, has said he cannot comment on pending litigation.
"However, I can say that we intend on vigorously defending these unfounded allegations against Nevada Donor Network in court."
Joseph Ferreira, chief executive officer and president of the organization, has not responded to requests for comment.
According to Nevada Donor Network's website, the organ procurement organization was founded in 1987 and serves 13 counties in Nevada.
"Our mission is to maximize the gift of life and health through organ and tissue donation," the website reads.
According to information available on the Nevada secretary of state's website, the Nevada Donor Network had $19.4 million in total revenue last year.
Brookhyser said she co-founded the nonprofit Donor Organ Recovery Service in 1985, when the idea of tissue donation "was far, far out on the horizon." She ran the service, helping build a program of volunteers, for five years.
"I am very invested," she said. "It is critically important that Nevada have a highly successful and well-run organ donor program to support our organ transplant programming now and future plans. It's a critical component."
She currently sits on the UNLV School of Medicine's community advisory board.
According to the Nevada Donor Network website, the following types of tissue can be donated: skin, blood vessels, pericardium, heart valves, eyes, bones, tendons and ligaments.
"A single donor's tissue can be converted into dozens of individual medical devices for use in countless applications," Coyer wrote in a recent court document.
Registration forms on both the DMV's and the Nevada Donor Network's websites allow donors to list specific organs and tissues they do not wish to donate. The forms also allow donors to indicate that they do not want their donation to be used for research.
Recently, Brookhyser received an email from the DMV indicating her driver's license was up for renewal. Her current license still carries the heart symbol.
While renewing her license online, Brookhyser replied "no" when asked if she wanted to be an organ donor. That word should appear on her license, prohibiting anyone else from giving consent on her behalf, she said.
"'No' doesn't mean 'no' here, and 'yes' has no boundaries," she insisted, later adding, "As a human, that offends me. I can't say 'no?'"
Brookhyser said the current system makes it too difficult to choose other options.
Sen. Ben Kieckhefer, R-Reno, has introduced two bills in recent years with the goal of increasing the number of donors in Nevada. He said the state has a continuing need for organ donors to save lives.
"This is a gift that is incredibly powerful to many people," he said.
Kieckhefer said he was not aware of concerns about the linking of organ and tissue donation.
His latest bill, Senate Bill 206, amends the language the DMV uses when asking people about their organ donation preferences. The bill, which passed but has not taken effect, replaces the answer "no" with "not at this time."
Kieckhefer said the new language reflects the idea that a person's mind can change.
"It was primarily more symbolic," he said.
Last year, Ferreira provided written testimony in favor of the bill, noting that other states also have adopted the "not at this time" option.
"This would indicate that, at the time the individual was asked to make such an important decision with a snapshot of information, they declined 'at that time.' However, this would not preclude the Next of Kin from granting authorization for donation in light of new information subsequent to that event."
The bill also ensures that people who previously elected to be donors will remain donors when they renew their licenses, unless they indicate a desire to reverse that decision.
According to Ferreira's testimony, Nevada "currently ranks 40th out of the 52 Donor Registries in the U.S. due to the relatively low number of registered donors compared to the eligible population."
"There are many factors which may be contributing to this shortfall but this bill we are supporting may help to ensure that registered donors remain on the registry by default upon renewal of their license unless they opt out at that time."
According to the Nevada Donor Network, the state has more than 887,000 registered donors, and 553 Nevadans out of 121,859 Americans are waiting for a transplant.
During a hearing on SB206, Assemblyman Philip O'Neill, an organ donor, expressed his concern that a relative could override his desires "and not allow donations."
O'Neill, R-Carson City, told the Review-Journal he feels strongly about the importance of organ donation. He said he witnessed the harvesting of organs and tissue several times during his 40-year career in law enforcement but never saw the type of disfigurement alleged by Bennett's daughters.
"I've seen the good that it's been able to do for people," he said.
Yet O'Neill thinks the wishes people express while they're alive should be respected after they die. He also said he would like to know more about the differences between organ and tissue donation.
"Maybe we need to revisit this and clarify and make sure that people understand what they are committing to," he said.
Contact Carri Geer Thevenot at cgeer@reviewjournal.com or 702-384-8710. Find @CarriGeer on Twitter.