A La Carte: Dining events and news for Dec. 3-9, 2015
December 3, 2015 - 4:00 pm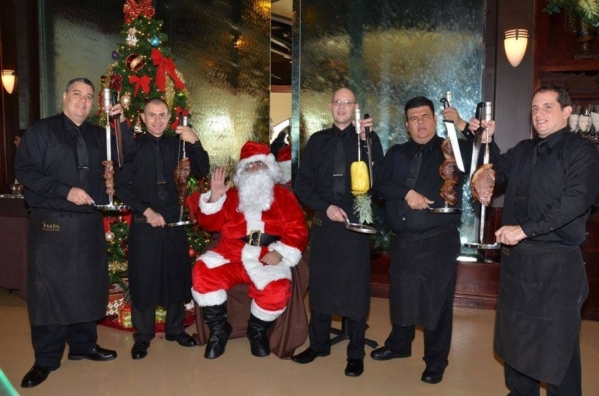 Guest Chef Series: Chef Rick Moonen of rm seafood and Rx Boiler Room in Las Vegas is set to host a dinner at 6:30 p.m. Dec. 3 at Made L.V. for the tavern's Guest Chef Series. Guests can try a variety of delicacies prepared by Moonen, executive chef Kim Canteenwalla and executive chef Ben Halley of Made L.V. at Tivoli Village, 450 S. Rampart Blvd. Tickets are $39 per person, not including tax or gratuity. Cocktails and wine are available for an additional charge. Visit made-lv.com.
Downtown Summerlin farmers market events: The Farmers Market is scheduled from 9 a.m. to 2 p.m. Saturdays under the Pavilion at Downtown Summerlin, 1980 Festival Plaza Drive. Upcoming events include: 11:30 a.m. Dec. 5, Talk & Taste with Spicy Camel Trading Co.; 11:30 a.m. Dec. 12, the Alchemy of Soup with executive chef and partner John Church of Artisanal Foods Cafe and Catering; and 11:30 a.m. Dec. 19, Talk & Taste for holiday giving — Gifts for Gourmands. The Downtown Summerlin Farmers Market will be closed Dec. 27. Visit downtownsummerlin.com or call 703-832-1000.
Winter Brew's Best, Hand-Crafted Beer Festival: The event is planned from 1 to 6 p.m. Dec. 5 at The Green in Town Square Las Vegas, 6605 Las Vegas Blvd. South. The beer festival is set to feature more than 25 local and regional breweries sampling a variety of beers. Additionally, live entertainment and food will round out the day. All proceeds will benefit New Vista Community, a local charity committed to providing equal opportunities and support to intellectually challenged people of all ages so that they may experience life to the fullest. Tickets will include a tasting mug and beer sampling guide and will be available closer to the event by visiting brewsbestlv.com.
Hanukkah specials:
— Station Casinos is set to offer specialty items during Hanukkah for dinner service Dec. 6-14 at all of its Feast and Festival Buffets. Prices will be the standard buffet prices. Visit sclv.com.
— Dec. 6-14, Honey Salt, 1031 S. Rampart Drive, is planning a nightly feast of seasonal favorites for each of the celebratory eight nights inspired by owners Kim Canteenwalla and Elizabeth Blau. Continuing the Honey Salt tradition of local and seasonal fare, all items are a la carte and only available during the celebration. Visit honeysalt.com.
Frank's Menu: Beginning Dec. 1, the Golden Steer Steakhouse, 308 W. Sahara Ave., is set to offer a menu dedicated to Frank Sinatra, who would have turned 100 Dec. 12. The three-course menu was created based on what Sinatra ordered when he regularly dined at the restaurant in the '60s while performing with the Rat Pack. Frank's Menu is set to be available through Dec. 31. Priced at $100 per person, guests who experience Frank's Menu will dine in his booth (table 22), which seats up to four guests. Call 702-384-4470.
Crave Cares donations: Each month, Crave American Kitchen & Sushi Bar at Downtown Summerlin, 10970 Rosemary Park Drive, partners with a nonprofit to help raise awareness and money for the organization as part of its Crave Cares program. The restaurant is partnering with Aid For AIDS of Nevada in December and is set to kick off the month with an all red wine pairing dinner at 6:30 p.m. Dec. 3. All guests paying with a credit or debit card have the option to round it up on their check to the nearest dollar or add any donation amount. The money raised supports MDA's services and programs for families in Nevada, including the summer camps. Visit cravesummerlin.com.
Toy drive: As a co-sponsor of 98.5-FM's 17th annual Chet Buchanan & The Morning Zoo Toy Drive, PT's Entertainment Group is collecting new and unwrapped children's toys and bikes through Dec. 6, in addition to accepting monetary donations. For the third consecutive year, all 46 Southern Nevada locations of PT's, Sean Patrick's and Sierra Gold will be accepting donations. Contributions will benefit HELP of Southern Nevada, which in turn distributes toys to more than 50 local youth organizations. Visit pteglv.com/locations.
Donate toys at restaurants: For the third year, Remedy's, Elixir and Distill are collecting toy donations at any of the five locations. Toys collected will benefit the numerous kids sponsored by the Casa Foundation, whose mission is to help youths who have been abused and neglected and now are in the foster care system in Clark County. All toys donated will be given away at the organization's Angel Tree Winter Celebration Dec. 12. All toys must be new and unwrapped. Toy donations can be made at: Distill Summerlin, 10820 W. Charleston Blvd.; Distill Southern Highlands, 4830 W. Pyle Ave.; Elixir, 2920 N. Green Valley Parkway; Remedy's St. Rose, 3265 St. Rose Parkway; and Remedy's, 530 Conestoga Way.
M Resort holiday events: Dec. 18 through Jan. 3, Studio B Buffet at the M Resort, 12300 Las Vegas Blvd. South, is set to host its Holiday Feast to Remember, and Dec. 24 and 25, the restaurant plans to offer an omelet station from 11 a.m. to 3 p.m., a risotto station from 3 to 8 p.m. and complimentary champagne. Guests who dine on Christmas Day can try a whole roasted suckling pig. The Holiday Feast to Remember is priced at $39.99 per person. On Dec. 25, guests can try a holiday menu at Anthony's Gourmet Burgers and Brews served from 7 a.m. to 10 p.m. and priced at $23.95 per person. Visit themresort.com.
Pizza company hiring: John's Incredible Pizza Co. is seeking to fill approximately 200 positions for its 60,000-square-foot Las Vegas location. Set to open in late December at The Boulevard Mall, 3528 S. Maryland Parkway, John's available positions include buffet attendant, pizza and prep cook, dining attendant, sales associate, Fun World attendant, game technician, IncrediBear mascot, party central associate and more. This will be the company's first location in Nevada, and, like its other 10 locations, it will include an all-you-can-eat buffet, themed dining rooms and more than 100 games, rides and attractions. Guests can try full-size amusement park rides, glow golf and a mini bowling alley. To apply, visit johnspizza.com/vegas.
Via Brasil holiday plans: Via Brasil Steakhouse, 1225 S. Fort Apache, is set to be transformed with several Christmas trees, lights and other holiday decor, and every brunch service in December will feature Santa Claus from 10 a.m. to 1 p.m. The restaurant's all-you-can-eat, rodizio-style brunch from 10 a.m. to 2 p.m. offers eight cuts of meat carved tableside. Adult pricing for brunch is $24.99, ages 7-12 are $16.99, ages 5 and 6 are $4.99 and age 4 or younger are free. Visit viabrasilsteakhouse.com.
Buy a slice for veterans: Pizza Forte at Sunset Station, 1301 W. Sunset Road, now offers customers the option of buying a slice for a veteran. Customers will have the option of buying a Hofmann hot dog for $2, a slice of cheese pizza for $2 or an entire cheese pizza for $11.11. They will then be asked to write a thank you note on a pizza-shaped card that will be provided by Pizza Forte. Those notes will be hung up on the walls. When veterans come into Pizza Forte, they can redeem the notes for a complimentary slice of pizza or a whole pizza. The offer will be available throughout the year and at all Pizza Forte locations. Visit pizza-forte.com.
Ultimo set to return: Culinary event, Ultimo — A Weekend of Excellence, hosted by The Venetian and the Palazzo, is planned for Dec. 17-20. For the third year in a row, Ultimo will celebrate Italy with chefs Jerome Bocuse, Daniel Boulud, Josiah Citrin, Shaun Hergatt, Gavin Kaysen, Thomas Keller, James Kent, Roland Passot, Philip Tessier, Ming Tsai, Richard Rosendale, and Dario Cecchini, the Chianti "Butcher of Panzano." The event is set to feature the return of The Venetian's Grand Banquet, and it kicks off with Bocuse d'Or Team USA competition event, held in partnership with ment'or BKB Foundation, a nonprofit founded by Boulud, Keller and Bocuse that aims to inspire excellence in young culinary professionals and preserve the traditions and quality of classic cuisine in America. Events are planned each day, and prices range from $200 to $1,000 per person, plus tax and gratuity. For a schedule, visit venetian.com/ultimo.
Book a party at Oscar's: Oscar's steakhouse inside the dome of the Plaza, 1 S. Main St., is now booking holiday parties. For every holiday party booked for 10 or more people, the restaurant will donate a food basket to Operation Warmheart.
Sunday brunch: Andiron Steak & Sea at Downtown Summerlin is offering Sunday brunch from 10 a.m. to 2 p.m. Call 702-685-8002.
Afternoon tea: CupKates inside Tivoli Village, 440 S. Rampart Blvd., is offering an Afternoon Tea option for adults from 11 a.m. to 3 p.m. Monday through Friday. The events are by reservation only. The cost is $38.95 per person. Call 702-439-3266.
Taste the Rock: Red Rock Resort, 11011 W. Charleston Blvd, has announced Taste the Rock, a new small bites tasting featuring a selection of drinks and dishes from the resort's lineup of restaurants and lounges. Taste the Rock is designed to give guests an opportunity to try a variety of signature cocktails and dishes rotating seasonally. It is planned from 5 to 7 p.m. Monday through Friday inside each restaurant's bar area. Visit blog.stationcasinos.com/taste-the-rock.
Ethel M gift options: Ethel M Chocolates is releasing its 2015 Holiday Collections and Classics, a limited-time-only selection of fresh gourmet collections, seasonal favorites, stocking stuffers and gift baskets available in stores and online. Returning this year are the 24-piece Holiday Deluxe Collection ($34.99), 16-piece Cocktail Collection ($27.99), 30-piece Crème Liqueur Tin ($44.99) and bigger boxes of the Sea-Salted Caramels and Mixed Brittle. Visit ethelm.com or call 800-438-4356.