ArtPop project turns empty Las Vegas billboards into temporary canvases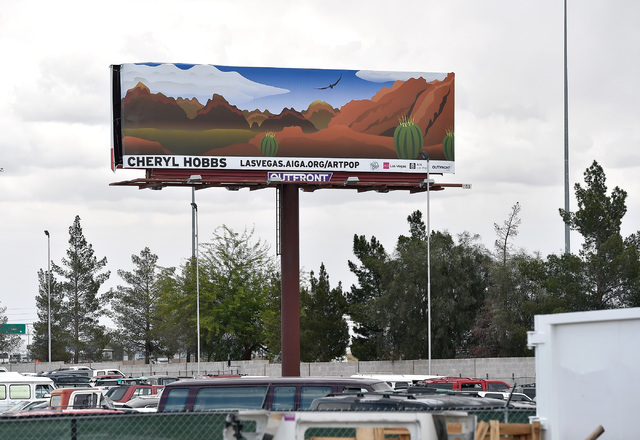 Sometimes it's artists who think outside the box, and sometimes it's the group promoting the artists that does.
ArtPop has come to Las Vegas and is featuring the work of five local artists. It utilizes unrented billboard signs, wrapping them with vinyl replications of juried artwork. The 'Pop" in its name stands for Public Outdoor Project.
"Instead of seeing, 'This space available,' or having a public service announcement that's unrelated to the market, drivers get to see original art from a local artist," said project founder Wendy Hickey of Charlotte, N.C.
Hickey, who has 18 years of experience selling billboard ads, said she formed the nonprofit as a way to help artists gain recognition and further their careers to the point where they can be a full-time artist and not have to take other jobs to support themselves when they could spend that time creating.
Las Vegas is the first Western U.S. city to be a part of the fledgling art initiative. Hickey said Las Vegas afforded the effort maximum visibility, as the city "lends itself to signage."
All of the art featured is juried. Besides use of color, form and balance, it is also judged on its immediate impact.
"We're looking for all disciplines," Hickey said. "Of course, it has to lend itself well to being viewed at 50 to 80 mph."
About 40 artists submitted artwork for the Las Vegas project. There is no money to submit, but neither are the artists paid. For Las Vegas, five were chosen: Diane Bush; Jennifer Burkart; Cheryl Hobbs; JK Russ; and Melissa McGill.
Bush's background is in photography. An east valley resident, she has won national awards and has exhibited in Japan, China, Great Britain, Germany, Czechoslovakia and France. Since moving to Las Vegas in 1997, she has taught photography workshops and donates her time to many local art nonprofits. Residents near Sunrise Hospital may recall the yarn-stormed Maryland Parkway pedestrian bridge, an effort headed by Bush.
"This (ArtPop) piece is part of a series where I was trying to discuss environmental issues," she said, "while providing the viewer with some eye candy at the same time. … I prefer temporary public art such as this, or the yarnbombing (because) it's easier to get permission for — it's less expensive to do because you don't need to build maintenance into your budget — and it reaches so many people."
Burkart, a Summerlin-area resident, came to Las Vegas about 10 years ago and opened Square Shooting Studios, a professional commercial photography studio in downtown Las Vegas, with business partner Ryan Reason. Square Shooting has done projects with the Regional Transportation Commission of Southern Nevada and won the Mayor's Urban Design Award for Public Art in 2015.
Burkart said she wanted to present a less familiar view of Las Vegas and put it in a positive light.
"This city is so much more than the Strip and showgirls; it has history and heart, when we aren't imploding it," she said.
No surprise then that her ArtPop piece includes an iconic image of Las Vegas: the La Concha Motel building at the Neon Museum, 770 Las Vegas Blvd. North.
Hobbs, a northwest Las Vegas resident, earned a Bachelor of Fine Arts degree in Visual Arts at UNLV. She serves on The Modern LV Artists' Council, a group of artists supporting the development of a downtown Las Vegas art museum. Prior to ArtPop, her most public piece was painting the Mona Lisa mural on the north wall of the Reed Whipple Cultural Center in collaboration with UNLV classmate Dan LaBree.
As a landscape artist, Hobbs uses a variety of media: photography; graphic illustration; oils and acrylics; pastel; and mixed media. Her art depicts the Red Rock Canyon area.
As an outdoor enthusiast, she said ArtPop was an "opportunity to showcase what I love most about living here — Las Vegas' natural spaces, wild places and proximity to natural wonders. I call this 'the flip side of the Strip,' the view that doesn't come to mind for most folks when they picture Las Vegas."
East valley resident Russ relocated to Las Vegas from New Zealand with her artist husband, Matthew Couper, in 2010. Her latest works are large-scale collage installations, as seen at the Life Is Beautiful festival and the P3Studio artist residency at The Cosmopolitan of Las Vegas. She also exhibited in "Kveck, Russ & Stellmon: Break Ups & Tear Downs" at UNLV's Marjorie Barrick Museum, and her work appears in "Contemporary Nevada: State of the State" at the Nevada Museum of Art.
She also shows in two galleries in New Zealand. In Las Vegas, she is represented by Sin City Gallery at The Arts Factory, 107 E. Charleston Blvd., Suite 100.
For the billboard project, Russ said she wanted to "capture something of the seductive nature of this city. I see the glamorous party girls as colorful, plumed-bird creatures presiding over the bright lights, eye-catching architecture and dramatic surrounding rockscapes. … I really hope that encountering these artworks in an unexpected context will brighten the day for regular commuters."
Born and raised in New York, McGill came to Las Vegas in 2005. She is represented in Las Vegas by the Brett Wesley Gallery, 1025 S. First St., and is working with R. Cline Arts on an upcoming show of large-scale abstracts. Her work can be found in private and corporate collections around the world. Her clients include Sony, Time, the San Francisco Chronicle, Adobe, AT&T, Graphique De France, Elle and McGraw Hill.
"I submitted this piece as it seemed fitting for Las Vegas, coined 'Sin City,' where you can choose practically anything at any time from any point of the social spectrum," she said. "… The billboards are exciting as the art on them is my expression, not an assignment or an interpretation of someone else's ideas."
The artwork appears only on those billboards that are not being rented at the time. That can translate to anything from a day to a year of exposure for the art, though, Hickey said, the average will be about three months. As soon as a billboard "sells" (has new advertising), the artwork comes down and is put up at a different billboard not currently rented.
Each vinyl reproduction measures 14 feet by 48 feet, and the five cost $4,500 to reproduce, paid for by funds raised last year. ArtPop is looking for sponsors to help cover costs for the next round.
The cycle for new art and artwork is one year. For 2017, Las Vegas is expected to again have five artists . The ArtPop program started this spring and is on track to be in 20 cities by year's end.
Visit artpopstreetgallery.com.
To reach Summerlin Area View reporter Jan Hogan, email jhogan@viewnews.com or call 702-387-2949.
ArtPop Las Vegas
The cycle for new art and artwork is one year. For 2017, Las Vegas is expected to again have five artists.
Visit artpopstreetgallery.com.