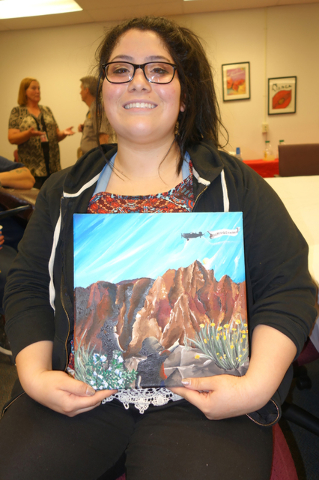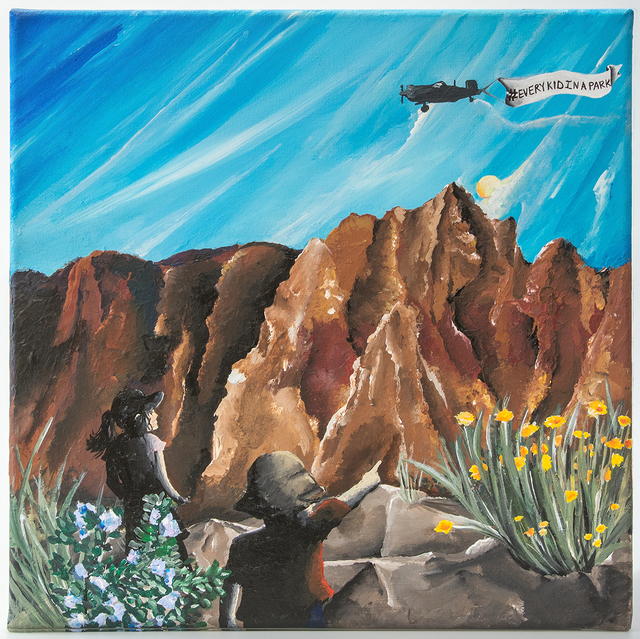 As of May 25, Rebekah Solorzano, 18, completed her senior year at Chaparral High School. That same day, Solorzano was named grand prize winner of the Every Kid in a Park art contest sponsored by the Lake Mead National Recreation Area and Forever Resorts, the National Park Service concessionaire donating the prizes.
Solorzano will have her artwork featured on a collectible sticker in the Lake Mead National Recreation Area gift store. She will also receive a four-day, three-night houseboat vacation for her and her family. Her art teacher, Wendy Austin, was also recognized, receiving a family four-pack of Black Canyon River Adventure tour tickets.
On hand to present prize certificates were Rod Taylor, Darla Cook and Kim Roundtree from Forever Resorts; Patrick Gubbins and Chelsea Kennedy from the Lake Mead National Recreation Area office; Cheryl Wagner from the Clark County School District School-Community Partnership Program; and Erika Pope from Vox Solid Communications.
The art contest was a collaborative effort among the officials and organizations. This year marks the 100th anniversary of the National Park Service, and one of the park service's themes for the anniversary year is Every Kid in a Park, an encouragement of children to enjoy the outdoors. Taylor even talked about what he called an "outdoor deficit disorder" of children who are sedentary and tied to smartphones. He said the theme refers to the joy children can have when spending time in neighborhood parks, state parks and national parks. The winning art pictured children in a park pointing to an airplane with an Every Kid in a Park banner.
Some 377 artists originally entered the contest. So many children entered that the winner list was expanded. The same day that Solorzano received her award, 12 other prize winners were honored, and six additional students were given honorable mention recognition.
Every prize winner, their parents and teachers were invited to a reception held at Western High School. The room where the reception was held was so crowded that Wagner brought in extra chairs for guests multiple times. Included in the audience, incidentally, was Henderson Mayor Andy Hafen.
Austin, whose own career was greatly influenced by a high school art teacher, encourages her students to enter contests. She said not only do contests give students recognition, a number of valuable prizes are also offered, which can be important to families in the school district. Austin is a graduate of Kent State University who studied art in Italy and admits, "I'm passionate about art."
Solorzano said that although she has been drawing "since I could hold a pencil," her mother, Jasmine, has supported her interest. Her father, Octavio, though divorced from Solorzano's mother, continues to be a particular influence in her art life as well, sending her pictures and paintings.
Solorzano has entered a number of art contests and has won a number of prizes. In fact, right after the reception at Western, she was going to Planet Hollywood Resort to receive a second-place honor in a contest sponsored by Kush Fine Art. Solorzano intends that art will remain an important part of her life when she furthers her education. She has not yet selected a college, but she's pretty sure she will stay close to home.
Solorzano produced her award-winning Every Kid in a Park painting in art class. She worked in acrylics and used the Red Rock Canyon National Conservation Area as inspiration. Red Rock is the area that is most familiar to her, she said, "and I loved using the red color of the rocks."
Austin noted that Solorzano has been her student for two years and has even used extra hours to come to class and paint. Chaparral, 3850 Annie Oakley Drive, has two (soon to be three) art teachers. The school also has an art club.
Before the formal prize presentations began, students could see their artwork on display at the reception, and many had parents with cell phones recording the artist and the art. Prizes were awarded to students from first through 12th grades:
In kindergarten through second grade, the winners were Peyton Chubbs (Perkins Elementary School), Matilda Reber (Brookman Elementary School), and Amber Stewart (Sewell Elementary School).
In third through fifth grade, the winners were Deontay Scott (Perkins), Logan Beatey (Rundle Elementary School), and Natalia Bella Fabian (Kesterson Elementary School).
In middle school, the winners were Liliana Suarez (Brown Junior High School), Denises Justo (Cashman Middle School), and Adrienne Jolene Rabago (Brown Junior High School).
In high school, the winners were Malory Taylor (Del Sol Academy of the Performing Arts), Samantha Meyers (Spring Valley High School), and Grace Torres (Spring Valley High School).
Honorable mention recognition was given to Danta Bautista, Mercy Carrillo, Pavel Lucas Perez, Domonte Moore, Evelyn Nuno-Villalpando and Ana Perez (special education at Western High School).