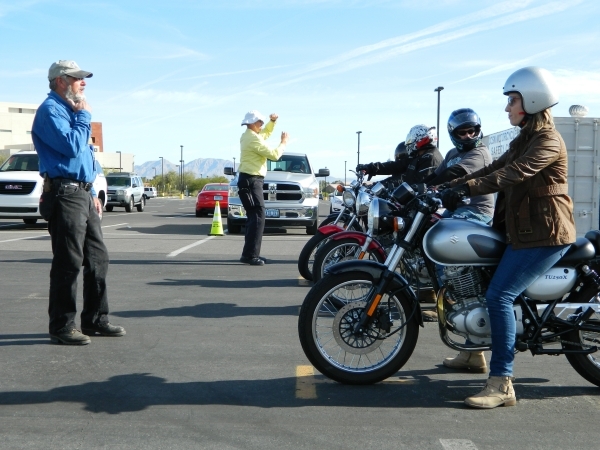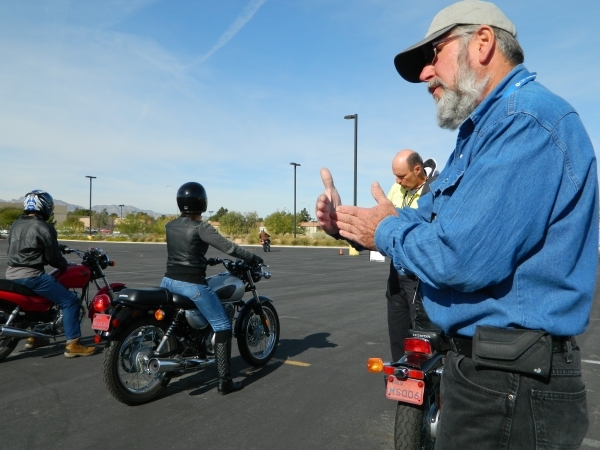 People who are new to riding a motorcycle often have to unlearn what they were taught about riding a bicycle or driving a car — particularly when it comes to applying the brakes.
"Braking is one of the toughest things for new students to get a grasp on," said Mike "Pilot" Nelson, an instructor for the College of Southern Nevada's motorcycle classes.
Wearing a whistle and a stopwatch around his neck and a bright yellow shirt, Nelson helped lead a Basic Rider I class Dec. 5 at CSN's Charleston campus, 6375 W. Charleston Blvd., issuing instructions and tips as students performed maneuvers while gingerly navigating the parking lot on Torrey Pines Drive near Oakey Boulevard. About 12 men and women took part in the session.
"Great job," he yelled as students made turns properly.
Nelson explained that the brakes are oriented differently on a motorcycle as compared with a bicycle, with the front brake lever on the right handlebar and the rear brake pedal on the right side near the foot rest. The clutch lever, meanwhile, is on the left handlebar.
Also, new students often mistakenly apply only the rear brake when stopping on a motorcycle because it involves their right foot, as is the case when they are driving a car. Ideally, they should apply the rear and front brakes simultaneously, Nelson said.
"The other thing is turning their head," he said. "They (new students) tend to just look straight ahead and move their eyes to the side. On a motorcycle, you have to watch out for things hard left, hard right."
Ohio transplant Kevin Acuff stood and watched the Dec. 5 class because his wife, Hillevi Acuff, was one of the students.
"We just got our first motorcycle in Nevada," Kevin Acuff said. "We ride a lot, and she's tired of riding on the back. She's been super excited to be out here."
Students are taught about risks, responsibilities and safety tips for riding. They take part in classroom sessions as well as riding exercises. Topics include protective gear, risk management, how to purchase an appropriately sized motorcycle, street strategies, emergency basics and others.
Instructors stress to students that they should remain visible on the road by wearing bright-colored helmets and clothing and using reflective devices.
"Be seen — be aware of what's going on around you," said Roger Fox, coordinator of CSN's motorcycle programs. "A 2,360-degree awareness, we call it."
Students also are advised to stay on relatively quiet streets until becoming well-acquainted with riding.
"We say work your neighborhood a little bit, and then work yourself out into a little bit of traffic," Fox said.
The course, geared toward beginners, allows participants to obtain a Class M license at the Department of Motor Vehicles without taking a test for it, Fox said.
"The only person who would have to do the written test at the DMV is someone who's never had a driver's license," he said.
However, participants must pass a written test and a riding evaluation through the CSN class in order to receive a completion card to take to the DMV, he said.
"We have a Basic Rider II course for experienced drivers, and we also use it as a license waiver for the DMV," Fox said. "We suggest Level I folks do the Level II, as well."
The Basic Rider I class costs $150, and the Basic Rider II class is $100. The courses are offered regularly at various campuses, and the next one is scheduled for Jan. 8-10 at the Cheyenne campus, 3200 E. Cheyenne Ave.
Visit CSN's website or call 702-651-4747.
— To reach Henderson View reporter Cassandra Keenan, email ckeenan@viewnews.com or call 702-383-0278. Find her on Twitter: @CassandraKNews
CSN Motorcycle Classes
Basic Rider I class: $150
Basic Rider II class: $100
Courses offered regularly at various campuses
Next class: Jan. 8-10, Cheyenne campus, 3200 E. Cheyenne Ave.
702-651-4747
CSN website