DMV in a Box kiosk set to decrease main office lines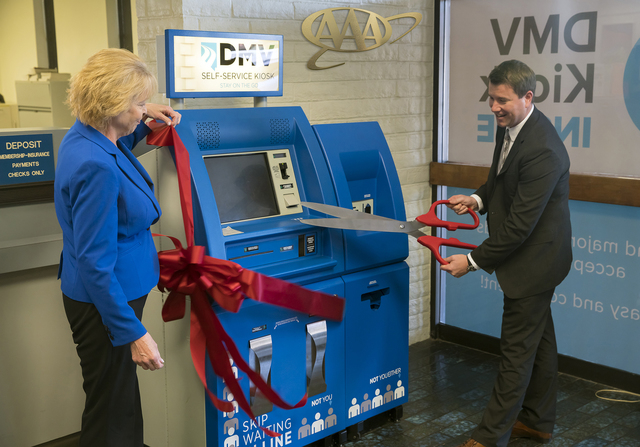 Your next visit to the Department of Motor Vehicles night not involve a line, waiting for a number to be called or even going to the DMV.
AAA and the Nevada DMV launched the next-generation DMV in a Box on Feb. 26 at the AAA Las Vegas Branch, 3312 W. Charleston Blvd.
"We've had DMV in a Box since 2004," said Kevin Malone, a spokesman for the Nevada DMV. "What's new about these machines is that they accept cash."
The kiosks have quietly been in place since December, and in January, nearly 17 percent of the transactions at the Charleston office have been with cash.
The machines can handle many of the tasks that previously required a trip to one of the valley's DMV offices, including vehicle registration renewal, driver's license renewal, getting a duplicate driver's license or identification card, printing out a driver history and getting a vehicle re-registered after an insurance lapse.
"They've been a very popular addition to standard DMV offices," said Natalie Kumaratne, a spokeswoman for the Northern California AAA office, the region that includes Nevada. "The AAA DMV in a Box locations in Nevada processed more than 55,000 transactions in 2015, which is a 15 percent increase over the previous year."
The ability to accept cash has been available for some time at DMV in a Box locations inside DMV facilities. The addition of off-site cash-accepting machines was prompted by demand, a desire to create more convenience for the customer, to increase the use of the machines and to shorten DMV lines.
"We've found that about 30 percent of people in the valley don't have or don't want to use a credit card," said Bob Brown, director of public affairs for the Northern California AAA office. "Right now, there are just two machines that accept cash. It's a pilot program, but we hope to expand it to all the machines eventually."
The other DMV in a Box that accepts cash is at 7445 S. Durango Drive. There are around 20 off-site DMV in a Box locations in the valley, including several at Albertsons grocery stores, which accept checks, debit cards and Visa, MasterCard and Discover cards. The kiosks charge a processing fee of $3 for registration renewals and $1 for all other transactions. The same services are available online or by mail.
"It's a matter of convenience and providing options," Malone said.
For kiosk locations, visit dmvnv.com/kiosk.
To reach East Valley View reporter F. Andrew Taylor, email ataylor@viewnews.com or call 702-380-4532.