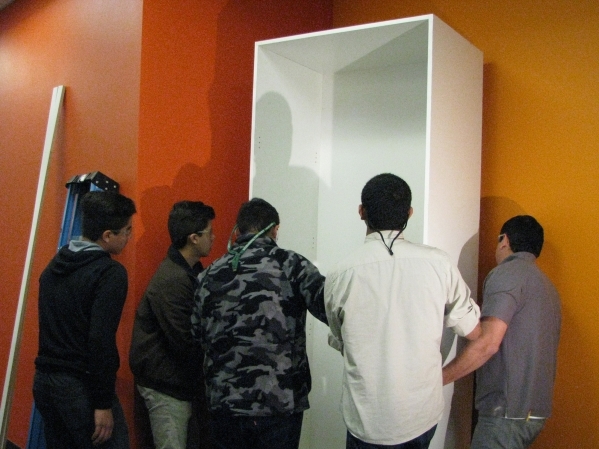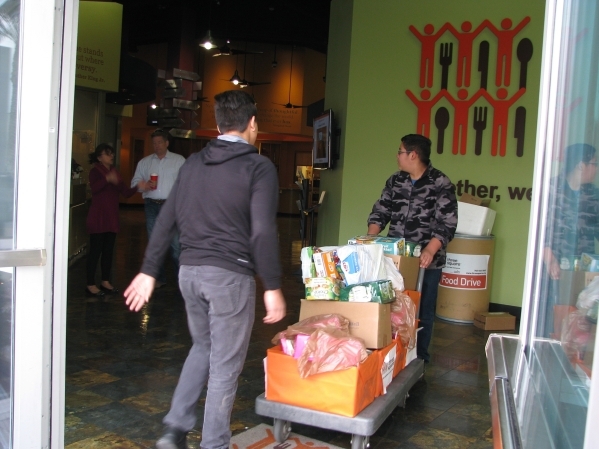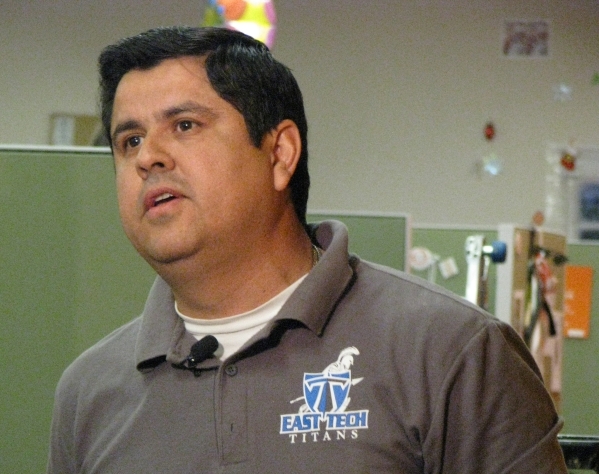 Teacher Fausto Vega said he has too often heard the dismissive question, 'When am I ever going to use this?' regarding math, so he's delighted to be teaching The Geometry of Construction at East Career & Technical Academy, 6705 Vegas Valley Drive. Just before Christmas, he rounded out practical construction education with charitable donations when his class created new cabinets for Three Square food bank.
"We wanted to do a project that is going to benefit the community, so at the end of it all, the students can feel proud of what they did," said Vega, who teaches construction management. "It's a win-win situation for everybody."
In the class, he teaches the students to apply geometry to real-world construction problems. This is the second large-scale project Vega's classes have done to help out a local charity. Last year, his classes created two storage sheds on the grounds of the Nevada Partnership for Homeless Youth, 4981 Shirley St.
"Last year, we applied for a grant through Cox Communications," Vega said. "We told them our idea, and we were selected to receive a grant, which paid for the materials."
Vega got in touch with Three Square, 4190 N. Pecos Road, to find out what the nonprofit's needs were and found out it needed more storage in its offices. Twenty-five students were involved in the project, although only a few were on hand for the installation, which took place during the winter break.
"The students not only learn practical geometry; they learn about manufacturing," Vega said. "They take raw material and turn it into something valuable."
The result was 50 feet of pantry space with locking doors, adjustable shelves and crown molding at the top.
"It took two weeks to build them," said student Hazael Godoy. "We had five different groups working on it, so it came together quickly."
Darlin Delgado, the school's new principal, was excited by the project and attended the installation.
"They did an amazing job," Delgado said. "They also helped organize a food drive and collected nonperishable food items at the campus."
The resulting project looked clean, professional and sturdy.
"The best way to learn something is with hands-on activities," Vega said. "I had my sophomore class do this. I wanted to challenge them. Imagine what they'll be able to do when they are seniors."
— To reach East Valley View reporter F. Andrew Taylor, email ataylor@viewnews.com or call 702-380-4532.